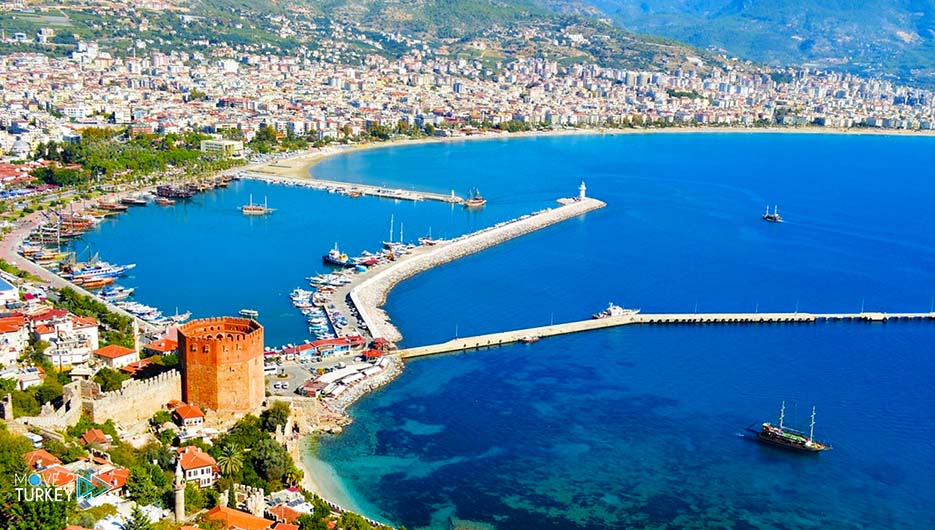 Alanya is one of the best tourist cities in Turkey, which is a wonderful combination of the sea and the quiet and unique forests.
This calm and charming beauty made many tourists prefer this city over other crowded cities in Turkey.
Traveling is one of life's great pleasures and a way to see the world to expand our knowledge and learn about places and civilizations we have not seen before.
Benefits of living in Alanya
If you are thinking of living in Turkey, it is good to have a look at the benefits of living in Alanya along with the big and well known cities like Istanbul, Ankara and Antalya. Who knows, you may choose to live in this warm and sunny city after all.
Climate, cost of living, affordable cost of buying a property for residence or obtaining Turkish citizenship, advanced transportation system, multiculturalism, natural and historical attractions in Alanya are the main benefits of living in Alanya.
For many people, the first thing that makes choosing a place to live is the climate.
If you are one of those people who are looking for mild weather in winter, warm weather and bright sun in summer so you can relax on the sunny beach by day or swim in the sea and spend the night in street cafes until late. Most likely living in Alanya is a good option for you.
Alanya also has fertile land due to its climate, many summer vegetables, fruits and berries are produced in the city.
On the other hand, fish and other seafood are the main dishes of this coastal city, which are always plentiful, cheap and available.
So, we can say that the cost of food and living in Alanya in general is very reasonable compared to other cities in Turkey.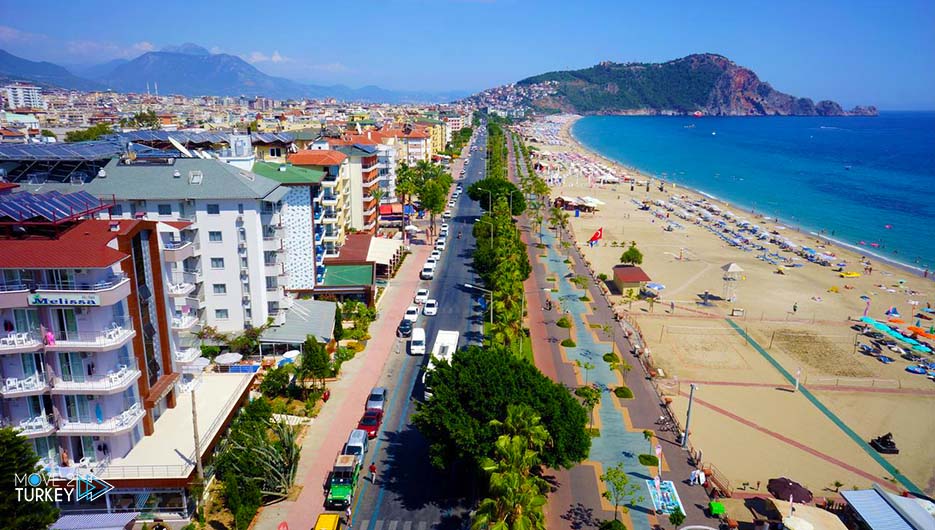 Buying real estate in Alanya
According to statistics, 30% of the real estate purchased by foreigners in Turkey belong to Alanya.
This statistic is amazing and shows that most European investors, as well as residents of some Middle Eastern countries, find the city suitable for long-term investment.
In general, Turkey is one of the cheapest countries where you can buy a property.
But buying property in Alanya is also cheaper than other cities in Turkey, especially because of the good weather, low cost of living, and the peace and comfort that this city offers you, which makes it a strong choice for living and traveling.
Basically, buying a property is one of the best investments that has the least long-term risk than any other investment.
By buying a property in Turkey, including Alanya, you will obtain a residence permit in this country, and if the price of your property is more than 250 thousand dollars, you will also obtain Turkish citizenship.
Prices for new and luxurious two-bedroom apartments with a sea view in this coastal city start from around 50-60 thousand euros. (witch is really good)
Why choose to travel to and live in Alanya?
For thousands of immigrants living in Alanya, life in Alanya is exactly what they expected.
Unique and calm sandy beaches and 300 sunny days a year!
Yes, Alanya is one of the most popular cities on the southern coast of Turkey, with a large number of immigrants.
And it is not surprising that it is at the forefront of global destinations for travel and settlement for many people around the world.
But why do immigrants of different nationalities choose this Turkish pearl with its unique nature and rich historical heritage as their permanent home?
Well, just keep reading, and we will tell you why you also should choose Alanya for travel as a tourism or as a possible option for living!
Cultural and linguistic diversity
Although Turkey is a tourist country in general and many of its regions are used to having tourists from different countries and cultures, Alanya is a little different from other regions.
Tourists and immigrants who live in this city are mostly Europeans, and at the same time there are tourists and immigrants from other countries, such as Arab countries.
For this reason, the urban space in Alanya is more flexible with different cultures and beliefs.
In Alanya, unlike other cities in Turkey, most of the locals are multilingual and know at least a little English and Arabic.
Tourism in Alanya is so prominent that its malls often accept foreign currencies such as dollars, euros and sterling pounds instead of lira.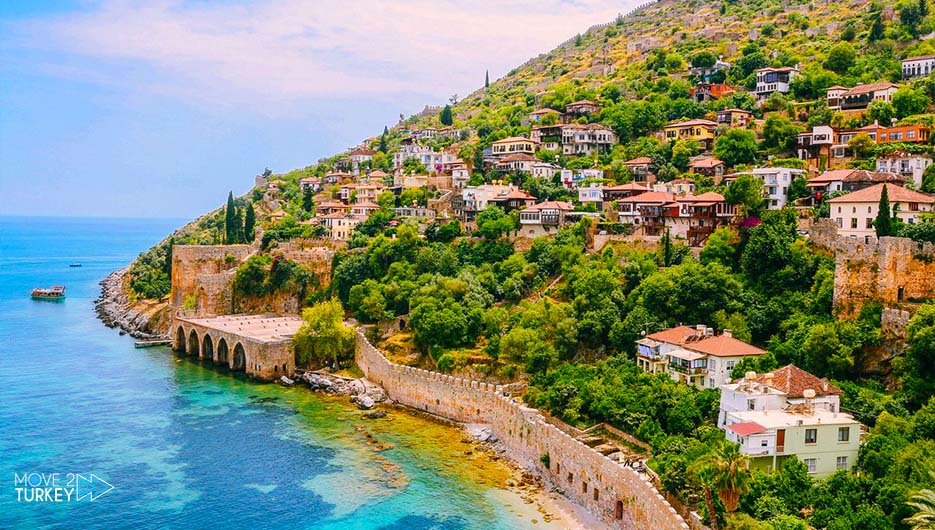 Geographical location of Alanya
Alanya is one of the historical cities of Turkey, located 135 km from Antalya.
Alanya is bordered to the north by the Taurus Mountains, to the south by the Mediterranean Sea, to the east by Gazipasa, and to the west by the Manavgat Waterfalls.
Because of this natural strategic location, the city served as a local stronghold for many Mediterranean empires. Such as Seleucid, Roman, Byzantine and Ottoman.
The area of ​​the city is about 1598 square kilometers, and according to the census survey conducted in 2012, its population was 104,573 people.
History of Alanya
Alanya was historically part of the land of Cilicia as well as part of the land of Pamphylia and was part of the Persian Empire.
Then it came under the rule of the Greeks and Romans.
In the period of the Eastern Roman Empire, it was also called Kolonoros, meaning "beautiful mountain".
Alaeddin Keykubad, the Seljuk king in the thirteenth century AD, changed the city's name to "Aliya". Finally, in 1471, Alanya was annexed to the Ottoman Empire.
Basic information about the city of Alanya in Turkey
Official language: Turkish
Currency: Turkish lira
City Electricity Type: 230 V / 50 Hz
Country code: 90+
Emergency numbers:
Fire: 110
Ambulance: 112
Police: 155
Alanya climate
The climate of Alanya and the Mediterranean is generally moderate. The city enjoys a mild climate in summer and rainy and humid winters.
The average air temperature in August and September is 28 degrees, and the average annual sea water temperature is 21 degrees Celsius.
The city experiences more than 300 sunny days a year and the average temperature in the warm months of the year is 32 degrees.
Almost all months of the year are suitable for travel to this city, especially in the spring and summer, when the conditions for water sports in this area are also suitable, and the best months for swimming are from August to September.
When do you go to Alanya for tourism?
As we said before, the weather in Alanya is nice and temperate most of the year.
Only about two months of summer, around July and August, the weather is hot and the humidity is high.
But if you are planning a short trip to Alanya and want to make full use of the bright sunshine of this city, visit this city in June, July and August (summer season).
Top recommended hotels in Alanya
Long Beach Resort
The 5-star Long Beach Hotel is located in Alanya and has unique facilities for a dream vacation.
All rooms in this hotel are equipped with carpet, minibar, TV, music channels, bathroom (bath, shower and toilet), telephone, hair dryer, air conditioning, digital safe, Turkish bath, sauna, steam room, rest rooms and …
Grand Okan Hotel
Another recommended hotel in Alanya is the 4-star Grand Akan Hotel.
This hotel also has excellent conditions for a great stay.
Among the facilities it provides are a swimming pool, a private beach, free breakfast, free parking and…
Club Big Blue Suite Hotel
Club Big Blue Suite Hotel is a 3 star hotel in Alanya which is very economical.
Hotel facilities also include a Turkish bath, swimming pool, massage parlour, and comfortable rooms.
Phone number: 00902425142875
Address: Turkey – Alanya Cumhuriyet, Karasaz Sk. No: 27, 07425 Alanya / Antalya, Turkey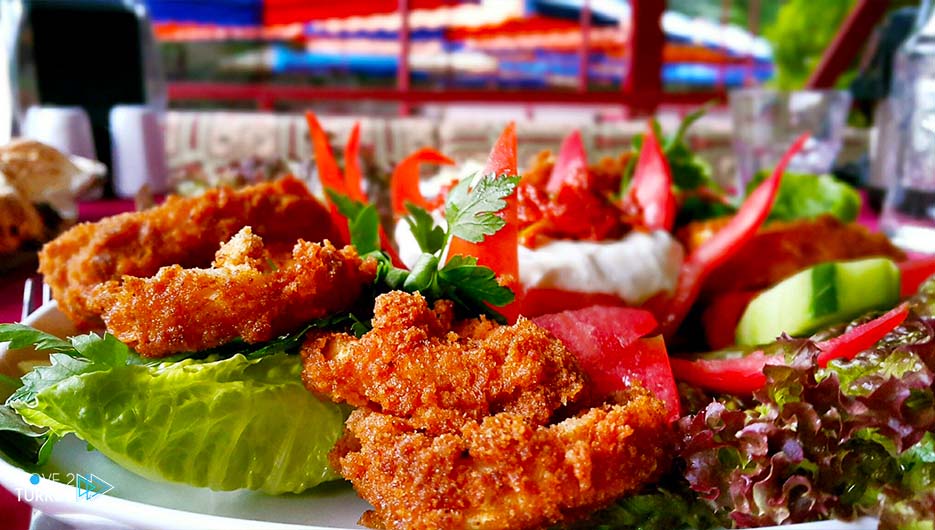 Food cost in Alanya
Basically, in the tourist cities, due to the presence of tourists, there are always many good hotels and restaurants in those cities.
Alanya is no exception to this rule and you can eat a variety of delicious foods in a variety of restaurants in this city.
We list the food expenses in this city according to the official Numbeo website in the Turkish tourist city of Alanya:
You have to pay 25 lira for a meal in a cheap restaurant.
You have to pay 300 lira for a meal for two in an average restaurant.
The price of McDonald's menus in Alanya is almost the cheapest and is 39 lira.
If you want to take a business trip, with a little research, you can get a relatively good meal at a lower price at street food restaurants.
Local restaurants usually serve very cheap and delicious food.
The best restaurants in Alanya
Bistro Bahamas Restaurant
This is one of the best restaurants in Alanya, Turkey.
Excellent service, high quality food and variety in the menu of this restaurant has led many tourists to consider this restaurant as their first choice.
Theo's Place Restaurant
Another recommended restaurant while traveling to Alanya is Theo's Place.
In this restaurant you can taste a variety of Italian, Mexican, Dutch, European and Turkish dishes.
Olivia Gourmet Restaurant
Another restaurant in Alanya that has a relaxed atmosphere and professional staff is Olivia Gourmet Restaurant.
The great food and unforgettable flavors of Olivia Gourmet are well worth it if you are willing to spend more and have a great meal at this restaurant. The menu of this restaurant includes international and Mediterranean cuisine.
Transportation cost in Alanya
Another advantage of traveling and living in Alanya, like most Turkish cities, is the advanced transportation system.
Most of the buses in Alanya have very comfortable seats, are equipped with free Wi-Fi and are reasonably priced.
These buses connect all parts of the city via the southeast and other parts of the Mediterranean and the Aegean.
The cost of one bus ticket is 4.12 lira
The cost of the taxi when sitting in it is 4.50 lira and 4.38 lira is added to every 1 kilometer.
The cost of a liter of gasoline in this city is 7.84 liras
Tourist attractions in Alanya
Alanya is a historical city that, in addition to the beautiful Mediterranean beaches, has many historical and recreational attractions that make it a great choice for leisure and recreation, whether you are traveling to this city as a tourist or want to live there.
Among the most beautiful attractions and entertainment in Alanya: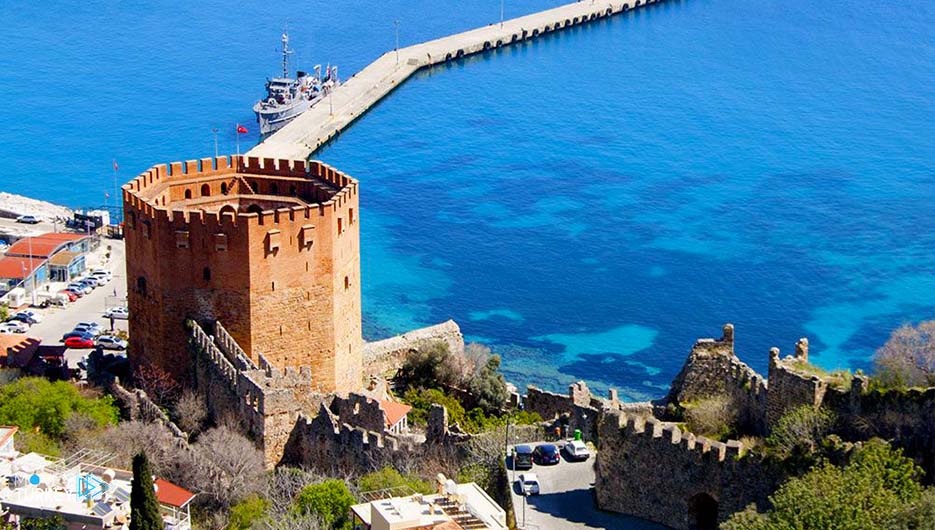 The Red Tower
The Red Tower is one of the historical towers in Alanya. This building is also one of the symbols of Alanya.
The Red Tower dates back to 1226 and was built by one of the most prominent architects of the time.
The tower was engraved on the back of the 250,000 Turkish Lira banknotes from 1992 to 2005.
Address: Turkey – Alanya Çarşı, keskele Cd. No: 98, 07400 Alanya / Antalya, Turkey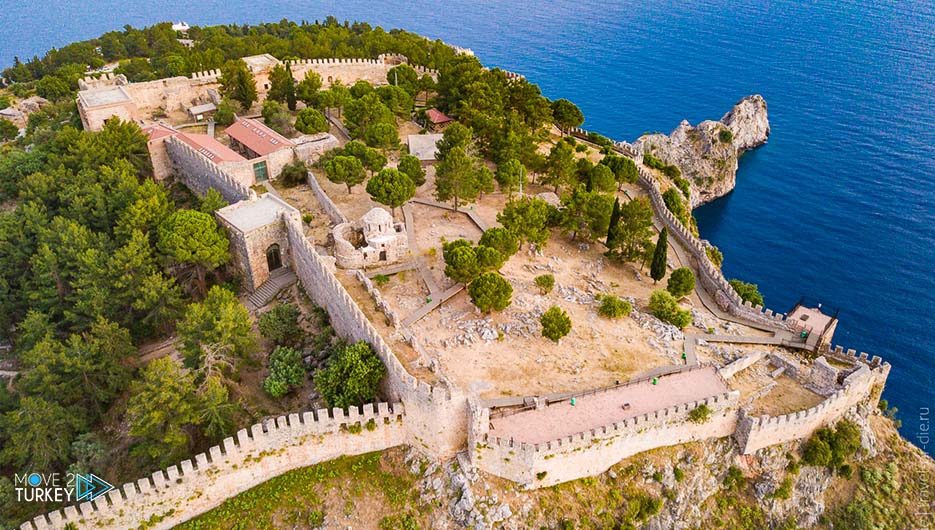 Seljuk Castle (Alanya Castle)
Alanya Castle is the only surviving castle from the Seljuk period, which has been preserved to this day.
This fortress was built in 1225 on the ruins of the Roman fortress, by the Seljuk king Alaeddin Keykubad. Taking a look at this castle should be at the top of your list on your trip to Alanya.
Due to the strategic location, Alanya Castle offers a wide range of scenic spots.
This magnificent castle is located at the top of the peninsula at an altitude of 250 meters and overlooks the Mediterranean Sea.
With its ancient walls, which are six kilometers long, this castle contains a large number of attractive structures. Among them are the palace of Alaeddin Keykubad I, several mosques, a church and many others.
It should be noted that Alanya Castle is currently on the UNESCO World Heritage List.
Address: Turkey – Alanya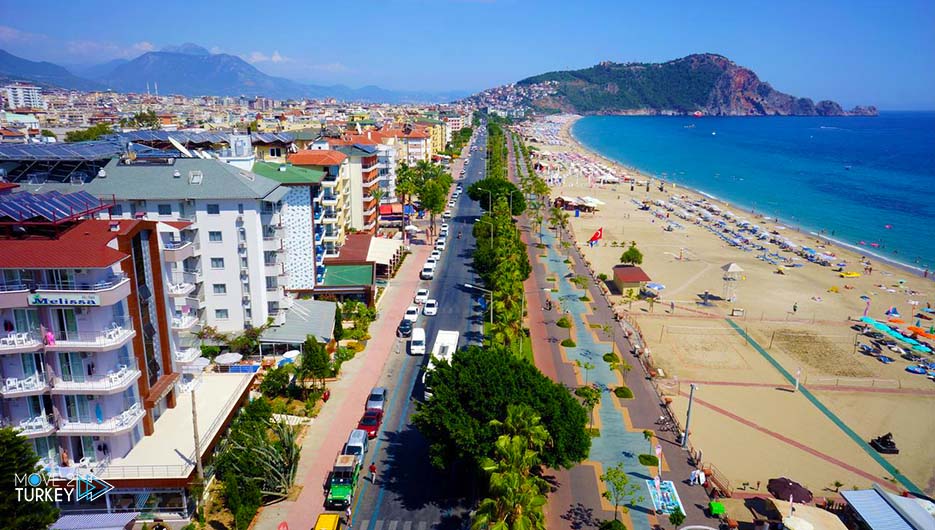 Kleopatra Beach
Cleopatra Beach is one of the most beautiful beaches of Alanya. It is located in the west of the historical peninsula of the city.
According to legends, this beach and the surrounding area was a gift to the Queen of Egypt.
A special feature of Cleopatra Beach is its crystal clear waters.
Address: Turkey – Alanya West Alanya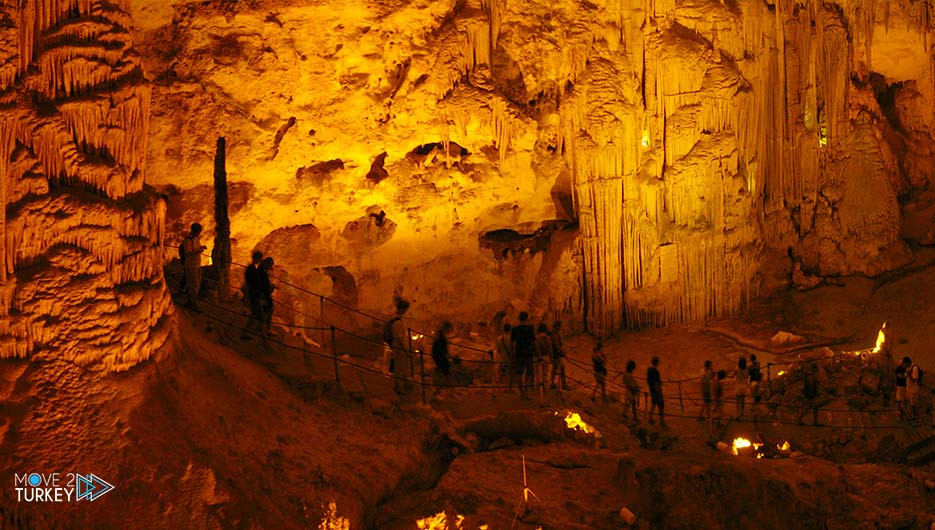 Dim cave
The second largest cave in Turkey, which is located 12 km east of Alanya.
There is also a small lake inside this cave which makes the conditions very touristy.
The interesting thing about Dim Cave is the story of its discovery. The cave was discovered by accident in 1948 by an explosion of dynamite.
Expert studies have shown that this cave has properties that treat asthma and respiratory problems.
With this news, tourists flocked to Alanya, until all the hotels and guest houses were full and there was no place for new travelers.
To reach the cave from inside the city, buses were allocated for this route to take visitors from the city to the cave.
Address: Turkey – Alanya Dim Mağarası Yolu, 07450 Yaylalı / Alanya / Antalya, Turkey
Shopping malls in Alanya
Megamall AVM
Address: Turkey – Alanya D400, 07475 Payallar / Alanya / Antalya, Turkey
Alanyum Shopping Center
Address: Turkey – Alanya Cumhuriyet, Keykubat Blv., 07425 Alanya / Antalya, Turkey
Plumeria Shopping Center
Address: Turkey – Alanya Köyiçi Cd., 07400 Kargıcak / Alanya / Antalya, Turkey
Harbor Shopping Mall
Address: Turkey – Alanya Tophane, Tersane Sk. No: 7, 07400 Alanya / Antalya, Turkey
Do's and don'ts in Alanya
Since Turkey is a Muslim country, you should have proper coverage when visiting religious centers.
Do not smoke in public places.
Avoid having a lot of cash with you in crowded places.
Antalya is less than two hours away from Alanya and could be the best tourist destination for you after Alanya.
Conclusion
In this article, we have tried to provide you with the most complete and up-to-date information about traveling and living in Alanya, Turkey.
We hope that by reading this article we can answer your questions about this city as much as possible, and that this information will help you to have an enjoyable trip or a good stay in this city.