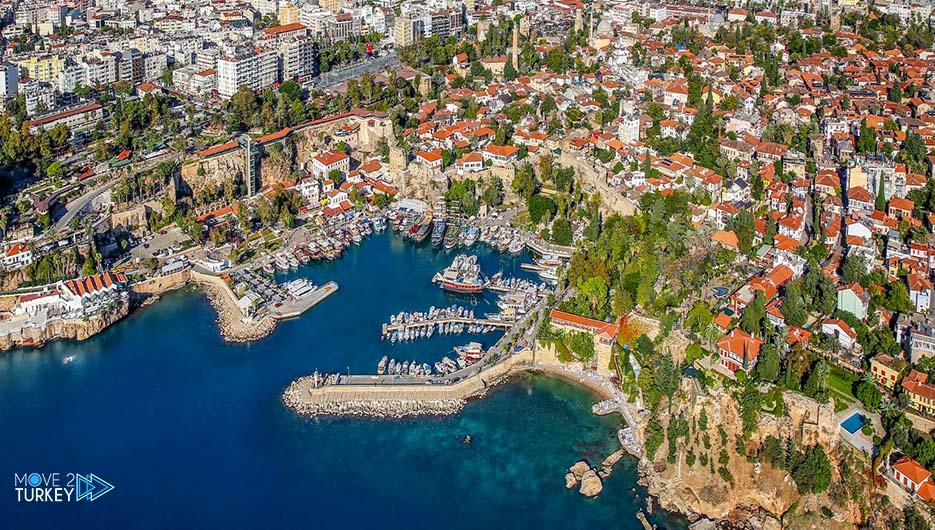 There is no doubt that Antalya is a good city for travel and sightseeing! But the question is, does Antalya have good living conditions?
Can this attractive and touristic city be seen as a suitable option for living and working?
Join us in this article to explore the living conditions in Antalya and answer the question of whether Antalya is good for living in or not?
In fact, sometimes a good tourist city is not a good city to live in at all. But the question is whether Antalya, as one of the most popular tourist destinations in Turkey, is a good city to live in or not?
In response, we must say that you are the one who finds the correct answer to this question yourself.
Because anyone who wants to immigrate and live in Antalya is different from everyone else.
And you have to see if Antalya can meet your specific expectations in life and can it give you a feeling of happiness and success?
To find an answer to this question, it is better to read further.
Advantages of living in Antalya
It is clear that having a healthy and proper recreation as well as peace plays an important role in creating a feeling of happiness for each person.
If you agree with this, we must tell you that Antalya, because it is a tourist city, has a lot of recreational facilities, and everyone in Antalya is satisfied in this regard.
Perhaps this is why Antalya is the second most popular city in Turkey for immigrants after Istanbul, and foreigners are becoming increasingly interested in buying property in Antalya.
This has resulted in Antalya moving out of its local shell and becoming a cosmopolitan city.
Another point is that Antalya has different districts and you do not have to live in the center of Antalya to access the service and leisure facilities of the city.
Instead, whatever areas and smaller regions in Antalya you choose to live in, it will always be fully serviced.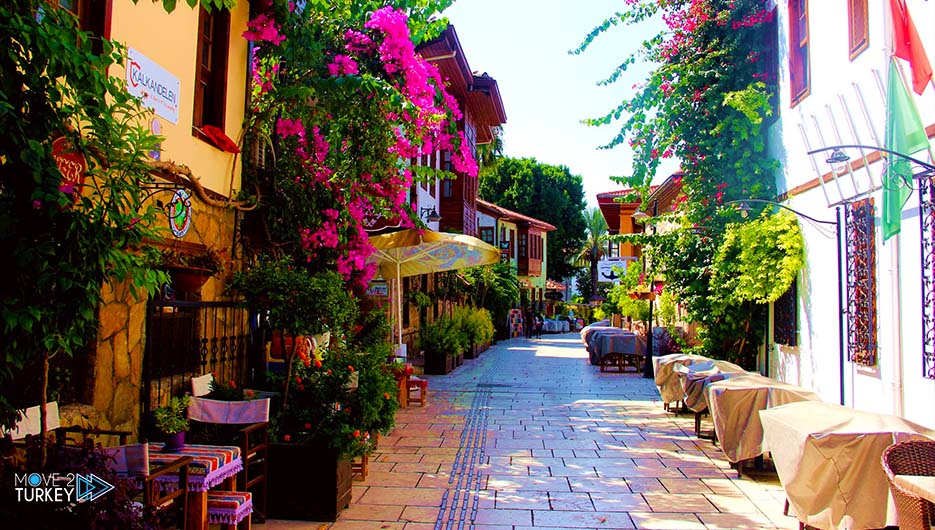 10 Reasons to Live in Antalya
1- The cost of living in Antalya
The cost of living in Antalya is 12% cheaper than in Istanbul and 43% less than in London.
Regardless of where most immigrants to Turkey choose to live, they are generally drawn to the lower prices of water, electricity, and daily necessities.
Most real estate purchases are made with cash, and buyers usually deposit into a high-interest savings account with monthly withdrawals, thus maintaining their net capital value.
Over the past five years, the prices of cigarettes and alcohol have skyrocketed, but food has remained much cheaper than in other countries.
Also, the current exchange rate for converting from euros, pounds and dollars to Turkish lira guarantees the value of each cent more than before.
2- Large and diverse markets
In addition to the low cost of living in Antalya, we come to a variety of markets in the city.
You can find all kinds of shopping in Antalya, from clothes and electronics to food and drinks.
Since there are many shopping centers in Antalya, almost everything is available and at reasonable prices.
There is even a small market in every neighborhood, multi-purpose shopping centers in Antalya can meet all your needs from everything that can be bought.
Also in most of the big shopping centers there are cinemas, theaters and many entertainment facilities, if you are thinking of living in Antalya, you can find everything.
Antalya has some of the best shopping facilities in all of Turkey, from simple groceries to large shopping malls and even furniture stores of all kinds.
The main center of the city contains multiple shopping centers, the most famous of which are Terra City, Depot Outlet and Big Migros Shopping Mall, where you can find everything you need, from well-known brand stores, cinemas, sports stadiums to various recreational facilities, all under one roof.
3- Quality of medical services in Antalya
Turkey is generally known as a destination for medical tourism, As it enjoys a good medical standing, and Turkish medicine has a good reputation worldwide.
So much so that many people come to it from other countries for safe, modern and of course cheap treatment.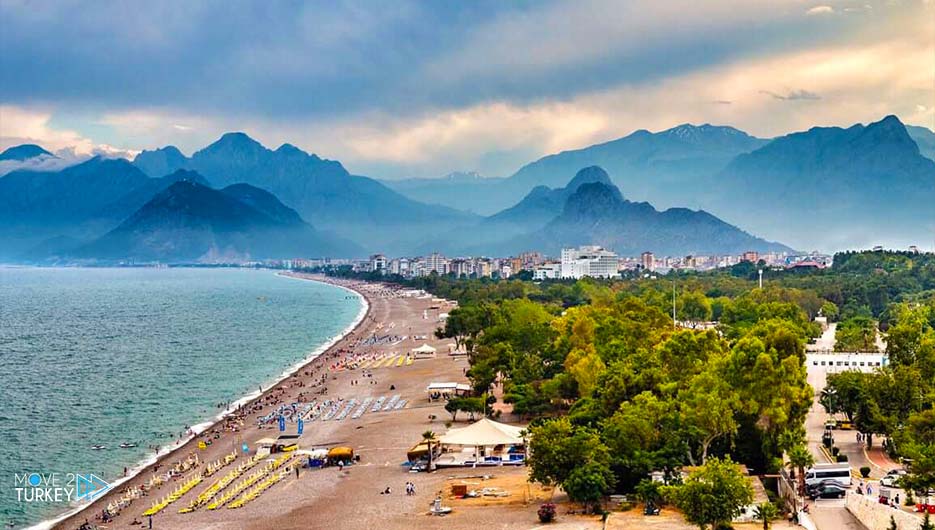 4- Antalya's unique and refreshing climate
Turkey has three different climate systems, and Antalya is classified under a CSA climate due to its hot, Mediterranean summers and mild, rainy winters.
The rainy season lasts from January to March, and the city enjoys unique and refreshing weather for nine months of the year.
You can enjoy eating out, swimming in the sea, putting on a T-shirt in March, and sunbathing in July and August.
Apart from the fun you will have, some travelers to Antalya say that the warm climate helps treat osteoporosis and skin diseases.
In addition, the ideal climate encourages people to move around, so living in Antalya helps you maintain a healthy life.
5- Many options for living in Antalya
Next to the main city center, many beach resorts offer many options for those looking for a destination to live in.
Each of these destinations has unique features to attract a certain type of buyers or investors.
The small hill town of Kalkan attracts luxury buyers with its Art Nouveau villas.
The Belek region attracts sports enthusiasts due to its location as the golf capital of Turkey and other recreational facilities along its coast.
Alanya also attracts ardent beach lovers, with its charming sandy beaches.
Those interested in living in the heart of the city choose the main center of Antalya, while the city still maintains its reputation as a city of importance for fishing.
The real estate market in Antalya is very active. For two reasons, the first is that real estate prices in this city are cheaper compared to other parts of the world and even Turkey.
The second reason is the high quality of construction and the appearance of the property.
In Antalya, you can buy your dream home with a wonderful sea view at the cheapest possible price.

6- Transportation in Antalya
Antalya has a highway called D-400 that connects all the entertainment points and attractions to the city center.
So you don't care at all how to get anywhere, there are plenty of buses to get you where you want to go, and if you wish you can rent or buy a car.
Anyway, transportation in Antalya is not difficult at all and you can easily move from one place to another.
7- Quality of education in Antalya
In Turkey, children go to school from the age of 7 to 12 years, and of course, 4 years of primary school, 4 years of middle school and 4 years of high school.
If you are planning to live in Antalya with your children, you can trust the quality of education in this city, given that registration in public schools in Antalya is free, and the language of instruction is Turkish.
If you do not want to enroll your children in public schools, there are many private schools with world class teaching quality in Antalya, and you can choose one of them based on your budget.
You do not have to worry about your child in Antalya, the quality of education in this city is high.
In addition, children are often easier to adapt to new conditions and their ability to learn the language is higher than adults.
It will probably take your child only a couple of months to master the Turkish language.
After obtaining residence in Turkey, you can go and enroll your child in schools, and your registration confirmation will be issued after two weeks.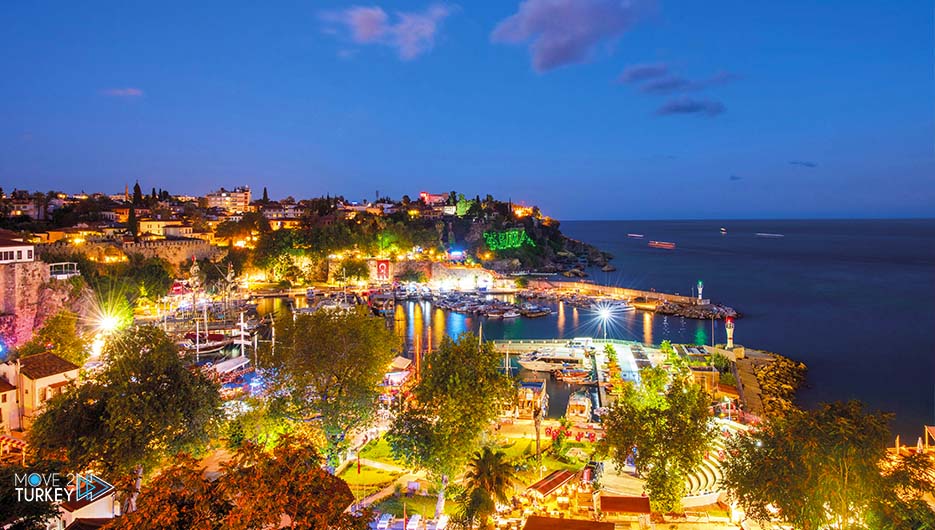 8- A great nightlife
If you do not like to get up early in the morning, and are used to staying up at night and enjoying your time, there are plenty of interesting options for Antalya nightlife.
Of course, depending on the size of the area, there are endless options for enjoying the nightlife.
Most foreigners in Antalya prefer to taste Mediterranean food on the beach, especially in the summer.
The cool and refreshing evening air allows one to enjoy Turkish dishes, fresh fish and seafood in the coastal Mediterranean restaurants.
9- A proper and healthy diet in Antalya
In developed countries, many people have so many jobs done all the time that they have forgotten about cooking, and the kitchen is no longer an important part of the house.
But the situation in Turkey is different. The Turkish people do not like to eat fast food like in other countries, and they still prefer to buy the ingredients themselves and make the food to make sure that the ingredients are healthy and well-cooked.
As a result, fast food or frozen and semi-finished foods are not very popular in Turkey, and are not sold much, and probably more expensive.
Most of the street foods you see in Antalya are healthy foods like fish or shellfish.
In Antalya, it is cheaper to go to the market and from there you can buy everything you need and start cooking at home.
For some, this may be one of the disadvantages of Antalya, but honestly, this is more good for your health.
10- Antalya is a place suitable for all tastes
Antalya is a suitable place for all people with all different tastes. Each area in Antalya is designed for a specific type of real estate buyer.
If you are a sports lover, or if you like luxury places or even prefer historical areas, you'd fall in love with Antalya.
In fact, anyone can easily find their ideal home in this city.
Disadvantages of living in Antalya
The point you should think about before immigrating to Antalya is whether or not you can find a permanent and of course profitable job for yourself in this city.
The point is that many tourism related jobs in Antalya are seasonal jobs, which is why a large percentage of foreigners who immigrate to Antalya regret emigrating after a few years or even months.
So if you do not want to be one of these immigrants, it is better to think about all aspects of life in Antalya in advance and not decide to move to Antalya quickly.
Anyway, it is certain that in order to be able to afford the cost of living in Antalya, you need a good financial source and a good job.
And before settling down and living in Antalya, you need to find a good job.
You can read more about finding a job in Turkey here.