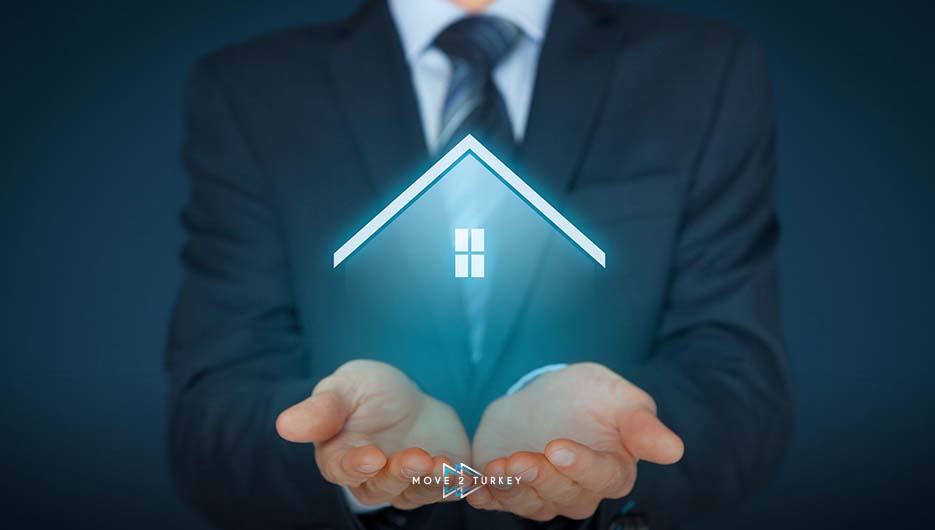 Buying real estate in Turkey, whether for investment or residence, can be a savvy and rewarding decision.
At Move 2 Turkey, we boast a highly skilled and competent team that will guide you through every step of the process, addressing all of your inquiries and catering to your specific needs.
Our daily mission is to provide a transparent and exceptional customer experience for our clients. To achieve this, we provide the original project names and the exact location through an interactive Google map, as well as builder information and past performance.
This information should be widely available in the market, but it is often lacking. We urge you to ask questions and scrutinize any listings that seem inflated or fabricated. This is the only way to ensure a transparent experience.
Furthermore, we assist you in negotiating for the best price, ensuring that you receive the best deal possible. Your satisfaction is our top priority!
In light of the current exchange rate, individuals holding Euro, GBP, and USD can enjoy significant savings compared to recent months.
1- Know your purpose
Before embarking on the journey of Buying property in Turkey, it is essential to determine your purpose for the purchase.
This could be for investment, personal use or a combination of both. Once you have established your purpose, it is important to understand the terms of payment and the time frames in which payment must be made.
This information will help you decide whether a cash payment or installment plan is the most suitable option for you.
The terms of payment will be clearly outlined and communicated to you throughout the inquiry, negotiation, reservation, and final payment stages and will be documented for your safety and security.
Please keep in mind that during the reservation process, a 1% deposit is required but is fully refundable within 14 days.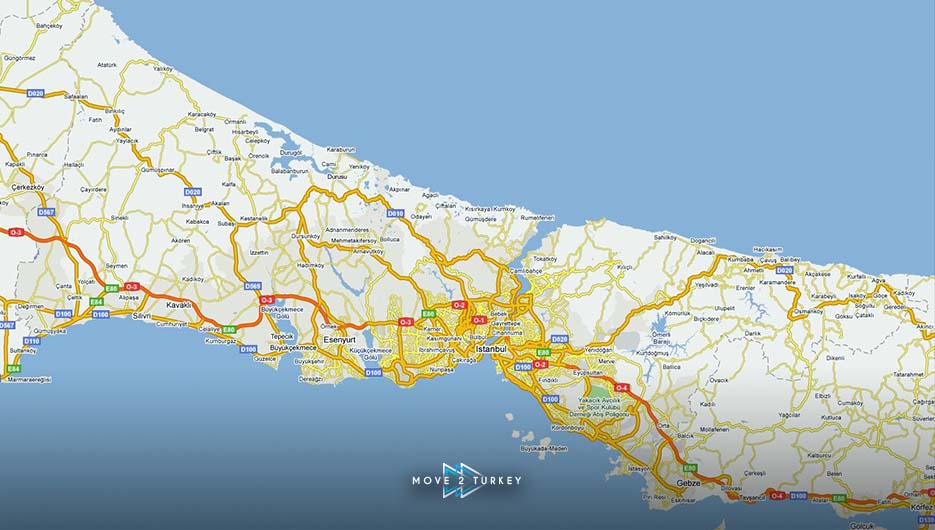 2- Choose the right area
A crucial aspect of making a successful property purchase is understanding the location of the property you're interested in.
Move 2 Turkey provides you with an area guide, detailing the proximity of amenities to the property, and an interactive map to give you a clear idea of its location.
It's important to research prices of properties in the surrounding area to identify the best deal on the property you wish to buy.
It's also important to be familiar with the history and development of the neighborhood you are considering buying in, as it can be an indicator of the area's potential growth in the next 5 to 10 years.
Keep in mind that location is a major factor in real estate investments.
In addition to that, being aware of the future improvements in town, like infrastructure regeneration, new metro stations, parks, shopping and educational institutions can help you make better investment or personal livability decisions.
Real estates in designated regeneration areas also tend to have better potential for capital appreciation.
3- Knowing the additional costs
When buying a property in Turkey, it's important to be aware of all the additional expenses that come with it, beyond the cost of the property itself.
These expenses may include one-time payments such as stamp duty and VAT, as well as ongoing costs such as utility accounts, natural disaster insurance, and regular expenses like maintenance and property taxes.
Make sure to factor these costs into your budget and consider them before making a decision.
4- Choose the right construction company
At Move 2 Turkey, we only work with reputable construction companies that have a proven track record of success.
You may not find some of the biggest names in the Turkish market, as size doesn't always equal quality, particularly when it comes to agencies and developers in Turkey.
This industry is heavily driven by marketing, but the ability to "build" a brand doesn't necessarily indicate a positive outcome for the buyer during the purchasing process.
We only recommend companies who have a history of delivering on-time and maintaining high standards of quality.
Our in-house legal team conducts routine reviews of permits and building licenses to ensure that the projects we recommend have been carried out in compliance with all legal regulations.
When we assure that a developer or project is trustworthy, we stand by that claim.
5- Legal Actions
If you are unable to be present in Turkey during the payment process for your property, it is necessary to grant a Power of Attorney (POA) to a lawyer who will represent you throughout the process.
If you plan to become a Turkish citizen through the Citizenship by Investment program, it is mandatory to have a POA in order for the legal team to submit the application on your behalf.
The POA also covers title deed registration, submission of residency and citizenship applications for the buyer and any family members included, as well as ordering an evaluation report.
POA can be obtained at Turkish embassies worldwide or at a notary public office in Turkey prior to leaving the country.
Move 2 Turkey offers legal services to guide you through the POA process and help you determine the most suitable legal strategy for you and your family.
6- Determining the best payment plan
For some buyers, a payment plan may be a more viable option, depending on their individual circumstances.
Payment plans can be a convenient option, however it's important to fully understand the terms and timeline for payments.
Maintaining a good relationship with the construction company is crucial, and that is dependent on timely payments and adherence to the agreed upon terms.
Additionally, cash payments often come with discounts, but that doesn't mean there isn't room for negotiation on the amount of the down-payment or length of payment conditions.
Lastly, it's important to be aware of the penalty terms in case of any unforeseen circumstance where payments can no longer be made.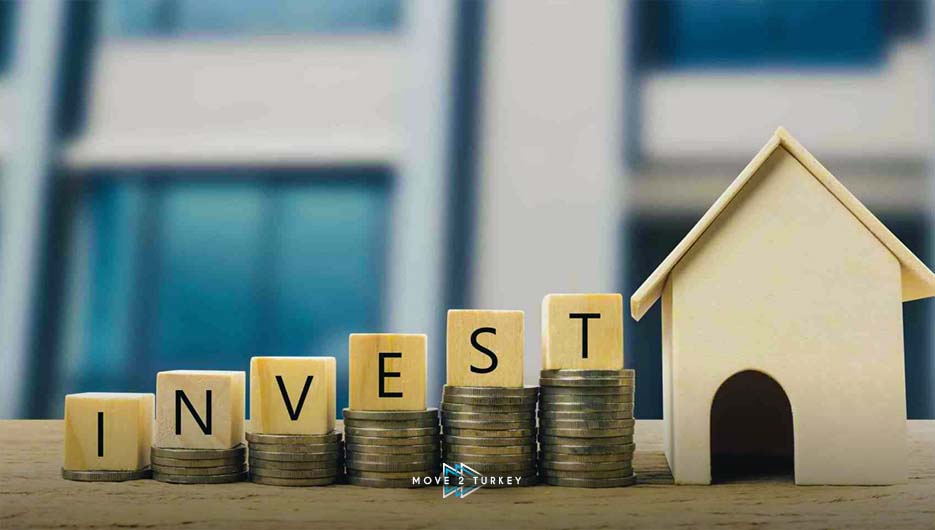 7- Choose a property that has the biggest benefit
When discussing investment options with an advisor, it's important to understand key financial concepts such as return on investment (ROI), Net Present Value (NPV), and Internal Rate of Return (IRR).
ROI refers to the annual rental returns and the percentage earned, and Capital Growth is the growth in value over the maturity period of the ownership.
These are basic interpretations, but they highlight the importance of being familiar with commonly used terminology in real estate investments.
It's important to remember that every buyer has different expectations and goals when it comes to ROI and Capital Growth.
Understanding your own preferences is key to allowing your advisor to properly guide and assist you.
Some buyers may prioritize higher monthly income with lower capital growth, while others may be more interested in realizing a higher value upon selling and not concerned with renting out the property.
There isn't a right or wrong strategy, but clear communication is crucial.
8- Buying property online
In the past, physically inspecting a property before making a purchase was a common practice, however, due to the COVID-19 pandemic, online buying has become a preferred and necessary option.
Move 2 Turkey has a proven track record of successfully selling properties online.
Customers from all over the world are now choosing to buy properties online, thanks to the seamless process offered by the Companies sales team.
We provide online viewings, video conferencing negotiations, and access to our in-house legal team to guide you through every step of the process.
However, for those who still prefer to view the property in person, our team will be ready to take you to view various options at pre-identified locations, following all the necessary local health protocols and precautions.
9- Choose a reputable real estate agency
It's important to steer clear of agencies that limit your options or pressure you into making a quick decision on a single project they claim is the best fit for you.
Choose to work with agencies that take the time to understand your needs, interests, and goals.
A good advisor will provide you with information on the neighborhoods, demographics, and realistic rental value, as well as the project name, exact location, catalogs, brochures and real images, including off-plan projects.
Agencies that fail to provide this basic information should be approached with caution.
Look for a buyer's agent, who can act on your behalf and find the best solution in the market for you.
At Move 2 Turkey, we are dedicated to breaking down these barriers and providing our clients with the best buying experience. Our track record speaks for itself, but the best way to find out is to experience it for yourself.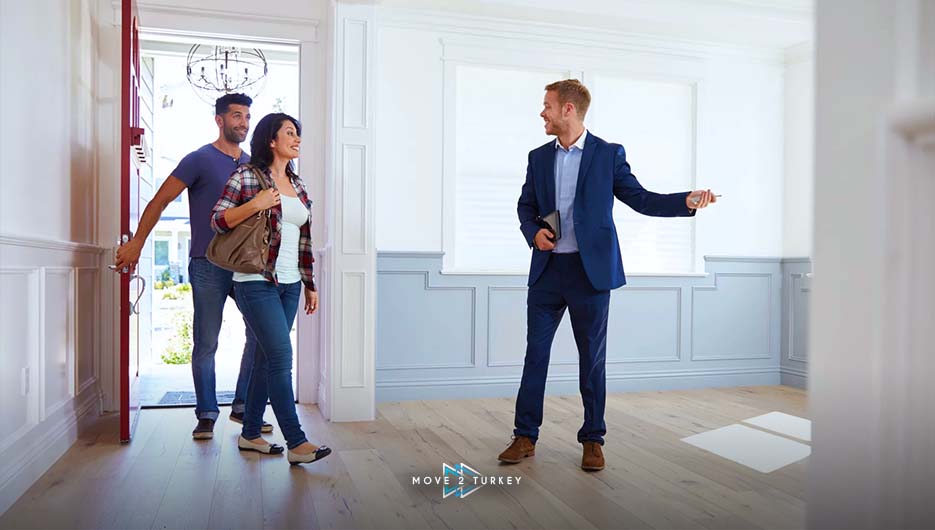 10- Visiting the project in person
It's important to visit the construction sites to assess the progress and quality of the work.
Inquire about the length of time the construction has been ongoing and when it's expected to be completed, and compare it to other projects in the area.
Verify that there are no undisclosed reasons for any delays with your advisor.
If the project is already completed, find out how long ago it was finished and how many units are still available for purchase.
It's worth considering if there are any potential issues for why a large number of units remain unsold in older projects.
Consider the services and amenities offered by each project and understand the associated costs.
Not all projects have swimming pools, gyms, or indoor parking facilities, so if these are important to you, let your advisor know so they can eliminate options that don't meet your requirements.
Despite a large stock of available properties in Istanbul, developers continue to build new projects at a fast pace.
It's worth considering both off-plan and completed options, and take time to compare prices, as there are certainly good deals to be found.
11- Study your options carefully
Ask your advisor for their own analysis of the properties you are interested in.
They should be able to provide you with a clear understanding of the project's growth potential, investment quality, construction quality, livability, and how well it aligns with your specific requirements.
If an advisor or agency is unable to provide this information, it's not doing you a favor.
If you are unsure, don't hesitate to ask to speak with a supervisor or director.
Once you receive the advisor's analysis, conduct your own research and comparison.
Focus on 3-4 options that you believe are the most suitable, rather than considering multiple options at once, as it can lead to confusion and mistrust.
Wait until you arrive and view the options in person before making a decision, rather than relying on information or guidance that could be misleading.
It's your right to see multiple options, so make sure you exercise that right and consider all options available to you.
In conclusion, buying property in Turkey can be a great move for those looking for an investment or a new home.
It's important to work with reputable agencies and advisors who understand your needs and goals, and can provide you with all the necessary information about the property, location, and surrounding neighborhoods.
Before making a decision, be sure to visit the construction site, compare prices, and have a clear understanding of the terms and timeline of payments.
Additionally, be aware of any additional expenses that come with the purchase, such as stamp duty and value-added tax.
It's important to have a clear idea of your investment goals and whether you prefer higher monthly income or capital growth.
It's also important to have an understanding of the legal aspect, such as power of attorney and paperwork.
With the right knowledge and guidance, buying property in Turkey can be a smart and profitable move.