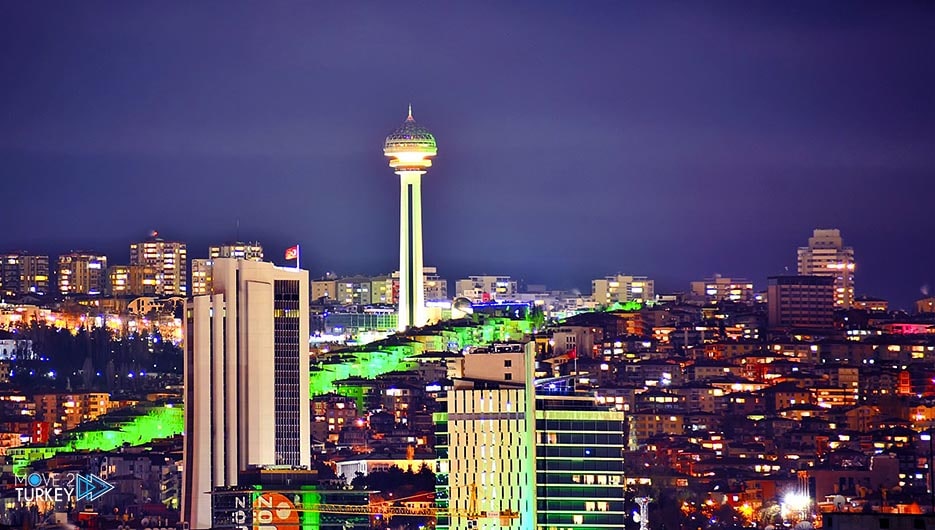 Ankara, a city that combines modernity and tradition, with all of its attractions for tourists and locals.
In our travel guide to Ankara, we intend to present this information in one comprehensive article, so join us on a trip to Ankara, Turkey.
The geographical location of Ankara
Turkey is located in the Northern Hemisphere at the crossroads between Asia and Europe, the geographical location of Turkey is a place of communication between the two continents of Europe and Asia.
The city of Ankara is the second largest city in Turkey and is the capital of this country.
The geographical location of Ankara is located between 4 mountains and 3 rivers, the city has become a center of culture and trade and contains many tourist attractions.
A Brief History of Ankara
Ankara is one of the oldest cities in Turkey, as the city has witnessed many empires throughout history.
The history of this city dates back to the time of the Hittites, who lived in the second millennium BC, and after them the Persians, Greeks, Romans, Byzantines and Ottomans occupied the city.
Security in Ankara
In general, Ankara is a very safe city. But when traveling anywhere in the world, you should pay close attention to your belongings, because this can happen anywhere in the world and not only in Ankara.
In some very crowded neighborhoods and centers you have to pay more attention.
Weather in Ankara
Ankara is one of the cities that attracts many tourists every year.
The climate of this region is very cold in winter and it may rain and snow often, but summer in Ankara is very hot.
Spring and Autumn are pleasant seasons, and in both these seasons we see stable weather and ideal conditions for tourism.
The best time to travel to Ankara
The best time to travel to Ankara is from September to the end of October, when the weather is nice.
but if you want to travel to Ankara in early summer, we must say that you don't have to worry about the heat at all, as you can easily go to the tourist attractions or the water parks.
The cost of accommodation in Ankara
The cost of living in Ankara makes all social classes easily live in this city, as there are many good and varied hotels that you can choose from with any budget and any taste you have.
Therefore, we will mention some suitable hotels as a continuation to our travel guide to Ankara.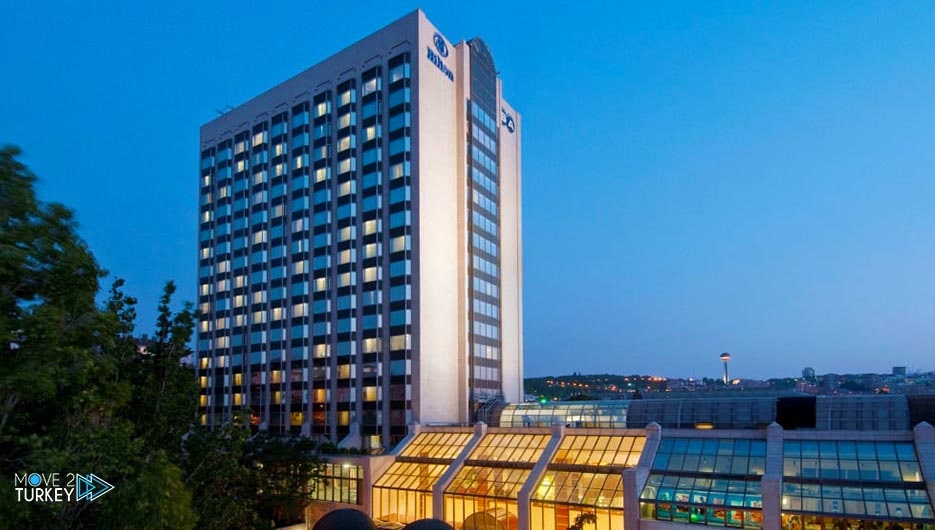 Featured hotels in Ankara
Ankara Hilton Sa Hotel
One of the most luxurious hotels in Ankara is the Ankara Hilton SA.
The hotel is only 5 minutes away from the busy Tunalı Hilmi Shopping center and Karum AVM Mall.
Phone number: 00903124550000
Website: www.hilton.com.tr
Address: Gaziosmanpaşa, Tehran Cd. No:12,06700 Çankaya/Ankara, Turkey
Mövenpick Hotel Ankara
Another modern 5-star hotel in the city center, this hotel is one of the best hotels in Ankara and has many leisure, sports and wellness facilities, indoor and outdoor pools.
Phone number: 00903122585800
Website: www.movenpick.com
Address: Beştepe, Eskişehir Yolu No: 8, 06560 Yenimahalle / Ankara, Turkey
Demonti Hotel Ankara
This 4-star hotel in Ankara, Turkey is one of the best hotels in this city and has all the facilities that travelers need to stay, the distance from this hotel to the airport is 30 km.
Phone number: 00903124170808
Website: www.demontiotel.com
Address: Kavaklıdere, Esat Cd. No:10, 06680 Çankaya/Ankara, Turkey
The cost of food in Ankara
Most of the food in this city is a mixture of meat, and if you are a kebab lover, you can try Iskender Kebab, Doner Kebab and yogurt Meatballs.
You can also get the items you need from supermarkets in this city.
In our Ankara travel guide, we will mention some of the good restaurants in this Turkish city as well as their related expenses.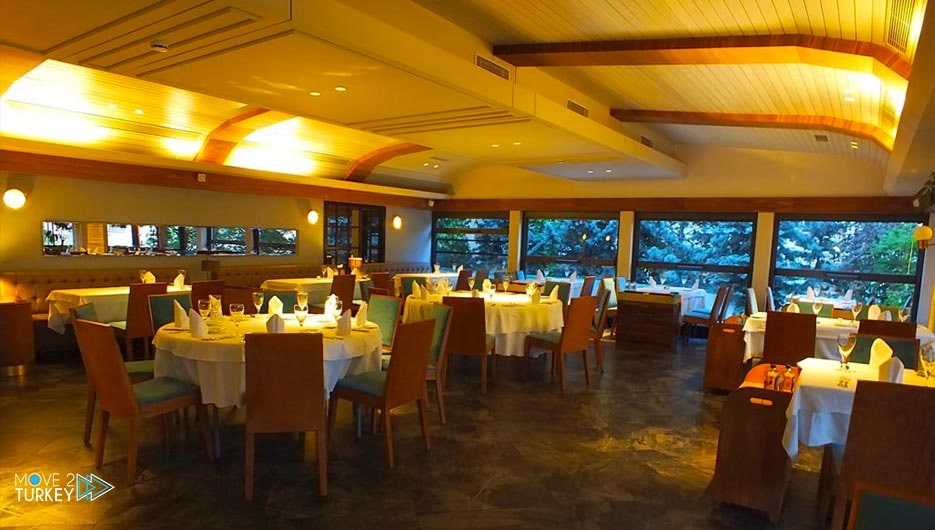 Recommended restaurants in Ankara
Trilye Restaurant
This restaurant can accommodate about 120 people, and it has a varied menu of Mediterranean dishes, and you should know that the cost of serving in this restaurant is relatively high.
Address: Kazım Özalp, İzci Sk. No: 11, 06700 Çankaya / Ankara, Turkey
Kebap 49 Restaurant
Kebab is one of the most famous Turkish dishes and it is also a favorite of most foreigners.
So you can visit Kebab 49 restaurant in Ankara to eat all kinds of kebabs.
Of course, in addition to kebabs, you can also taste a variety of pizza and European dishes in this restaurant.
Address: Remzi Oğuz Arık, Bestekar Sk. No:55, 06680 Çankaya/Ankara, Turkey
Haci Arif Bey Kebapcisi
This restaurant is famous for its kebabs and traditional dishes.
There is a large variety of foods in this restaurant. In addition to Turkish dishes, you can also order a variety of European dishes.
Address: Barbaros, Güniz Sk. No:46, 06680 Çankaya/Ankara, Turkey
Transportation in Ankara
There are three types of public transportation in Ankara:
bus
The buses in this city bear the EGO Government logo, you can use these buses by buying a ticket, the color of EGO buses is white and blue.
Ankara bus card are electronic and must be purchased at EGO Ticket centers.
Payment can be made in cash or by purchasing tickets and will cost you about 2.75 Turkish lira.
Subway
You can use the city metro to reach your destination quickly and avoid traffic congestion in the streets of Ankara.
You can pay for the subway through an electronic card that you can get from the subway station and the card fee is about 1.65 Turkish lira.
Taxis
Taxis are easily available in Ankara. They are yellow in color.
The taxi fare is calculated using the taxi meter and the entrance fee is 4.20 Turkish lira.
Unlike many cities in the world the cost of taxis at night is the same as morning in Ankara.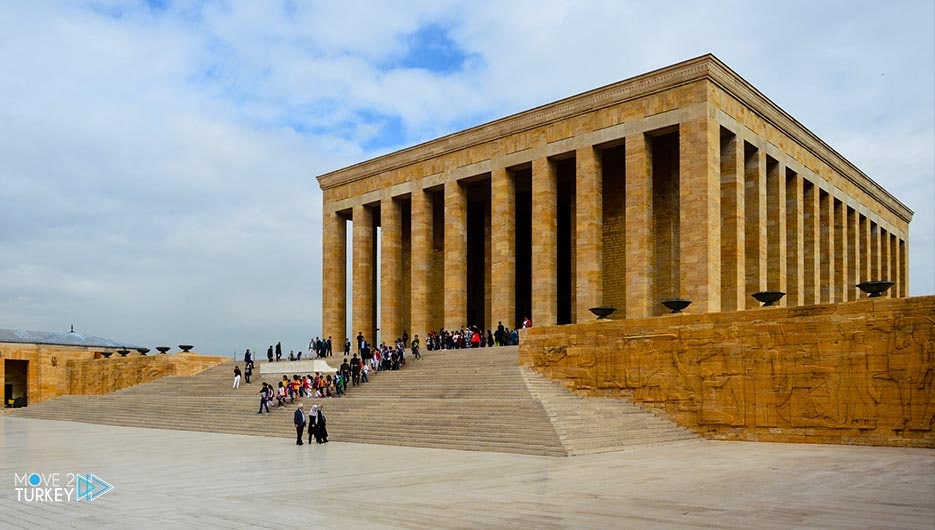 Tourist attractions in Ankara
Kocatepe Mosque
One of the contemporary buildings in Ankara is the Kocatepe Mosque.
It took 20 years to build this historic mosque. The design of this mosque is related to the classical Ottoman era.
Ataturk Mausoleum
This building belongs to one of the heroes of Turkey, Mustafa Kemal Ataturk was the first president of Turkey and the leader of the Turkish war of independence.
The mausoleum of Ataturk is located in Ankara and is visited by many tourists every year.
Anatolian Civilization Museum
The museum displays a collection of archaeological artifacts dating back to very ancient civilizations.
Visitors can see antiquities dating back to the Stone Age, the Bronze Age, and more.
Atakule Tower
A tower from which you can see a charming view of the city of Ankara, the construction of this tower was completed in 1989 and was recognized as one of the best tourist attractions in Ankara.
Shopping in Ankara
If you want to go shopping in Ankara, you can go to the traditional markets and modern shopping malls.
In addition to the famous shopping centers located in this city, there are also famous streets full of shops and vendors where you can buy various goods at reasonable prices.
If you are looking for traditional shops in Ankara, there are many options, in each of them you will see beautiful art exhibits, like Çıkrıkçılar Yokuşu and Bakircilar Carsisi Bazaar.
In our travel guide to Ankara, we will mention some of the most famous shopping malls in this city: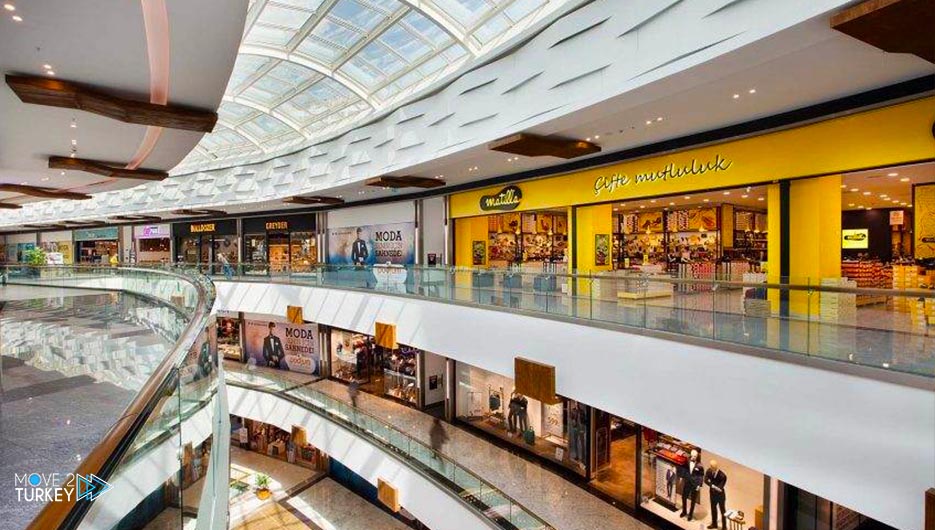 The most famous shopping mall in Ankara
ANKAmall Shopping Center
Address: Gazi Mahallesi, Mevlana Blv. No:2, 06330 Yenimahalle/Ankara, Turkey
Arcadium Shopping Center
Address: Koru Mah., 2432. Cad. No:192, 06810 Çankaya/Ankara, Turkey
Armada Shopping Center
Address: Beştepe Mahallesi, Eskişehir Yolu (Dumlupınar Blv.) No:6, 06560 Yenimahalle/Ankara, Turkey
Kizilay Shopping Center
Address: Kızılay, Milli Piyango, 06420 Çankaya/Ankara, Turkey
Optimum Outlet Shopping Center
Address: Etiler, Optimum No:93, 06796 Etimesgut/Ankara, Turkey
What to do and what to avoid in Ankara
Try to keep your cash in a safe place in crowded malls
Taxi costs are high in Turkey, so don't use taxis in this city as often as possible
When Turkish people invite you for tea or food according to their customs, you can refuse their invitation by placing your right hand on your chest as a sign of respect.