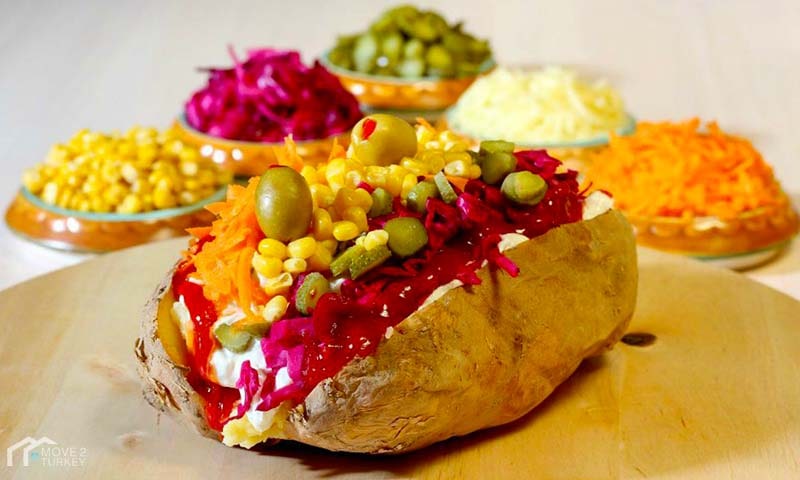 Ingredients for Baked Potato Kumpir Recipe
4 large potatoes
2 spoonful of butter
1 cup of grated cheddar cheese
2 medium carrots
1 cup boiled corn
1/2 cup diced pitted black olives
1/2 cup diced green olives
8 pickled cucumbers
4 tablespoons of american salad
Mayonnaise
Ketchup
1/4 teaspoon salt
4 sausages
Kumpir Recipe's Tricks
It's important that you have chosen potatoes that are large, smooth and of a certain thickness. After opening the middle part of the potatoes after it's cooked while still warm, you should immediately crush the inside of the potato with butter and grated cheddar cheese.
To help keep the potatoes moist, run the oven on the fanless program.
How to Make The Baked Potato Kumpir Recipe?
wash the potatoes with water and then dry them with a paper towel. punch the potatoes on several parts with a sharp knife.
Roll the baked potatoes tightly with baking paper or aluminum foil (with the shiny side facing outside).
Bake the potatoes for about 90 minutes in a preheated 200 degree oven so that they are cooked completely.
After taking the potatoes out of the oven, Stap it in the middle with a sharp knife.
Grind the middle parts of the potatoes with the addition of the desired amount of butter and grated cheddar cheese. With the temperature of the potatoes, the kitchen will smell like butter, be ready. 😉
Put the baked potatoes on the serving plates, and we sprinkle them with salt.
Grate the peeled carrots with the thick side of the grater. Chop the cucumber pickles into small pieces.
After straining the water of the boiled garnish (pea, carrot, potato) mixture, mix with mayonnaise and prepare the American salad.
Serve the Kompir without waiting with the addition of American salad, grated carrot, chopped cucumber pickles, boiled corn, chopped green and black olives as well as ketchup.
Enjoy it with your loved ones.
Serving Recommendation of Baked Potato Kompir Recipe
There is no limit to the materials to be added to the Kompir. Thinly chopped purple cabbage, pickled beet, greens, sausage, salami, etc.