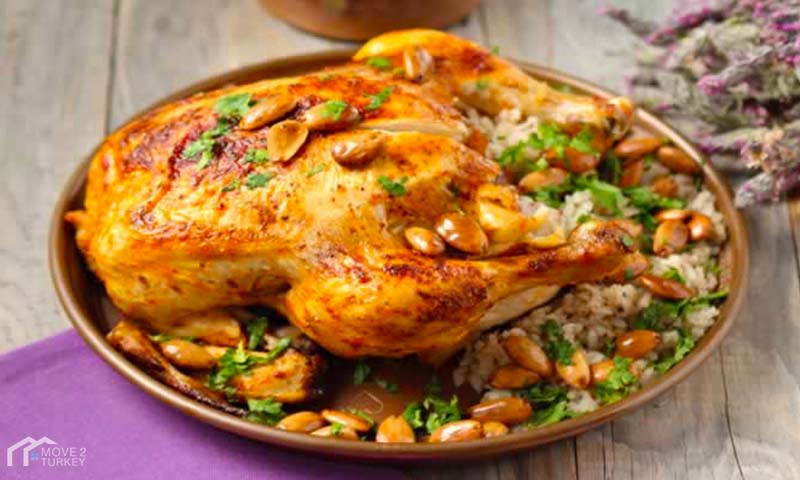 Turkish Stuffed Chicken is an alternative recipe for New Year's meals in Turkey. It is imperative to roast that rice slowly until the color of the rice becomes brown. It is also very incomplete without adding a lot of spices.
If you wish, you can complete the cooking process with the root vegetables added to the baking tray. It would help you display a colorful image on the plates.
Ingredients for Turkish Stuffed Chicken Recipe
For the inner rice:
1.5 cups of rice
2 onions
1 tablespoon of currants
1 tablespoon of peanut
2 cups of hot water (you can also use chicken broth)
2 spoons of butter
1/2 teaspoon of cinnamon
1 teaspoon of salt
1 teaspoon of black pepper
For The Chicken:
For The Topping:
1 tablespoon of butter
1 teaspoon of lemon juice
1 teaspoon of ground pepper
1 pinch of parsley
The Key For The Turkish Stuffed Chicken Recipe
When removing the bones of the whole chicken, be careful not to ruin it and keep it whole.
You can soak the rice in warm water beforehand.
Cooking Proposal of Turkish Stuffed Chicken Recipe
If you place the chicken on the baking tray with the breast facing downward, it will brown like a pomegranate. Be careful not to cook too much, as the inner rice will continue to be cooked in the oven.
How to Make Turkish Stuffed Chicken Recipe
To prepare the rice: Chop the onions into small cubes. Melt the butter in a large saucepan. Roast the chopped onions until they turn gold.
Wash the rice, and drain the excess water. Add salt. Roast the rice over medium heat until it becomes light brown.
Add peanuts, currants, black pepper and cinnamon to the roasted rice. Continue the roasting process for another 2-3 minutes.
Add hot water. Cook the rice for 10 minutes on low heat in a saucepan with the lid closed. Leave it to brew.
Using a sharp knife, remove all the bones of the chicken from the joints and remove it. Fill the whole chicken with rice with the help of a large spoon.
In order to keep the rice inside the chicken, Cross the chicken legs crosswise with a thick kitchen rope.
Mix butter, lemon juice and pepper in a bowl. Grease the chicken with the butter mixture you prepared.
Bake the chicken in a preheated 180 degree oven for 45 minutes.
Now the chicken is ready to serve 🙂