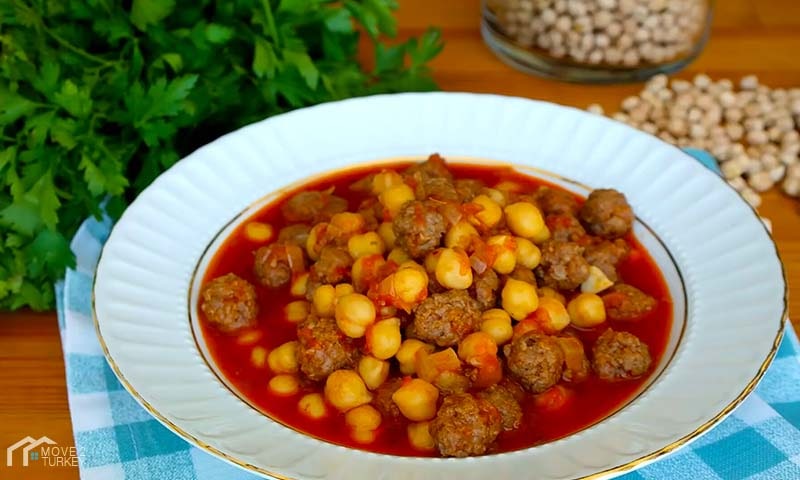 Chickpeas dishes are very common in Turkey. Its production is concentrated in the Middle East and in the south of Asia.
Even one of the chickpeas is valuable, in fact, one chickpea contains about 22% protein, 50% carbohydrates, 5% fat, and the remaining 22% contains vitamins and minerals.
Ingredients
250 grams of ground beef
1 tablespoon breadcrumbs
1 tablespoon of flour
1 teaspoon of black pepper
1,5 cups of chickpeas
1 tablespoon tomato paste
6 cups of hot water
1 Chopped onion
3 tablespoon olive oil
The Key to the Chickpea Kofta Recipe
It is important not to soak the meatballs in flour. because if it's cooked with excess flour, it may leave an undesired taste. Therefore, we recommend that you sift the excess flour in the meatballs.
Cooking Proposal of Chickpea Kofta Recipe
You can soak the chickpeas one day in advance and then cook them for 15 minutes.
How to Make Chickpea Kofta Recipe?
Put the minced meat in a bowl, add various spices, sprinkle with breadcrumbs and start kneading.Then shape the mortar into marble-sized meatballs.
Pour very little flour into a bowl and add the meatballs. Shake the container a little so that you cover the meatballs with light flour.
Put the olive oil in a saucepan, take the onions you chopped and start roasting, then add the tomato paste.
Cook for a few more minutes, then add the hot water. Let the water boil.
After the water boils, add the meatballs. Then add the boiled chickpeas.
Cook on low heat for about 25 minutes, until the meatballs are cooked.
Bon Appetit.