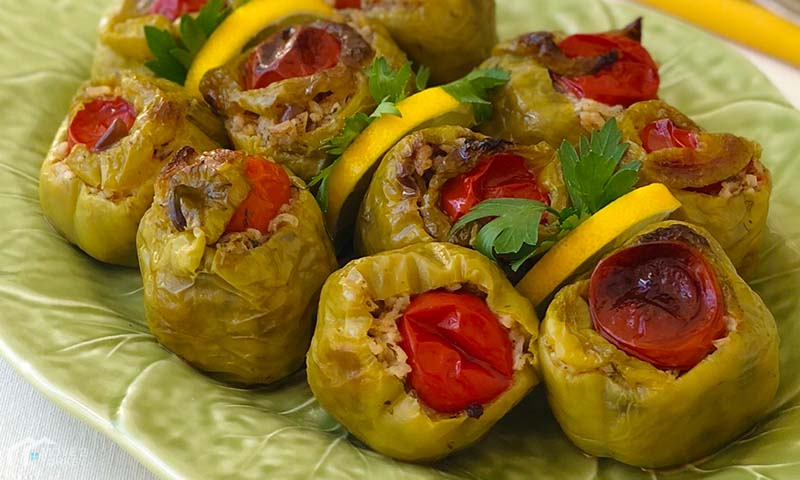 Ingredients for Turkish Stuffed Peppers Recipe (Dolma)
1/2 cup olive oil
2 onions
2 tablespoons of pistachios
1.5 cups of rice
10 medium bell pepper
2 cups of hot water
1 medium tomato (for the topping)
1 tablespoon of currants
1 teaspoon salt
1 teaspoon of mint
1/2 teaspoon of granulated sugar
1/2 teaspoon black pepper
1/2 teaspoon allspice
How to make the Turkish Stuffed Peppers Recipe (Dolma)?
Put half a glass of olive oil in a large rice pot and roast together with 2 chopped onions until it turns pink.
Add 2 tablespoons of pistachios and continue roasting.
After the pistachios get the color, add 1.5 cups of washed rice and fry for 2-3 minutes.
Add 1 tablespoon of currants, 1 teaspoon of salt, half a teaspoon of black pepper, half a teaspoon of allspice, half a teaspoon of granulated sugar and 1 teaspoon of mint and mix for the last time.
Add 2 cups of hot water, cook for 7-8 minutes with the rice and then remove it from the stove.
Carve the peppers, and remove their seeds (10-15 pieces of pepper).
Fill the prepared peppers with the rice you made.
Arrange the stuffed pepper that you prepared perpendicular to the pot.
Cover the tops of the peppers with cherry tomatoes that you cut in half.
Fill the pot halfway with water and pour olive oil over them and close the lid.
Cook the stuffing for about 30-35 minutes, until the cooking water is over, lower the heat for a couple of minutes.
Serve warm or cold.
Bon Appetit!
Serving recommendation of the Turkish Stuffed Peppers Recipe (Dolma)
You can serve it with lemon slices.