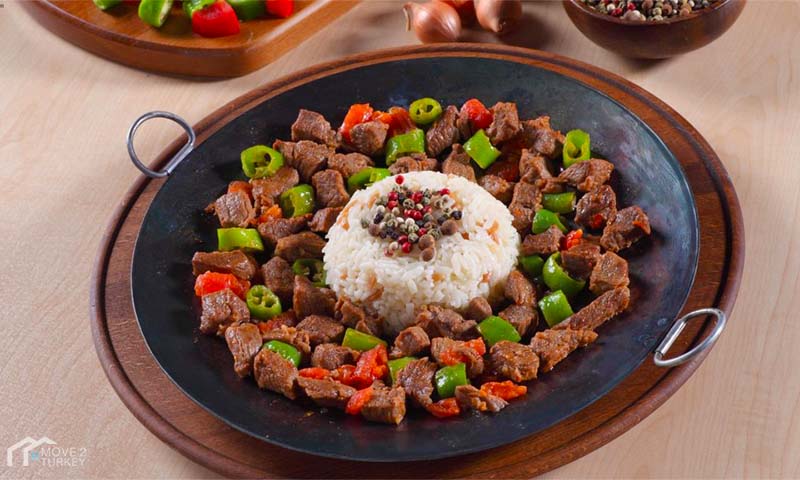 Ingredients for Kavurma Recipe
2 tablespoons of oil
1 kg. cubed meat (lamb or medium-fat beef)
2 onions (chopped into large cubes)
3 peppers (diced)
2 tomatoes (peeled, diced)
1 tablespoon butter
1 teaspoon salt
1 teaspoon of black pepper
1 teaspoon of paprika
1 teaspoon of thyme
Cooking Recommendation for Kavurma Recipe
If you want, you can also use a thin-bottomed wok pan instead of a metal sheet pan.
How To Make The Kavurma Recipe?
Put 2 tablespoons of oil in the metal sheet pan and heat it. Add 1 kilogram of cubed lamb meat.
Roast the meat over high heat. When the meat is lightly browned, add 2 onions, cut into large cubes, into the pan and mix.
After the onions are sautéed, add 3 green peppers to the pan. mix them occasionally to prevent the ingredients from sticking to the pan.
After the peppers are sautéed, add 2 peeled, diced tomatoes.
After the tomatoes are cooked, add 1 tablespoon of butter and keep mixing.
Add all the spices, and mix for 2-3 minutes.
The Kavurma is ready to serve. 🙂
Service Proposal of the Kavurma Recipe
You can perfect your presentation with rice or a delicious side dish such as salads.