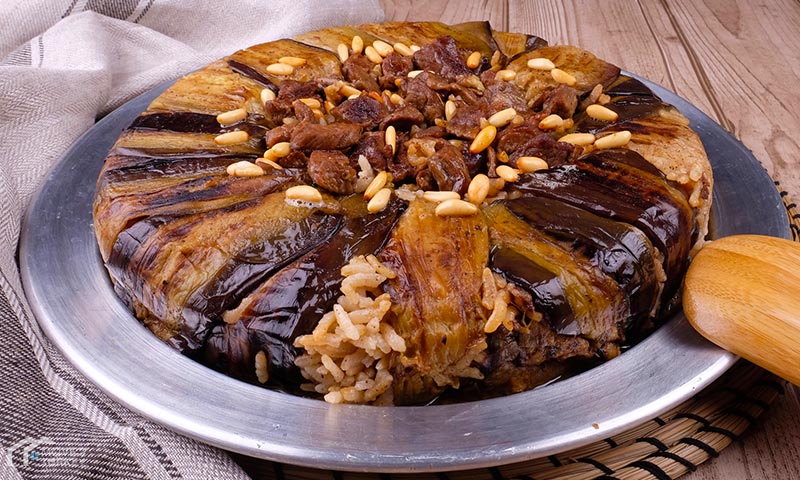 Maklube is one of the Arabs' favorite rice dishes. It has been done in Turkish cuisine for a long time.
It is easy to make, very elegant and very satisfying to eat. We absolutely recommend you try it
Maklube recipe ingredients:
400 gr cubed beef meat
1 medium onion
Half a tea glass of olive oil
2 medium tomatoes
2 medium eggplants
500 gr rice
Salt, pepper
Hot enough water to get on it
1 tablespoon of butter
Olive oil for frying vegetables
How to Make a Maklube?
Roast the meat in a hot pot and add enough hot water to reach 2 fingers.
Add salt and let it boil.
Cook for 20 minutes. Strain the broth into a separate container.
Wash the rice 2 times and let it soak in hot water.
Slice the vegetables round and fry.
Roast the tomatoes very little.
Add half a tea glass of olive oil and a half moon chopped onion to a flat, high pot, and sauté gently.
Add the boiled meat and fry for 1-2 minutes.
Add the vegetables (fried tomatoes and eggplant) to the meat and onions.
Sprinkle salt and pepper in between.
Strain the soaked rice, and pour over the vegetables.
Add butter, piecemeal.
Finally, sprinkle a little more salt, add enough broth to the top and take it to the stove.
After it starts to boil, cook it until the water shrinks and the rice absorbs it.
Once cooked, gently mix the rice with a fork.
After the water is gone, close the pot and let it rest for half an hour.
Turn it over to a flat serving dish.
Garnish with the roasted almonds and finely chopped parsley and serve.
Enjoy your Maklube 🙂