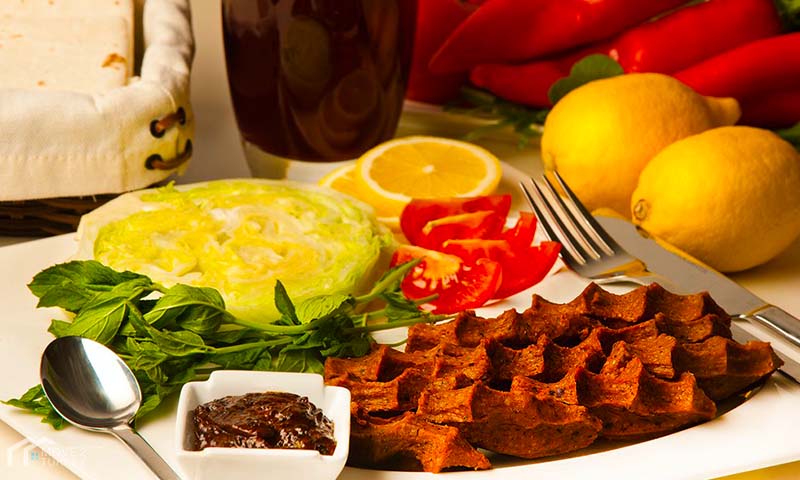 Ingredients for homemade Cig Kofte (Çiğ Köfte)
to make the Cig Kofte (Çiğ Köfte) Recipe you need:
2.5 cups thin bulgur
1.5 cups hot water
1 tea glass olive oil
3 tablespoons chilli powder
1 tablespoon tomato paste
2 tablespoons pepper paste
4 tablespoons pomegranate syrup
1 teaspoon salt
1 unit grated onion
1 unit lemon juice
The Key to Cig Kofte (Çiğ Köfte) Recipe
In order to blend all the ingredients with each other while passing the mixer, stop your mixer from time to time and continue to operate by cleaning the materials adhering to the blades. If the texture is too hard, you can add olive oil. You can also adjust the level of bitterness and sourness to your taste.
How to Make Cig Kofte (Çiğ Köfte) Recipe
Put the bulgur in a bowl and pour hot water over it and let it stand until it swells.
Take the grated onion over a cheesecloth, and squeeze out the excess water.
Put all the Cig kofte ingredients in your food processor and start mixing them. You can help it run faster by opening the food processor once in a while and cleaning the ingredients that stick on the blade.
Since all the ingredients blend well, you can put them in a different bowl.
Cut and shape pieces of walnut-sized pieces from your Cig Kofte with your hands.
You can serve it with lettuce, parsley greens, cold cucumber, tomato and pickles.
Enjoy your meal!