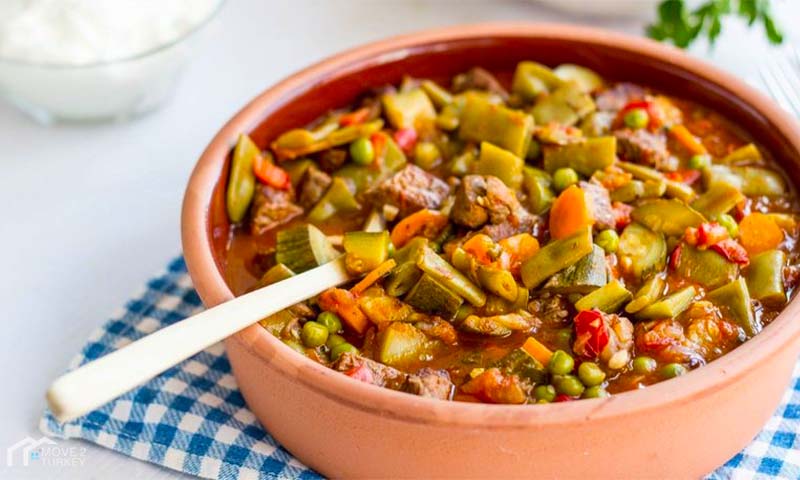 Gardener Kebab | Bahçıvan Kebabı Recipe
Ingredients of the Gardener Kebab Recipe:
600 gr lamb cubed
60 gr butter
150 g Shallot onions
150 gr Carrot
150 gr Peas
200 gr Tomato
1 teaspoon salt
150 gr string beans
150 gr Pumpkin
50 gr bell pepper
1/2 bunch of Dill
Spice bag
2.5 cups of water
How to Make Gardener Kebab Recipe:
As a preliminary preparation, remove the shallots and leave them whole.
Scrape the carrots, and then Chop them into coarse dice.
Extract the pea.
After cleansing and peeling the tomatoes, Chop them into coarse dice.
Scrape the pumpkin.
Take the stems and core parts off of bell pepper.
Chop all three vegetables, like carrots, into a large dice shape.
After washing the dill and drying it well, mince it. Melt one-third of the oil in a medium pot, and set it on a fire pot. When the oil starts to heat, add the shallot, carrot and string beans.
Saute for 3-4 minutes, stirring occasionally. Add the bell pepper and zucchini and saute for a few more minutes, then remove the pot from the fire.
Melt the remaining oil in a large saucepan over a fire. When the oil starts to brown, add the diced lamb meat. Turn on the fire. Saute the meat for 5-6 minutes, stirring occasionally with a colander until it turns pink. Then add the tomato.
Continue stirring occasionally, and cook for a few more minutes.
Put the salt and mix. Add the vegetables. Add the spice bag. Add the water and bring to a boil.
Meanwhile, take the kefi on the pot with a colander and throw it away.
Turn down the fire. Cover the pot tightly. Cook the kebab on heavy heat for 25-30 minutes, until the meat is tender.
During this time, occasionally open the lid of the pot and check whether the meat is cooked. Extend cooking time if necessary.