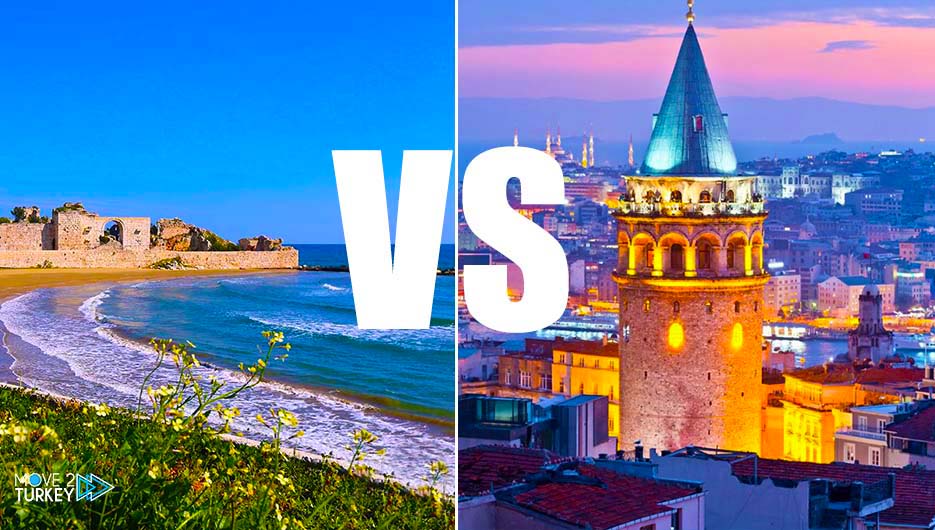 The cost of living in Turkey is very good, as for foreigners, Turkey is not a very expensive country.
Investors, or those who wish to move to Turkey to obtain a good standard of living, can find opportunities that fit their budget perfectly here.
Regional differences in the cost of living is like anywhere else in the world, as we all know that living in a popular tourist city such as Istanbul will be more expensive than other Turkish cities.
In the cities on the shores of the Aegean and the Mediterranean, the cost of living in them is greatly reduced.
Compared with the cost of living in Mersin, living in Istanbul is about 39% more expensive.
But on the other hand, in a major city like Istanbul, you will find many varied entertainment facilities, government centers and huge commercial centers compared to Mersin, as Istanbul is an important tourist center of the country.
In this article, if you intend to choose between Istanbul and Mersin, we will give you all the comparison points to help you with your decision, so stay tuned!
Read in details:
Food in Mersin compared to Istanbul
Food in Istanbul is more expensive than in other Turkish cities, and for a city located on the shores of the Mediterranean such as Mersin, the cost of food is much lower compared to Istanbul.
The foodstuffs in Mersin decrease in various categories between 15% and 40%, the basic foodstuffs are very low compared to Istanbul, and the cost of restaurants in Mersin is less than in Istanbul by more than 15%.
In general, Mersin is cheaper than Istanbul in terms of food overall, about 32%.
For people who are looking for a good and cheap living at the same time, Mersin will be the ideal choice for them.
The time zone difference between Mersin and Istanbul
There is no time zone difference between Mersin and Istanbul, and they both follow the same time zone.
Housing in Mersin compared to Istanbul
Housing is one of the most important things that anyone who wants to settle in a city depends on.
If you are looking for cheap housing with good specifications, you will find your request in Mersin, as you will find in Mersin many good yet really cheap homes.
Compared to Istanbul, the monthly rent in Mersin is up to 55% cheaper, as the monthly rent for houses in Istanbul is very high, especially on the European side of the city.
In general, real estate in Mersin is 46% cheaper than in Istanbul.
If you are looking for a cheaper place, then Mersin is the most appropriate, but if you want to invest in real estate in Turkey, well Istanbul is where you put your cash.
Click here if you are considering buying a property in Istanbul.
On the other hand, monthly bills in Mersin are more expensive compared to Istanbul, the cost of heating, gas, electricity… for one person in Mersin is 7% more expensive than Istanbul, but for a family it will come back to you cheaper than Istanbul.
The internet in Mersin is 20% cheaper than Istanbul, and household electrical appliances will cost you much less in Mersin compared to Istanbul.
Shopping in Mersin compared to Istanbul
Istanbul has large and very diverse purchasing capabilities, huge commercial centers, large markets and very diverse goods compared to Mersin.
You can find in Istanbul shops of all international brands and the latest fashion.
Despite the lack of huge malls in Mersin, it contains some good malls that contain some of the branches of international brands.
You will find clothing prices slightly cheaper compared to Istanbul, and the percentage can easily reach about 16%.
The difference in transportation between Mersin and Istanbul
The most important thing people care about moving to any city is the availability of transportation.
In general, gasoline in Turkey is a little expensive, so taking a taxi would be an expensive choice in any city of Turkey.
Although it may be slightly cheaper in Mersin than Istanbul, However, it is still expensive.
As for the cost of regular daily transportation, Mersin is no different from Istanbul, But the cost of traveling on public transport may vary, as on average, Istanbul is about 40% more than Mersin.
Also, buying a car in Mersin is much cheaper than Istanbul, as Istanbul is a tourist and economic city, the cost of buying a car will be much higher than in a city like Mersin.
Read more about buying a car in Turkey here.
Living in Mersin compared to Istanbul
Istanbul never sleeps! You will find the streets all the time very crowded, and the nightlife in Istanbul is very active, while the city of Mersin has a general calm compared to Istanbul.
If you tend to be more calm, then Mersin will be ideal for you with its beautiful and quiet beaches compared to the crowded beaches of Istanbul.
If you prefer a bustling and exciting nightlife, then Istanbul will be more suitable for you.
If you are one of the people who prefer a modern and sophisticated urban life, then Istanbul will satisfy your need, while if you prefer a simple and quiet life and enjoy the vast green meadows and fresh air, then Mersin will be absolutely perfect.
Entertainment in Mersin compared to Istanbul
Although the city of Mersin has many entertainment places. But come on, Istanbul is at the forefront in terms of entertainment in Turkey.
Istanbul contains many diverse entertainment places that suit all tastes, from theaters and cinemas to museums and bars.
However, although Istanbul has a lot of fun places of entertainment, Mersin has cheaper prices in this area compared to Istanbul, as it is about 37% cheaper than in Istanbul. (It's your choice)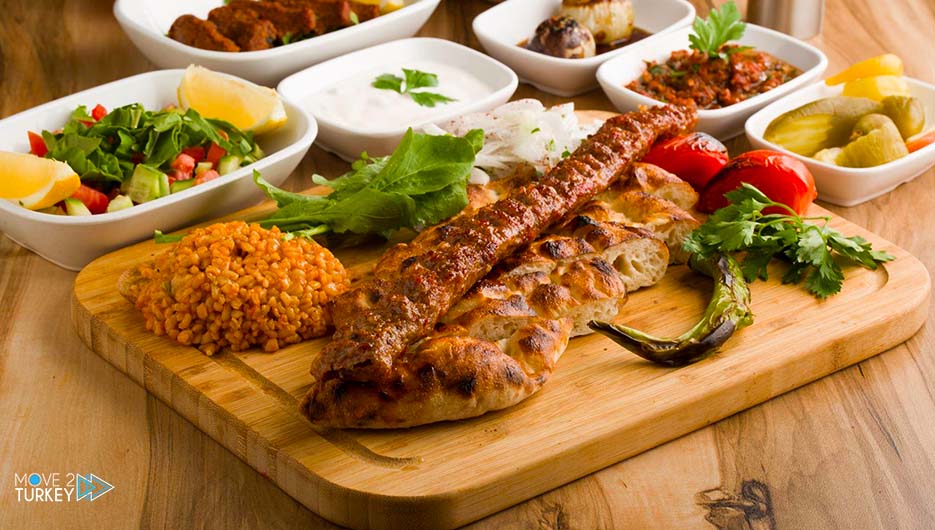 Restaurants in Mersin compared to Istanbul
There are many good restaurants in both cities, Mersin and Istanbul, and you can also find branches of international restaurants in both of them.
But Mersin is characterized by a lower cost, as a meal for two people in a good restaurant in Mersin will cost you about 70 Turkish liras, while in Istanbul it may cost you 130 Turkish liras.
Ease of getting a job in Mersin compared to Istanbul
Finding a job in Mersin is a bit easy, residents of this city do not face many difficulties in finding work due to the expansion of trade and offices, and the low population of the city, which is about 1.8 million people.
But since Istanbul is the largest and most important city in Turkey, it is a commercial and economic city, and its population is more than 15.5 million, as it ranks first in Turkey and Europe, and sixth in the world, so finding a good job is a challenge for foreigners.