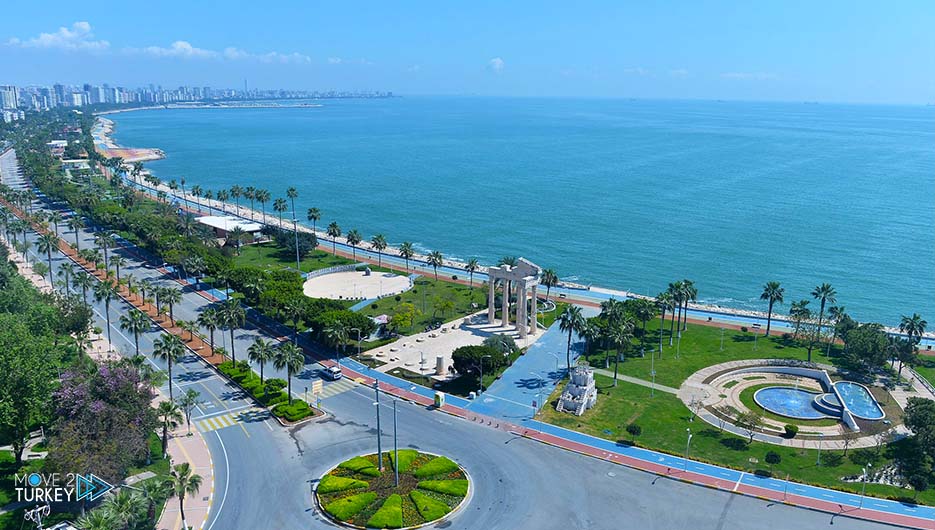 Turkey is one of the best countries in the world with a population of 73 million people of different races and races.
Turkey is an attractive destination for immigration and travel by foreigners, the low cost of living, people with warm hearts and amazing tourist and archaeological attractions are among the most important factors that attract tourists from all over The world to this country.
Mersin is the most important city that immigrants began to gravitate to settle in.
It is located in southern Turkey on the shores of the Mediterranean, and the city has been dubbed "the pearl of the Mediterranean."
So what is life like in Mersin? How is living in it?
Mersin in a nutshell
The city of Mersin is the capital of Mersin Province located in southern Turkey.
Mersin is surrounded by Adana to the east, Antalya to the west, the Taurus Mountains to the north, Konya and the Mediterranean Sea to the south.
The city of Mersin was dubbed "the pearl of the Mediterranean", and its population in 2015 reached about 1,727,255, making it the tenth Turkish city in terms of population, with an area of 1772 square kilometers, and the language of Mersin's population is Turkish.
The city is an important port as it is a tourist city with a coastline of 321 km.
The port of Mersin is also economically and industrially important for the city in particular and Turkey in general, and it is the second largest port in Turkey.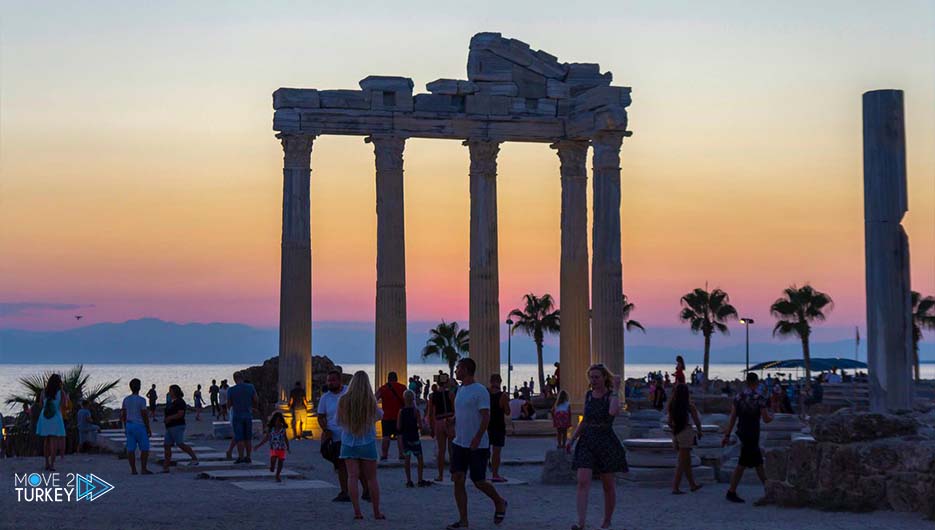 Tourist attractions in Mersin, Turkey
Mersin is home to an astonishing number of historical sites, which are testament to the many civilizations that have inhabited its plains over the centuries.
From stunning castles to remnants of ancient cities that were once thriving.
Exploring Mersin is a dream come true for history buffs.
Due to its ancient history, Mersin has many monuments, which is one of the reasons why it annually hosts many tourists from all over the world.
Among the most famous of these are the Roman Amur Castle, Kanbazali Ruins, Kizkalesi Castle, the ancient city of Olba which includes the amazing Temple of Zeus, Adamkayalar rock carvings, Kanlıdivane City, Anemurium Roman City, Aya Tekla Cave Church, and the Roman Road.
Climate in Mersin, Turkey
Mersin has a subtropical Mediterranean climate with hot and dry summers and mild winters.
The coldest month in Mersin is January, with an average maximum temperature of 14.7 degrees Celsius and a minimum of 6.3 degrees Celsius.
August is the hottest month of the year, with an average high of 31.5 ° C and an average low of 24.2 ° C.
Rainfall in Mersin is at its highest in the winter, while the driest month is the summer months and there is no possibility of rain.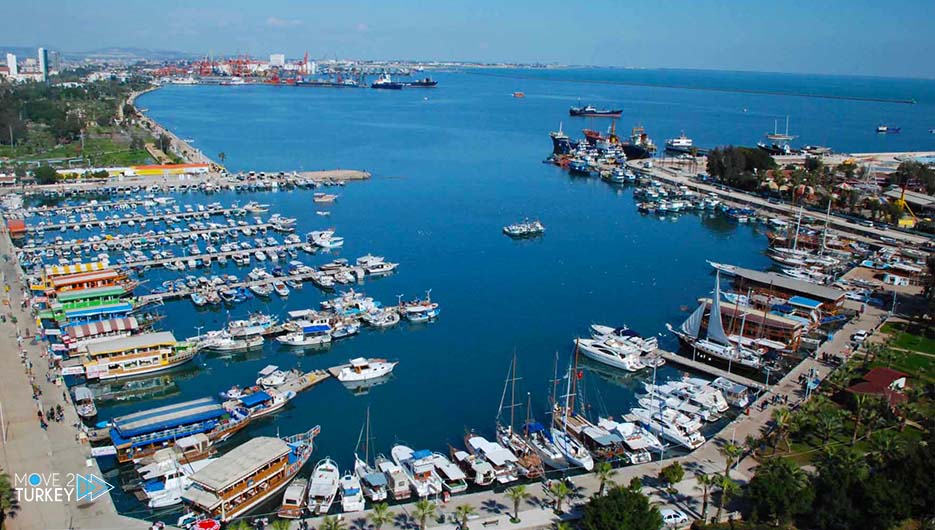 Population in Mersin, Turkey
The people in Mersin, Turkey, are simple and very friendly, you can start a conversation with them without fear or shame, and they will kindly invite you to drink tea, as the kindness of the people of Mersin attracts many tourists and immigrants to the city.
Economic situation in Mersin, Turkey
The city of Mersin has a port of great economic importance for Turkey, as the port of Mersin is the second largest port in Turkey after Ambarli Port (located near Istanbul), and it imports and exports with 5 continents.
The port contains 45 berths, and the total port area is 785,000 square meters, with an approximate capacity of 6,000 ships per year.
The availability of fertile soil and the vast plains of Mersin make it a suitable place for agriculture, as Mersin is a major producer of citrus fruits, cotton, bananas, olives and various fruits.
Due to the commercial importance of this city, a free zone was established in Mersin on a land of 785 thousand square meters, and it is one of the four free zones of Turkey, and includes about 300 companies.
The city also contains many important factories in areas such as glass, mineral water, fertilizers, textiles and fruit juices on the Mersin-Adana highway.
Job opportunities in Mersin, Turkey
The rapid growth of the city of Mersin made the labor market swell widely, as its name began to spread as an important tourist destination in Turkey, and the presence of the port in the city gave it great importance and provided many job opportunities.
As Mersin is an important agricultural city in Turkey, there are many job opportunities in the field of agriculture.
The average monthly salary in the city of Mersin, after taxes is deducted, is about 3000 TL.
Read more about the average salaries in Turkey here.
Public transportation in Mersin, Turkey
In Turkey, taxis and fuel are both very expensive and perhaps migrants and even many Turks cannot afford them.
In contrast Turkey has extensive and regular metro lines and buses, in this way you can go to any part of Mersin at a lower cost and easily use public transport.
The cost of living in Mersin, Turkey
The costs of life in Mersin are very low compared to many Turkish cities, and it is very reasonable, and the number of immigrants to Mersin is increasing day by day, as many people choose Turkey to travel or emigrate because of the low costs compared to other European countries.
Buying real estate in Mersin
Housing is one of the most important things that anyone who wants to settle on in a city depends on.
If you are looking for cheap housing with good specifications, you will find your request in Mersin, where there are many good and cheap homes at the same time.
In general, buying or renting real estate in Mersin is much cheaper than many major Turkish cities such as Istanbul and Ankara, and you can find a good, large and affordable home.
Food in Mersin
Mersin cuisine is very popular, and you will find many good restaurants in the city that serve the most famous local Turkish dishes, including Ciğer Kebap, Tantuni, Bumbar, Cezerye, Karsambaç, Künefe, Kerebiç and Şalgam Suyu.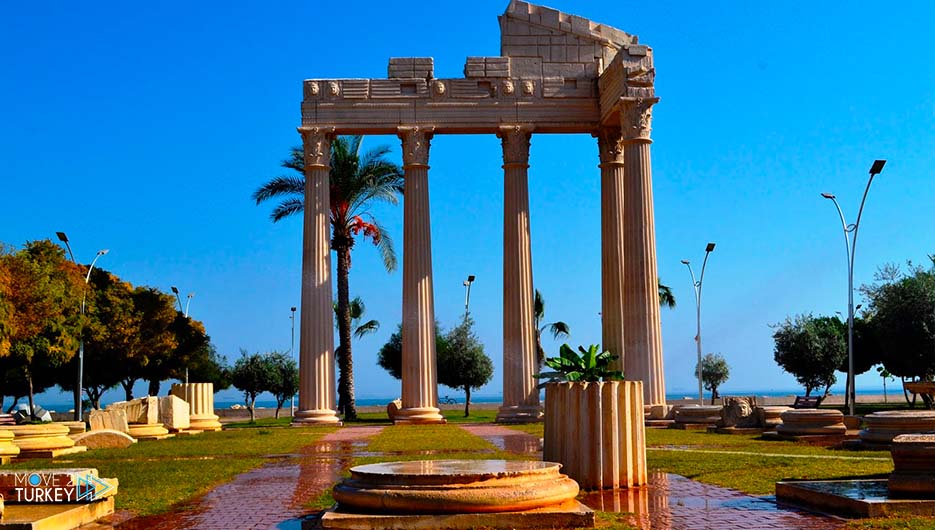 Festivals in Mersin, Turkey
Due to Mersin's reputation as a historical and tourist place, attention has been paid to establishing many places to hold cultural festivals.
As Mersin has an opera and ballet house, which is the fourth after Istanbul, Izmir and Ankara.
The Mersin Music Festival was established in 2001 and takes place every year in October. There is also a large museum in the city center of Mersin where many cultural activities are held every period.
Nightlife in Mersin
Mersin is a quiet city compared to the famous cities in Turkey, but despite this, you can find some good nightclubs in the city, such as the Kiskac Cafe Bar.
List of living expenses in Mersin 2021
Restaurant prices in Mersin, Turkey
| | |
| --- | --- |
| The type of food | The cost is in Turkish Lira |
| A meal for one in a low-cost restaurant | 14 |
| Two meals for two in a mid-range restaurant | 50 |
| McDonald's meal | 17 |
| Cappuccino | 10 |
| Pepsi or soft drink | 2.25 |
| A small water bottle | 0.75 |
Prices of basic food commodities in Mersin, Turkey
| | |
| --- | --- |
| Item type | The cost is in Turkish Lira |
| A liter of milk | 3,38 |
| A large loaf of bread | 2 |
| A kilo of white rice | 6 |
| 12 eggs | 7 |
| A kilo of cheese | 22,33 |
| A kilo of chicken breasts | 17 |
| A kilo of meat | 51.60 |
| A kilo of apples | 3.5 |
| A kilo of bananas | 6.5 |
| A kilo of orange | 2.60 |
| A kilo of tomatoes | 4.5 |
| A kilo of potatoes | 3.5 |
| A kilo of onions | 3.25 |
| 1,5 liter water bottle | 2 |
Transportation prices in Mersin, Turkey
| | |
| --- | --- |
| Service type | The price is in Turkish Lira |
| A one-way ticket | 2,5 |
| Monthly card for public transportation | 200 |
| Enter the taxi | 4 |
| Per one kilometer by taxi | 3.70 |
| The cost of waiting for the taxi for an hour | 17.50 |
| Liter of gasoline | 6.50 |
The cost of basic services in Mersin, Turkey
| | |
| --- | --- |
| service type | The cost is in Turkish Lira |
| Estimated cost (gas, electricity, water, garbage) for an apartment of 85 square meters | 325 |
| The cost of a prepaid mobile minute | 1 |
| Internet service cost | 63,33 |
Monthly cost of renting an apartment in Mersin, Turkey
| | |
| --- | --- |
| Rent for one month | The cost is in Turkish Lira |
| One bedroom apartment in a residential complex | 1000 |
| One bedroom apartment outside the residential complex | 683,33 |
| 3 bedroom apartment in a residential complex | 1,350 |
| 3 bedroom apartment outside residential complex | 883 |
Clothing prices in Mersin, Turkey
| | |
| --- | --- |
| The type of clothes | The price is in Turkish Lira |
| Jeans | 172 |
| Summer dress | 117 |
| A pair of sneakers | 235 |
| A pair of men's leather shoes | 175 |