There are many reasons why people pack their bags and travel, sometimes sightseeing in pristine nature, sometimes visiting old buildings or enjoying an exciting gaming experience … of course, these situations are not the only motivation for travel. It is good to know that trying new foods and sweets is one of the reasons for this. There are many tourists who travel miles to reach their destination to savor the authentic taste of a particular dish. Join us on this journey to get to know the best and most famous Turkish sweets.
Today, you will travel with us to the land of wonders, Turkey, to savor the most delicious sweets in this country.
The cultural characteristics of the Ottoman Empire had a profound impact on Turkish cuisine, along with the strength of the country's tourism industry, making Turkish cuisine one of the most delicious dishes around the world.
The Turkish Cuisine
Whereas, the Ottoman food heritage is the result of a mixture of a variety of cooking methods and food ingredients created in Central Asia, the Caucasus, the Middle East, the Mediterranean and the Balkans, and has a multicultural structure.
When we look at the delicious dishes in Turkey, we see a variety of foods in front of us, from a variety of kebabs to a variety of main dishes and soups, etc., each of which has a lot to say.
Turkish sweets are among the most exciting and delicious parts of the culture of Turkish cuisine, which can surprise you with the shape and flavor.
It is interesting to know that these various Turkish sweets came as a result of cultural exchange over the years, which has now become a valuable heritage of this land.
Turkish sweets are often served in snacks or with hot drinks, such as tea and coffee. When you look at the list of names of these sweets, the well-known names such as baklava, halva and halgoum will come to your attention without hesitation, but you should know that there is still a large and delicious world of Turkish sweets in front of you.
1- Baklava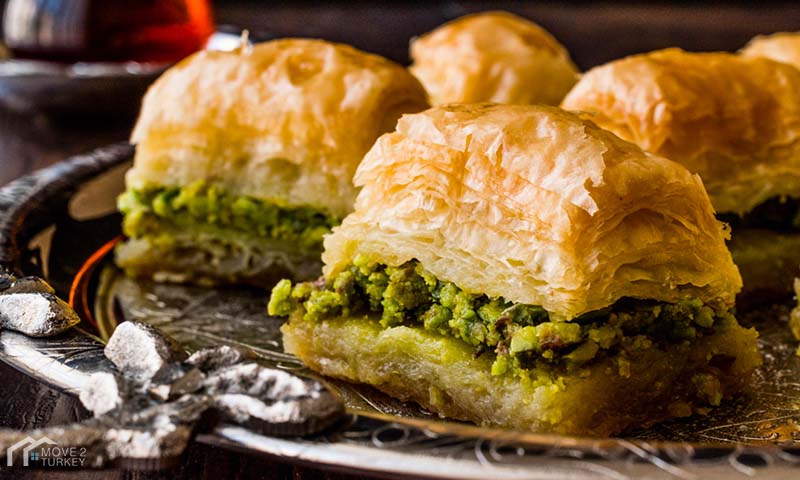 Of all the Turkish sweets, the baklava is without a doubt the first. It is one of the most famous sweets in the world, and you may have tried its taste before.
Baklava is a multi-layered sweet dough pasted together with sugar syrup or honey and has a different taste with a large amount of chopped nuts like pistachios, almonds, etc.
It may be interesting to know that this famous Turkish dessert dates back to the Roman Empire. Of course, its shape and appearance have undergone changes during the Ottoman Empire, and as a result, today you can find a variety of baklava on your trip to Turkey.
Types of baklava in Turkey include Burma, Sütlü Nuriye, Bülbül yuvası, Fıstıklı Sarma and Şöbiyet.
2- Kazandibi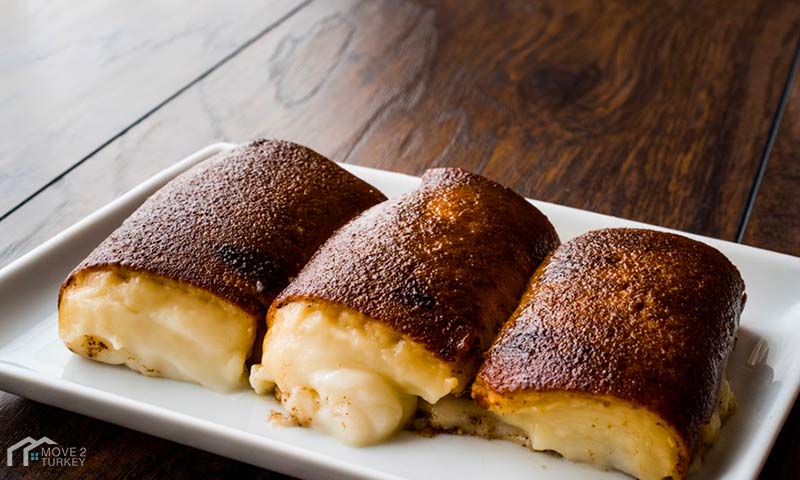 Kazandibi is one of the most delicious Turkish sweets, which has a very tempting look. This dessert is actually a kind of milk and caramel pudding known for its brown color. Which literally means the bottom of the pot, it has a direct relationship to how this dessert is cooked, because this dessert is made at the end of the pot and left until it is completely roasted and cooked on the bottom.
It is worth noting that Kazandibi is one of the royal desserts of the Ottoman cuisine, which is very popular among Turks and tourists today.
3- kunefe | künefe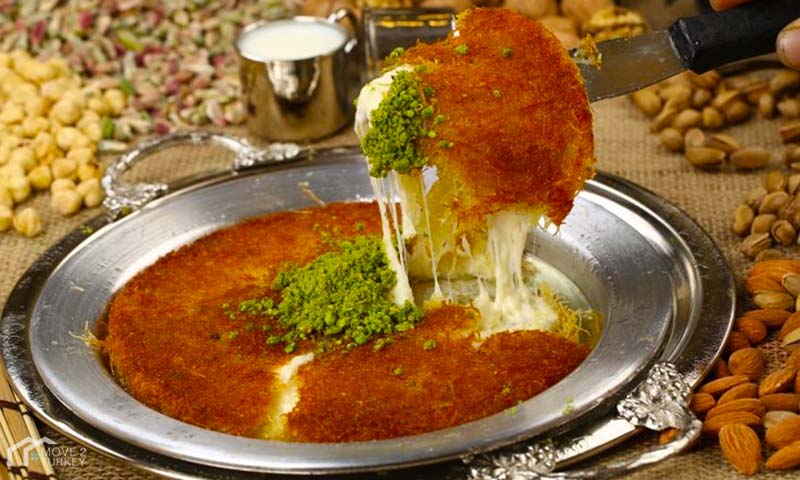 kunefe is one of the Turkish sweets that you can easily recognize its pleasant smell in the streets of Istanbul. kunefe is actually a great mixture of toasted pastry layers with melted cheese that is cooked together. Of course, in the end, they mix this dessert with sugar syrup and then decorate it with pistachio powder.
4- Rice pudding | Fırın Sütlaç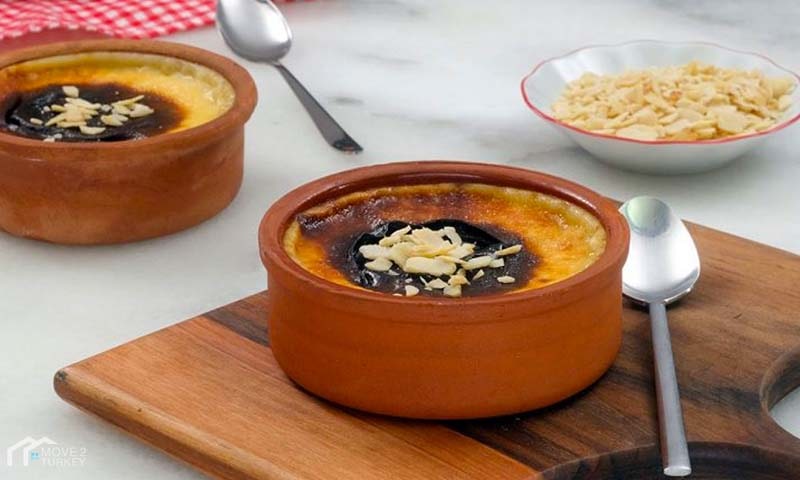 Rice pudding is one of the most popular sweets in the world. It's a type of Turkish rice pudding cooked with a mixture of rice, milk, water, rice flour and sugar. Finally, a layer of cinnamon and hazelnut powder is added to it, voila, ready to serve.
5- Ashura | Aşure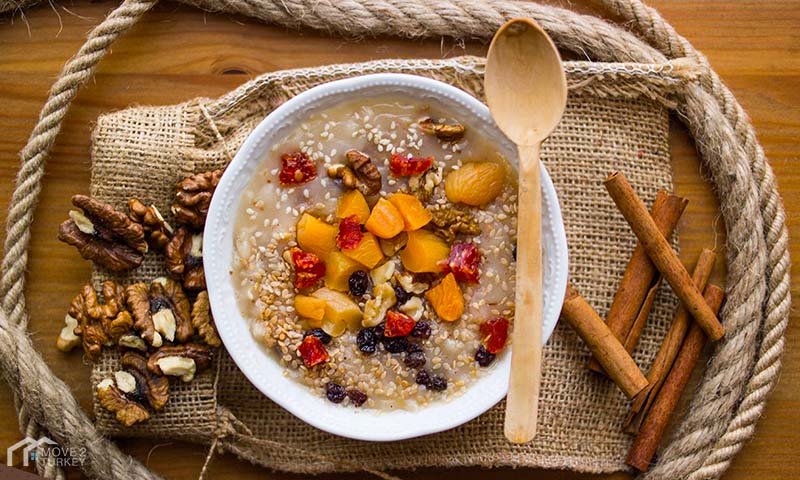 Ashura is another traditional and historical dessert in Turkey that has an interesting story. According to traditional beliefs and stories, when Prophet Noah survived the Great Storm and managed to find peace on his ship, he decided to cook food for himself and others. He looked at the food and groceries on the ship, began work, and finally created Ashura.
Ashura is actually a mixture of sugar with cereals such as wheat, peas, and white beans, which is accompanied by dried fruits such as figs, apricots, and raisins.
Of course, this Turkish dessert, like many others, uses nuts like hazelnuts and nuts for decoration.
6- Turkish Ice Cream | Dondurma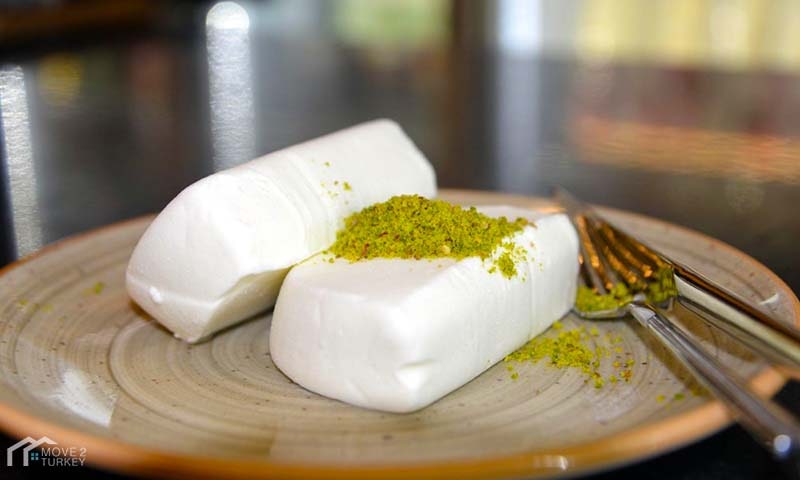 Contrary to the precedent, we came to one of the delicious and cold Turkish sweets. Dondurma is actually a traditional Turkish ice cream dating back to the 16th century. Dondurma has a thick and sticky texture and uses goat's milk, sugar, cream, sage, Roman incense, etc. to prepare it.
A simple and decorative layer of pistachio powder is added, and today you can easily find different types of it in the shops and alleys of the city and enjoy it on a hot summer day.
It is also called Maraş Ice Cream because they think this delicious ice cream is a heritage of this small town in Turkey.
7- Pumpkin dessert | Kabak tatlısı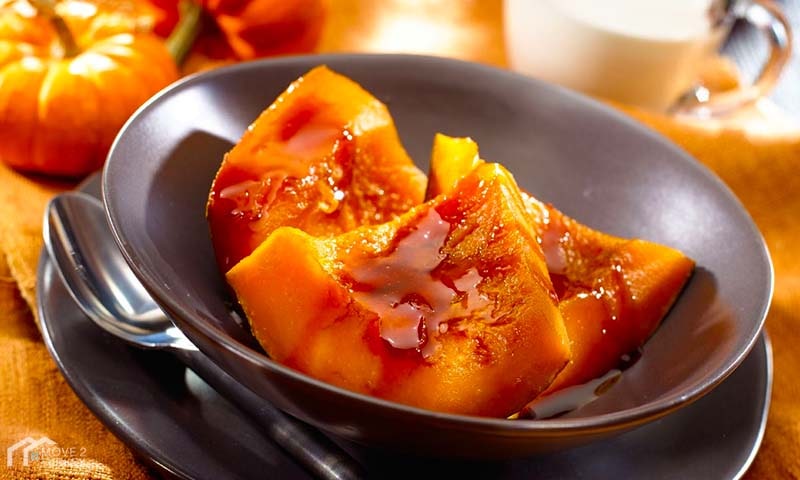 You can also guess from the image of this delicious dessert, pumpkin is one of the main ingredients of this dish. If you are a fan of this wonderful orange plant or your heart wants a little variety between Turkish sweets, pumpkin dessert will be a good choice for you.
It is interesting to know that this pumpkin dessert, unlike its simple appearance, is not only easy to cook, but also takes a very long time. It's a winter Turkish dessert that has many fans on the cold days.
8- Turkish Basbousa | Revani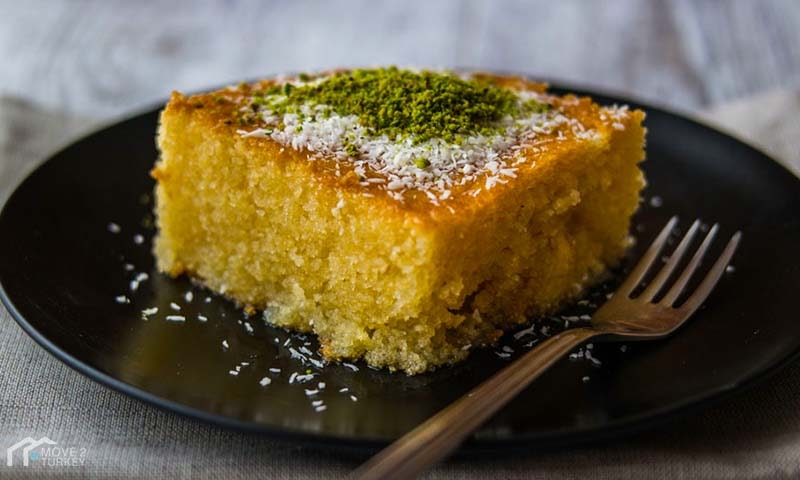 Ravani or Basbousa is another famous Turkish dessert, which is not unique in this country and has its own names in other parts of the world. It is a sweet cake made with semolina and sugar syrup mixed with orange juice. These delicious sweets are cut into small pieces and decorated with pistachio powder.
9- Lokum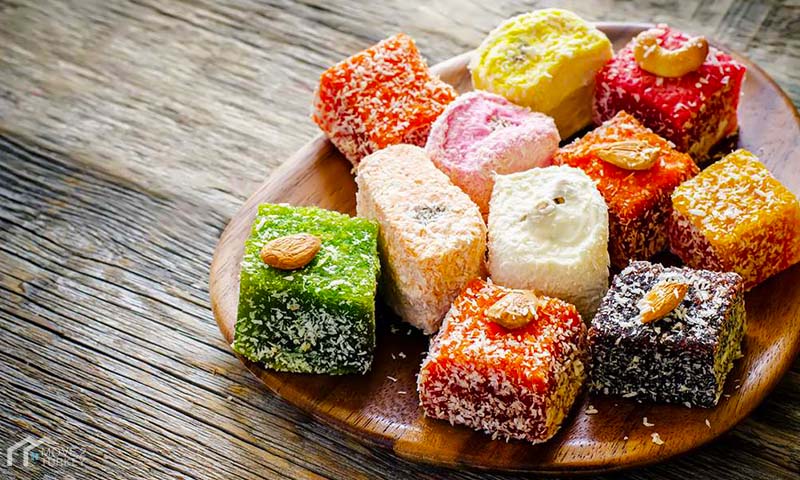 Lokum is one of those desserts whose name you must have heard before, and if you have passed through the beautiful city of Tabriz, you must have tasted it.
You can taste these square and colorful desserts during your trip to Turkey. Lokum has a gelatinous shape and was previously produced in three colors: red, lemon, and green.
In fact, all of these colors were due to natural spices. For example, in preparing red almonds, red rose extract was used, in lemons, lemon peel was used, and for green, bitter orange extract was used.
Of course, today you can easily buy a variety of comfort halls in different colors and shapes.
10- Quince dessert | Ayva Tatlısı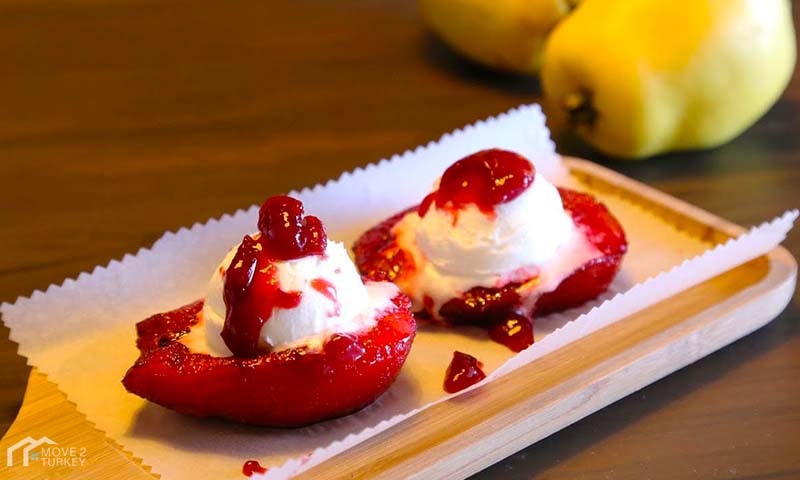 If you are a fruit lover and you have a little idea of ​​how to use and treat them, this dessert is for you.
Quince dessert is a unique Turkish sweets, combined with sugar syrup. All you need to do is take a look at this dessert, and everything becomes in the past.
If you want to taste some of these sweets on your trip to Turkey, don't worry! Because you can get Quince dessert in many restaurants.
11- Semolina Tahin | İrmik helvası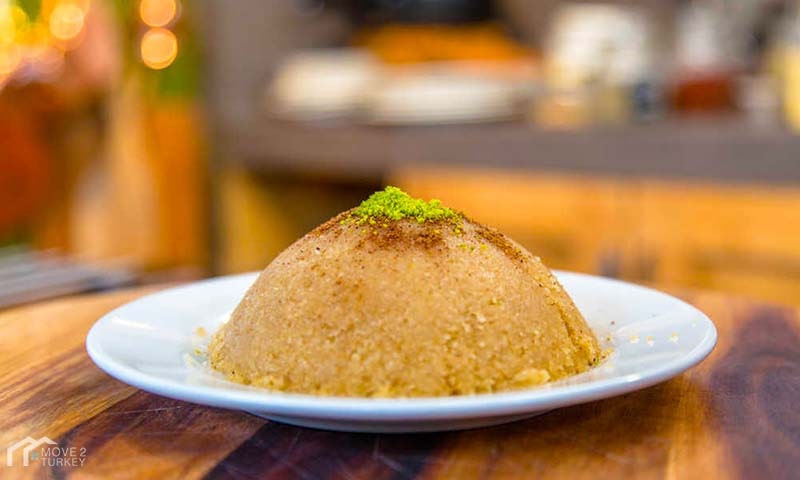 The semolina tahin is one of those delicious Turkish sweets that are prepared for religious celebrations. There are different types of this dessert, pistachios and ice cream are often used to flavor them. To make semolina tahin, semolina flour is first mixed with sugar, honey and butter, then nuts, dates and dried fruits are added.
12- Chicken Breast | Tavuk göğsü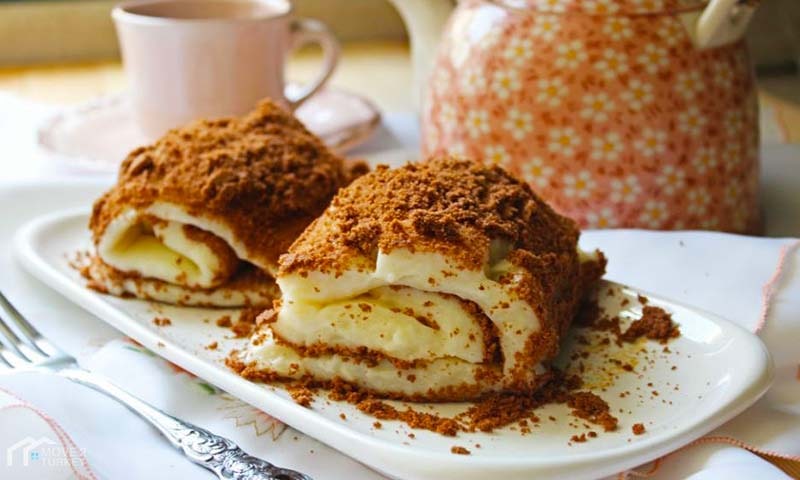 Tavuk göğsü is one of the most unique Turkish sweets, as it is a kind of milk pudding cooked with chicken breasts. I can guess by reading these ingredients how your face gestures are changed by trying to imagine how chicken meat could be delicious by combining it with milk and sugar, but I recommend not thinking about the ingredients of this dessert. Only taste it, as you will most likely love the different and exciting taste and you will notice how there is no chicken in this dessert.
Indeed, white meat is used in the cooking of Tavuk göğsü, which adds a soft and elastic texture to the dessert, and the long-term cooking of this meat with milk leaves no trace of the taste of chicken meat.
It may be interesting to know that Tavuk göğsü tastes similar to rice pudding, except that rice is not used to make this dessert.
13- Balah Al-Sham | Tulumba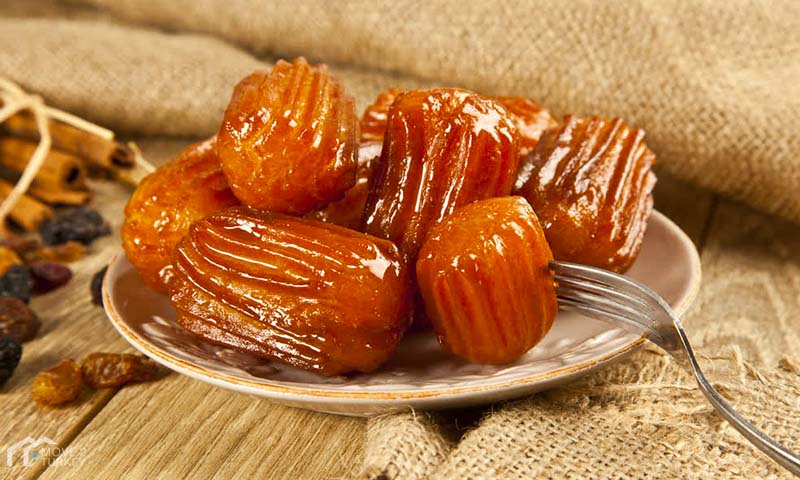 Balah Al Sham (Tulumba) is one of the most popular sweets of the Ottoman Empire and is hundreds of years old in the vast land of Turkey.
You can easily find it in various Turkish pastry shops and enjoy a nice evening with Turkish tea or coffee.
This is the list of the best and most delicious Turkish desserts and we have seen what kind of delicacy dishes await those intending to travel to Turkey.
What do you think about these sweets?
Which of these have you ever tasted?
Share your thoughts and memories and tell us which is your favorite.
Find out more about life in Istanbul