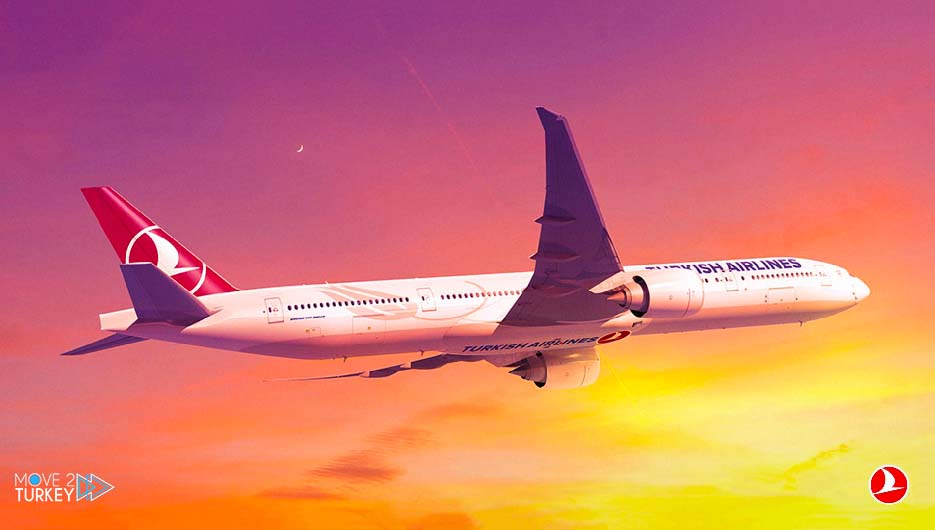 Turkish Airlines is the national airline of Turkey and today it is one of the best airlines in the world.
The high quality of services, especially the quality of Turkish Airlines food, is very well known.
Turkish Airlines, a prestigious airline in the world, is also well known by travelers who travel to Turkey or other countries around the world and choose this airline when booking a flight ticket because of flight safety and high quality services.
Turkish Airlines is the largest major transit contractor for the arrival and departure of Turkish Airlines passengers and has flights to more than 200 international airports around the world.
With 247 routes, it is the fourth largest airline in the world and the second largest airline in Europe after Air France.
Turkish Airlines was founded in 1933 by order of Mustafa Kemal Atatürk as part of the Ministry of Defense.
At that time, the Turkish Airlines fleet contained only two five-seater planes, two four-seater planes and one Tupolev plane with a capacity of ten people.
After two years, this department became a public organization called the General Administration of Airlines, until 1938 it was transferred to the Ministry of Transportation.
After the Second World War, the activities of this department expanded to cities such as Ankara, Athens, Beirut, Nicosia and others through the establishment of flight routes.
Turkish Airlines is headquartered in Istanbul and has branches at two international airports in Istanbul, Ataturk Airport and Sabiha Gokcen Airport.
It also has a history of ups and downs and has come a long way to being named the best airline in Europe and one of the best airlines in the world.
Turkish Airlines has managed to find a good place among international airlines with significant investments in equipping and improving the quality of its flights.
Today, Turkish Airlines is famous for the high quality of services provided, flight safety, the use of modern and equipped aircraft, and of course the delicious food served on board.
On some of this airline's flights, the menu offered to passengers is inspired by the cuisine of the Ottoman Empire.
Various magazines and publications covering different aspects of airlines have repeatedly praised Turkish Airlines and ranked it among the best airlines.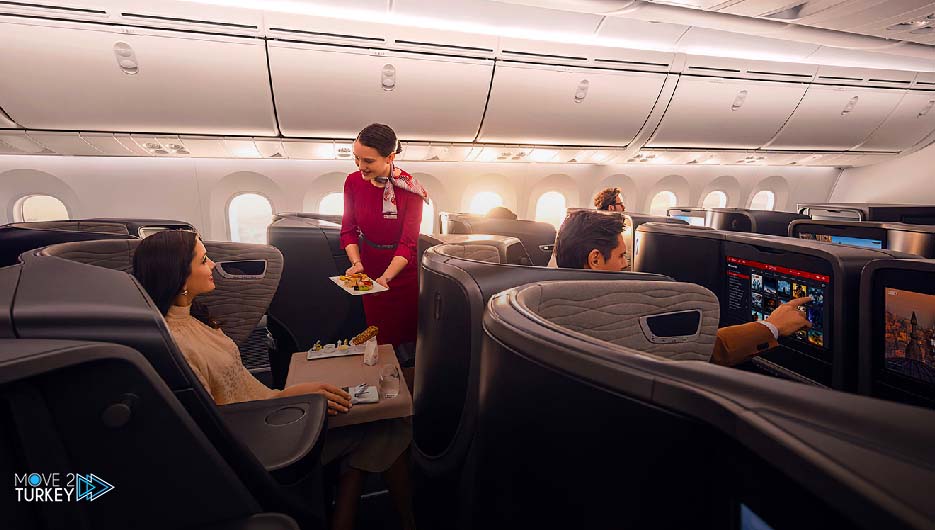 Turkish Airlines Flight Classes
Turkish Airlines has different flights such as first class, business class and economy class.
Below is a brief description of each of these trips.
First class flight on Turkish Airlines:
Some Turkish Airlines aircraft, such as the Boeing 777, have a degree of comfort that gives you more space and more distance than others, such as the seat, massage, game console, 10-inch screen and reading lamp.
And also a rich menu of food, desserts, hot and cold drinks.
Business class flights on Turkish Airlines:
This type of trip, also known as business class trips, provides a comfortable atmosphere for travel and business.
As this type of trip is for business and business trips, all facilities and amenities are provided during the trip.
The seats for this type of flight have a massager.
If you plan to read documents during the flight, you can do so with a nice reading light.
The chairs can be reclined as far as possible to transform into a bed with a length of 188 cm.
If the light from the plane is preventing you from resting and sleeping, you can reduce the light in your seating area.
Economy flights on Turkish Airlines:
The seats of this type of flight can be retracted up to 18 cm for added comfort and relaxation.
You have several options for fun during the flight.
With a diverse menu, you can listen to modern and beautiful music, watch the latest movies in the world, listen to the news, or enjoy different games in your entertainment system.
Turkish Airlines allowed cargo weight:
Depending on the type of ticket, each passenger is allowed to carry a certain amount of goods, and if the weight of the cargo is too large, the passenger will have to pay a fine for overloading.
But in general, the permissible weight of Turkish Airlines international flights for first class or business class flights is 30 kg and the allowed cargo weight for economy flights is 20 kg.
Awards and Honors Granted to Turkish Airlines
All these years, Turkish Airlines has received a large number of awards in the air transport sector.
Here we mention some of them to you:
Received four awards from Skytrax in 2017
7th best airline in the world in 2016 by (World Airline Awards)
2015 Best European Airline and 4th Largest Airline in the World Award by Skytrax.
Best catering services on commercial flights from 2013 to 2015.
Best Airline in Southern Europe, chosen by Skytrax from 2009 to 2015.
Awarded Best European Airline from 2011 to 2015
Airline of the Year 2013.
The best economic chair of 2011 and 2013.
The fleet of aircraft owned by Turkish Airlines.
Turkish Airlines owns 365 aircraft (340 passenger aircraft and 25 cargo aircraft).
15 Boeing 787-9 Dreamliners
5 Airbus A350-900
33 Boeing 777-300ER
40 Airbus A330-300
14 Airbus A330-200
27 Airbus A321neo
15 Boeing 737-900ER
66 Airbus A321-200
12 Airbus A320-200
95 Boeing 737-800
6 Airbus A319-132/100 . aircraft
1 Boeing 737 Max 9
11 Boeing 737 Max 8
4 Boeing 747-400F freighters
8 Boeing 777F freighters
10 Airbus A330-200F freighters
Two Airbus A310-300F freighters
One Airbus A300-600F freighter