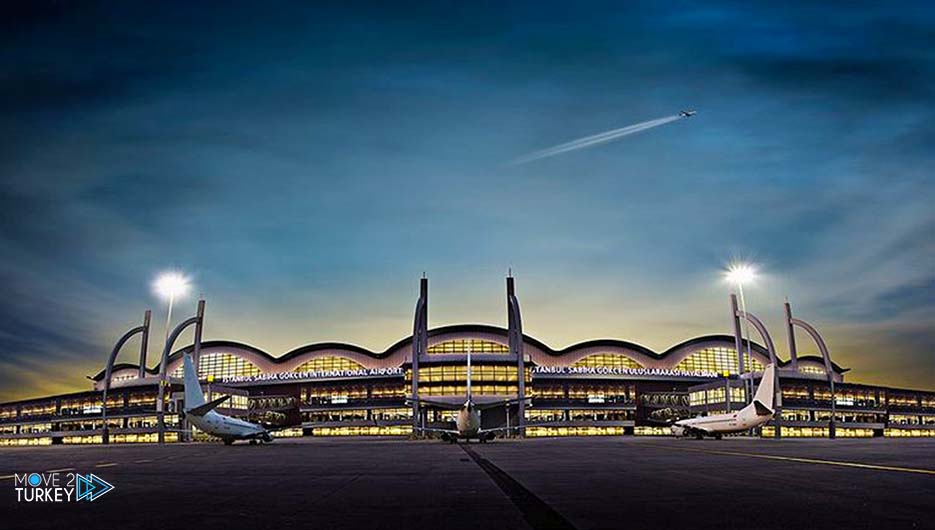 After the prosperity of the tourism industry in Istanbul and the influx of many tourists from all over the world, Sabiha Gokcen Airport was built, which is the only airport in the Asian side of Istanbul.
Here in this article, you will find all the necessary information about Istanbul Sabiha Gokcen Airport (SAW), including airport services, terminals, hotels, and transportation, so stay tuned with us.
An introduction to Sabiha Gokcen Airport
Sabiha Gokcen Airport is located in Pendik district on the Asian side of Istanbul, 35 km southeast of the city center, and it is the third largest international airport in Istanbul.
Istanbul Sabiha Gokcen International Airport is the second busiest airport in Istanbul.
The airport has only one runway of 3000 meters long, and all major airlines in the world operate many flights to it.
The airport was named after Sabiha Gökçen, the first Turkey's female pilot, and she was Ataturk's adopted daughter.
The international airport terminal accommodates 3 million passengers, and the domestic half a million passengers annually.
As of June 2007, it was agreed to expand the Sabiha airport terminal to 25 million passengers. The terminal was built in mid-2008 and opened in October 2009.
In 2011, the airport received about 11 million passengers, an increase of 71% compared to 2009, and then the airport was expanded further in 2015, receiving 28 million passengers.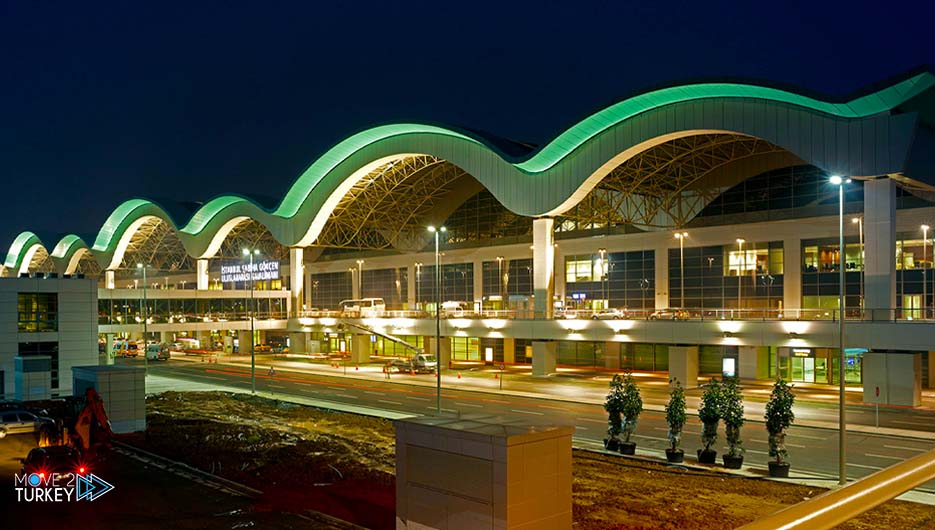 Awards won by Istanbul Sabiha Gokcen Airport
In September 2010, Istanbul's Sabiha Airport was chosen as the best airport in the world, winning an award at the World Airlines Conference in London.
But this was not the only award given to the Sabiha Gokcen Airport, it also won other awards, such as the most successful tourism investment in 2010.
In 2015, Sabiha Airport was the third-busiest airport in the world, with around 28 million passengers and 206,000 plane transfers.
Istanbul Sabiha Gokcen Airport facilities
Istanbul Sabiha Gokcen Airport has a car park with a capacity of about 4000 cars for different parking.
If you want to park your car at Sabiha Gokcen Airport, you can choose between long and short stays.
The car park is located in front of the airport terminal and within walking distance. This car park consists of 4 floors and can accommodate 4,718 vehicles and 72 buses.
The airport also contains a large food court that includes a number of various cafes and restaurants that offer delicious food and snacks, in addition to the presence of many different stores.
The airport has currency exchange, in addition to banks, places designated for car rental, and a conference room that provides the possibility of practicing administrative and commercial activities easily.
At the airport there is a 4-storey hotel with 116 rooms and 12 suites, located just 104 meters from the terminal, which is very ideal for travelers coming on business or leisure.
The arrivals hall at Sabiha Gokcen Airport can be found on the ground floor of the terminal building, in the arrivals hall you can also find shops, duty-free shops, restaurants, exchange places, car rental offices and hotel reservations.
Sabiha Gokcen Airport departure lounge can be found on the first floor, and in the departures hall you will find some shops, bars and cafes.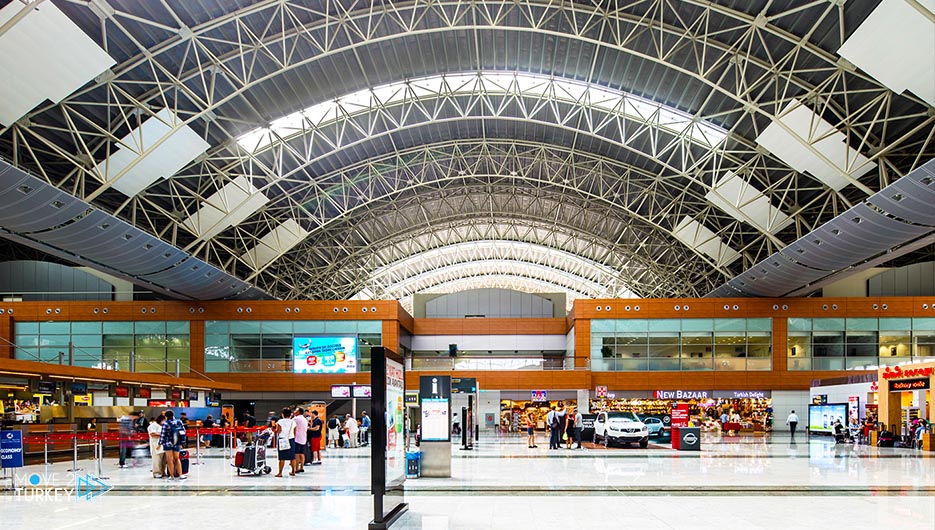 Transportation at Istanbul Sabiha Gokcen Airport
You can travel between Sabiha Gokcen Airport and central Istanbul by public buses, metros, HAVABUS airport transfers, taxis, shuttles, trains and sea boats.
By public buses
Public buses E10 and E11 can get you from Sabiha Gokcen Airport to Taksim and Kadıköy, in addition to buses to neighboring towns and cities.
Public buses run every 20-30 minutes to several areas in Istanbul, including Levent, Bostancı, Kadikoy, Pendik and Tuzla.
The municipal public buses take the price of two tickets, 7 Turkish liras, or the price of one ticket 3,50 Turkish liras, depending on the length of the route, and you can pay via Istanbul Card (IstanbulKart), which is the public transport card in Istanbul.
Bus lines are Levent Line E3, Bostancı Line E9, Kadikoy-Kurtkoy Line E10, Kadikoy Line E11, Metrobus Uzuncayir Line 16S, Pendik High Speed ​​Train Station 132H Line, Tuzla Naval Academy Line 130H, Levent-Yenisehir Line 122 H.
By trains
For trains, Istanbul Sabiha Gokcen Airport is 14 kilometers from the railway area, and you can take a taxi to get there.
By metro
The airport is located on the M4 metro line, and the metro line runs directly from Istanbul Sabiha Gokcen Airport to the center of Istanbul.
By public shuttles (HAVABUS)
Shuttles provide frequent transfers between Sabiha Gokcen Airport (SAW) and the Kadikoy & Taksim areas.
The journey takes approximately one hour to Kadikoy and 1.5 hours to Taksim, depending on traffic.
Please check HAVABUS itineraries, timetables and fares from the official HAVABUS website at www.havabus.com
By private shuttles
If you are coming with a group of people or with your family and children, or you have a lot of luggage, we strongly recommend that you take a special shuttle service to your hotel, which will provide you with comfort throughout the flight, in addition to the airport meet and greet service and help in carrying luggage from The airport to the hotel and back.
This service will save you the hassle of taking a taxi or going on foot to get to the hotel, especially if you are with your children or have a lot of luggage, these shuttles will take you to the entrance to your hotel.
Covid-19 PCR test at Sabiha Gokcen Airport
The Covid-19 PCR Test Center is located at Sabiha Gokcen Airport in the international arrivals area, where you can easily see the clinic (Smartlab), and wait a little while your PCR test is done.
It takes about 2.5 hours to get your results, and foreign travelers can get their results printed from the information desk on the site.
The price for the test is 250 TL (about 25 euros).
The official website of the airport
For more information, you can visit the airport's official website http://www.sabihagokcen.aero/