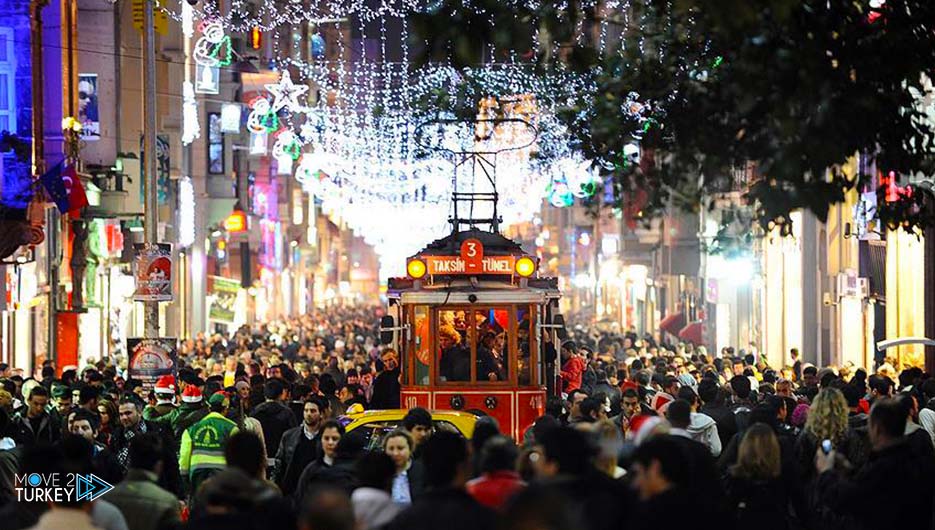 It's Istanbul and its busy nights! Undoubtedly, most of Istanbul's popularity is due to its tourist attractions, which made it famous and crowded.
Given that we are in the last days of 2020, with the arrival of New Years Eve and Christmas celebrations, Istanbul is the appropriate destination for these events.
On Christmas in Istanbul, the weather in the city becomes strangely attractive and attracts everyone who wants to have fun or even shopping, so in our article, we want to inform you about the atmosphere of Istanbul on Christmas and New Year.
Christmas atmosphere and features in Istanbul, Turkey
Istanbul is not only attractive for its parties and celebrations on Christmas days, but these days, Istanbul is also a paradise for those who love to shop, with great discounts and malls with special sales.
But the interesting thing about Christmas in Istanbul is that even though most of the Turkish population is Muslim, they still celebrate Christmas in splendor.
With the start of the Christmas celebrations and the month of January, not only Istanbul residents but all the people of Turkey all over the country gather with their families and celebrate Christmas with gifts and parties.
Christmas becomes more glorious because there are many historical churches, shopping and entertainment centers in Istanbul and Turkey.
So if you are traveling to Istanbul or planning to go to this city soon, we suggest that you do not become obsessed with seeing Istanbul on Christmas in a special way, because wherever you see it in Istanbul, it is a celebration.
It is interesting to know that on this occasion the Turks decorate trees and present them as gifts to their loved ones, now imagine what this tradition gives to its streets in a cosmopolitan and popular city like Istanbul.
Can Santa Claus be found in Istanbul ?
In Istanbul, streets and malls change the decoration of their stores for the sake of Christmas, so that everyone and especially tourists can see Santa Claus all over the city.
It is also interesting to know that all over Istanbul you can see Santa Claus who openly rejoices among the people, jokes with them and throws memorial wreaths.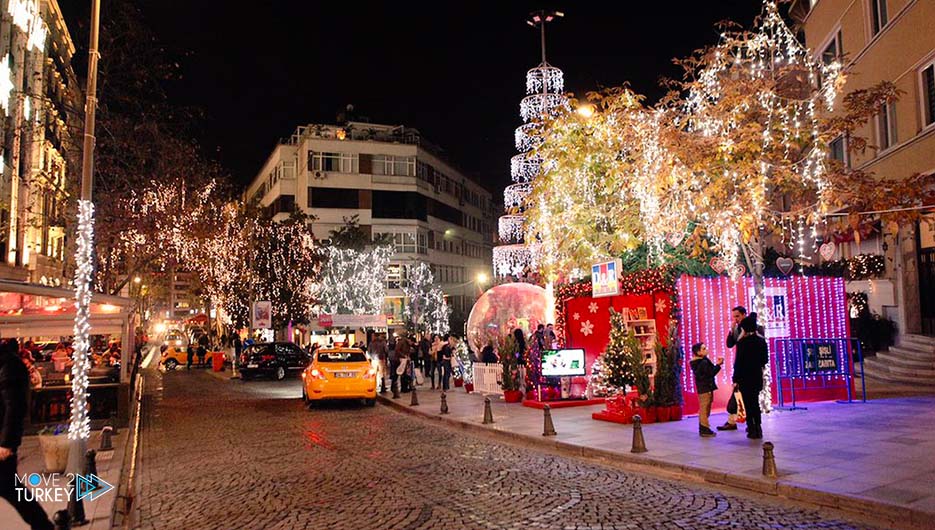 Churches at Christmas in Istanbul
If we want to start Christmas celebrations in Istanbul from the beginning, we must say first of all that Turkish Christians in religious churches can speak four living languages ​​in the world, which are Turkish, English, Polish and Italian.
The most famous churches that enhance the atmosphere and rituals of Christmas in Istanbul:
Saint Anthony Church
The largest Catholic church in Istanbul is the Church of St. Padua Anthony, which was built in 1725 and dates back to 1906, and is known as St. Anthony's Church.
The church is also located on one of the most famous streets of Istanbul, Istiklal Street. On Christmas, the church starts the Lord's Supper at 8 pm.
Santa Maria Cathedral
Santa Maria Cathedral is also one of the most famous historical places and it is just a few meters from Saint Anthony's Church.
The church was built in 1584, which is why it can be called the oldest Roman Catholic part in Istanbul.
However, the current church building dates back to 1769, and in this church, the Lord's Supper is held on Christmas Eve at 8 pm in the presence of the people.
Type of food in Istanbul on Christmas
We suggest that you do not spend your time in Istanbul on Christmas without a delicious meal.
Because one of the best things you can do these days is eat due to the popular Eid style and Turkish food from Istanbul's restaurants and buffets.
So the main meal at night all over Turkey and on Christmas Eve is a stuffed turkey that is cooked and served with great recipes.
It is interesting to know that the Turks prepare and serve this delicious food not only in Istanbul but all over Turkey.
Note that Istanbul's restaurants are a little more crowded than usual on this night, so it is best to be a little patient for one of the most delicious dishes on your trip to Istanbul and when you visit, be more patient with your restaurant.
Most of Istanbul's restaurants serve good food because if they don't, it will not be so welcoming to locals and tourists that they will close their doors.
But in the meantime, some Istanbul restaurants such as: Hankar Restaurant, Haci Abdullah Restaurant, and of course Cihangir Restaurant, which is one of the busiest restaurants, in addition to most of the restaurants in Istanbul dedicated to Christmas.
The Aqua restaurant on the Bosphorus, which is somewhat more luxurious, as well as the Shangri-La Hotel in Besiktas, which serves Christmas Eve dinner and beef in Asian style.
Shopping on Christmas in Istanbul
If you want to do a lot of fun shopping in the different markets and malls in Istanbul, we must say that you have chosen one of the best times to do so.
Keep in mind that the sales of most of Istanbul's most popular shopping malls in the last two weeks of December offer quality goods at a much cheaper price than ever before.
Of course the street markets should not be neglected because you can find good products among their wares, because even if you are not intending to buy anything, walk between locals and tourists for a while, and that will encourage you to buy.
Istanbul sales range from 20% to 50%, and of course this discount is not only for clothes, but this is more famous in the clothing market.
Istanbul sales start in the first few days with a lower discount rate, and the closer to New Year's Eve, the higher the discount rate on the remaining goods.
During the Istanbul Winter Shopping Festival, all malls and even traditional malls are required to offer their goods to customers at a reduced price.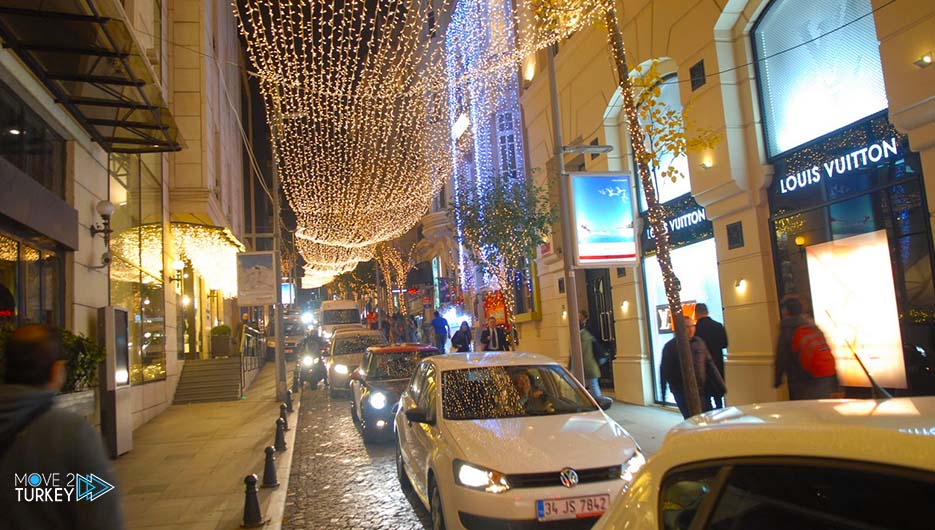 Malls and stores during Christmas in Istanbul
If you are planning to shop at the Istanbul Winter Shopping Festival, do not forget Istiklal Street.
On İstiklal Street in Istanbul, famous brands such as Adidas, Nike, Puma and other famous brands have special discounts that suit everyone for buyers at very cheap prices.
There are also other shopping centers such as Marmara Park, Cevahir Mall, Olivium and Zorlu Center and all Istanbul outlets and all its malls and markets are very suitable for shopping.
Keep in mind about Istanbul on Christmas that some Turkish sales are up to over 70% which makes you excited to buy ASAP.
Also, some modern shopping centers in Istanbul set up programs for their customers on Christmas Eve, and prepare programs and happy hours for them until midnight, to immortalize Istanbul on Christmas for every tourist.
Enjoy your time in Istanbul on these beautiful days because you will not regret it.
Move 2 Turkey team wishes you and your family a Merry Christmas and Happy new year!