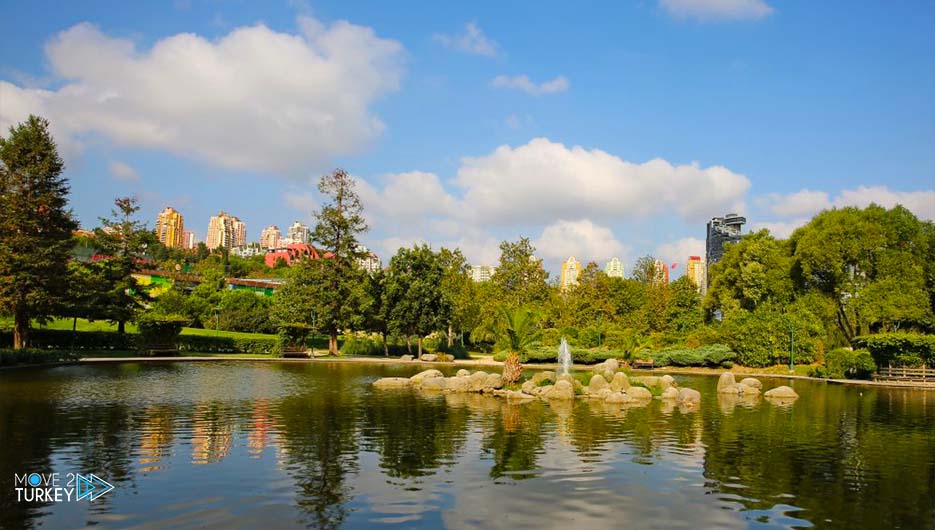 Başakşehir has become one of the most important areas of Istanbul due to its wonderful nature, modern shopping centers, diverse amenities, recreational facilities and many other features making it suitable for investment or migration.
A brief history of Başakşehir
The history of the Başakşehir district of Istanbul dates back to the times of the Ottoman Empire, when it was in the past the main center for the production and supply of Ottoman gunpowder.
With the passage of time, the area was used as agricultural land for an Ottoman officer, and a cave called YarimBurgaz and damut dam were built, and these have remained since then and are known as the most famous tourist attractions in Başakşehir.
Basaksehir location in Istanbul
Başakşehir is located in the European part of Istanbul and is one of 39 metropolitan areas spread between Europe and Asia on both sides of the city.
Başakşehir is surrounded by other areas such as:
Arnavutköy, located in the north of Başakşehir.
Eyüp, located in the northeast of Başakşehir.
Sultan Ghazi (Sultangazi), located in the northeast of Başakşehir.
Esenler, located in the east of Başakşehir.
Bağcılar, located in the south of Başakşehir.
Küçükçekmece, located to the south of Başakşehir.
Avcilar (Turkish: Avcılar), is located in the south of Başakşehir.
Esenyurt (Turkish: Esenyurt), located to the west of Başakşehir.
Geographical features of Başakşehir
The natural features of Basaksehir make this region an attractive and picturesque place, surrounded from the north by large and dense forests of cypresses, pine trees and evergreen trees all year round.
Also, a river flows across the region, with a dam along the river leading to configure a large artificial lake with an area of 26,000 square meters in the district of Bayrampaşa.
Making it the largest artificial lake in Istanbul, there are also several restaurants, cafes, stadiums, and clubs all around the lake.
Basaksehir is also located near a forest that contains a variety of animal species such as foxes, eagles and many other wild animals, and extensive green areas have also been allocated for walking by the municipality of Basaksehir with an approximate area of 50 square kilometers.
In addition, the Turkish government has built a large central square in Basaksehir, which is almost twice the size of Istanbul's famous Taksim Square.
This large square is used for various festivals and events throughout the year.
Theatrical performances, concerts, festivals and Ramadan celebrations are always held here.
The Square has the largest botanical garden in Europe, parking for thousands of cars, a large number of restaurants and cafes, and a large mosque.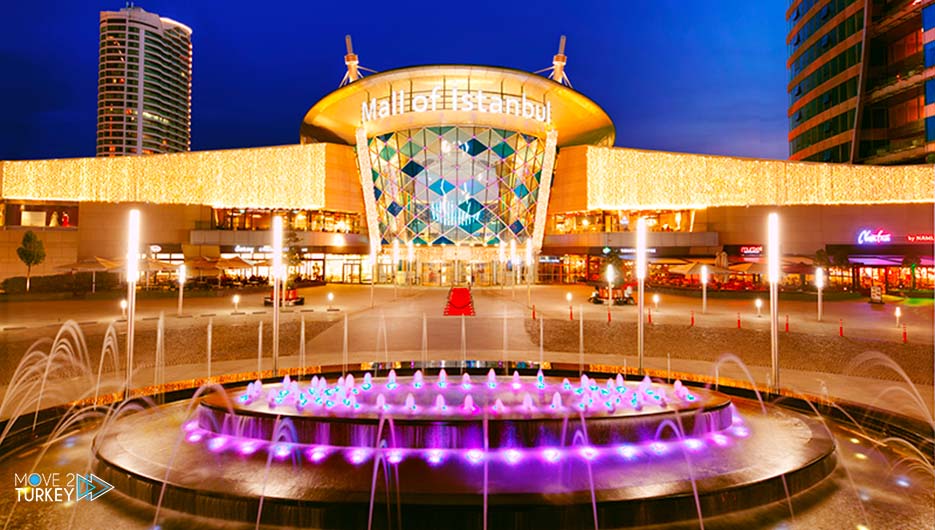 Basaksehir facilities
Basaksehir has a rich social environment with many amenities and entertainment.
The area has large and modern shopping centers, theaters, cinemas, conferences, sports stadiums, venues for festivals and many other facilities that meet the needs of all segments of society.
Basaksehir has a very modern infrastructure and many modern technologies have been used in it.
The demographic composition of this region is young and more than 40% of the total population is under 20 years of age.
Basaksehir has educational facilities and includes universities and schools, where there are several private universities, and a public university will be established soon.
There are currently more than 20 secondary schools, 6 vocational schools, 12 private primary schools, 12 public primary schools, 18 Middle Schools, 7 training centres and 5 student dormitories in Basaksehir.
International schools also operate in the area, covering all levels of education, from primary to secondary school.
In terms of health facilities, Basaksehir has a large government hospital with 23 treatment centers and clinics.
In addition, a large number of private hospitals have recently been established as an integrated health City in Basaksehir.
It also contains eight specialized hospitals with a capacity of 2,500 beds equipped with the latest medical technologies.
These include hospitals, specialized hospitals, children's hospitals and General Hospitals of Obstetrics and gynecology, cancer hospitals, neurosurgery, cardiac, psychiatric hospitals, physiotherapy and rehabilitation.
Basaksehir sub districts in Istanbul
Istanbul's Basaksehir district consists of 10 smaller districts listed below:
Altınşehir
Bahçeşehir
Güvercintepe
Kayabaşı
Başak
Başakşehir
Ikitelli
Şamlar
Ziya Gökalp
Şahintepe
Tourist and entertainment attractions in Basaksehir
As mentioned, the Basaksehir District of Istanbul has many natural attractions due to its geographical location.
In addition, some stadiums and industrial attractions have been built in this area, which we will briefly present below.
Cave Yarimburgaz in Başakşehir
The cave of Yarimburgaz is an ancient cave located in the Basaksehir area of the Güvercintepe district, its length is 52 meters, and In the Ottoman era, it was used to produce and supply gunpowder.
Today, this cave is one of the tourist attractions in Başakşehir and hosts many tourists from all over the world every year.
Moi Park
Moi Park is the largest indoor amusement park in Turkey, located in the Mall of Istanbul shopping center.
This amusement park is suitable for entertainment of all ages and has many play equipment.
if you are going to travel to Istanbul it is recommended not to miss the opportunity to visit this entertainment city.
Bahçeşehir Gölet Park
This park is a green place with a great climate for relaxation and recreation.
If you are interested in the picnic you can choose this beautiful and green place for a great picnic experience.
The most interesting and beautiful place in this park is its lake that is full of ducks and turtles.
The park is a great place for photography, it also has fine restaurants and small cafeterias for the convenience of visitors.
Babalu Park
Babalu Park is one of the most important recreation and entertainment centers in the Basaksehir region, which hosts a large number of tourists daily.
This clean and Safe Park is a good place for recreation and entertainment.
Bogazköy Park
Another park in the area, a clean and beautiful family park with children's play equipment, is Bogazköy Park.
The park has a variety of sports facilities including basketball, football and table tennis courts.
Around this park you can see a charming view of the Bogaz Valley with beautiful villas and buildings.
Nation Entertainment Group
It was built by Basaksehir Municipality with many facilities for the well-being of residents and families in Kayabaşı district and is one of the largest parks in Istanbul.
How to get to basaksehir
Basaksehir has access to a comprehensive public transport network including public and private buses, trams and subways.
There is a station in this area that facilitates access to other important areas of Istanbul, from this station it is possible to reach Ataturk International Airport and use the Marmaray metro line connecting the continent of Europe and Asia.
The Basaksehir metro line is known as one of the most important and efficient metro lines in Istanbul, which in addition to the airport is connected to other important parts of the city, including Taksim Square, Beşiktaş, Mecidiyeköy and other areas of Istanbul.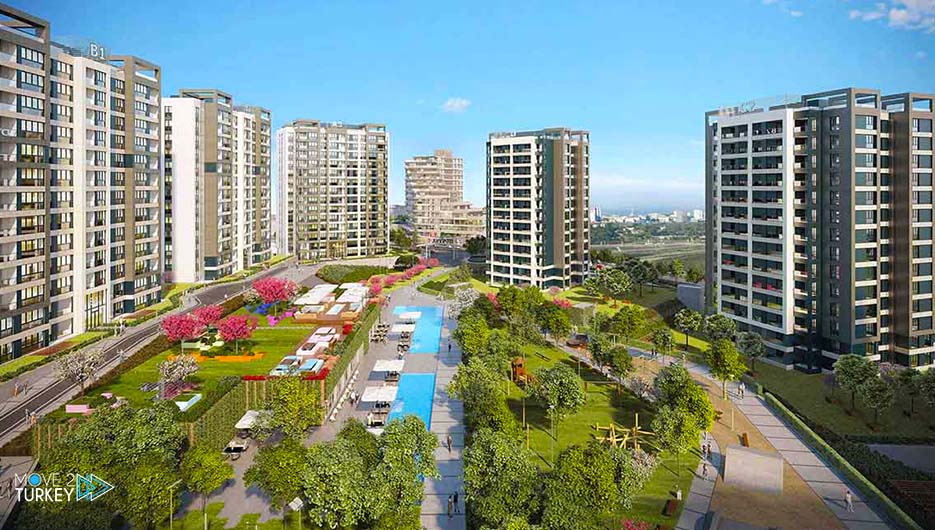 Buying a house in Basaksehir
Due to its unique nature and climate, the presence of medical and educational centers, modern shopping centers and tourist attractions, Basaksehir has become one of the most suitable areas of Istanbul for living and buying a house or an apartment.
Towers & modern high in Başakşehir Attracted many real estate investors, with all the new buildings and high towers, villas, modern style of European buildings that are all taking place in all districts of this region.
Due to the density of the towers and the modernity of the area, a wide range of real estate is available for investors wishing to buy a house in Basaksehir district.
The real estate in this area completely modernized according to the latest World Standards include en-suite facilities such as swimming pool, gym, sauna, cafes, parks, scenic and other elements that make this area ideal.
Luxury apartments in Basaksehir usually have attractive discounts on comprehensive payment plans, and buying property under construction is very common in this area.

Some construction companies in Basaksehir offer interest-free multi-year payment plans, which are ideal conditions for investors looking to buy real estate in installments in Turkey.
Houses and apartments in this area are suitable for the family lifestyle from middle class to rich. as it is very popular among buyers, immigrants or foreign investors.
If you are planning to buy a house or apartment in Turkey, and looking for more information about buying a house in Basaksehir or other areas of Istanbul you can contact our real estate consultants for the best possible offer and advice.
We'll be with you during the process of buying a property in Turkey, until you get the residence or citizenship.
The most famous hotels in Basaksehir
The following is a list of some of the most popular hotels in this beautiful area.
If you want to stay in a quiet area, comfortable nature, you can book a room in one of these hotels and use public transportation in Istanbul to travel to other parts of the city.
🔻 Hampton by Hilton Istanbul hotel
🔻 Mall of Istanbul Hotel
🔻 Bahçetepe Medikule & Safa hotel