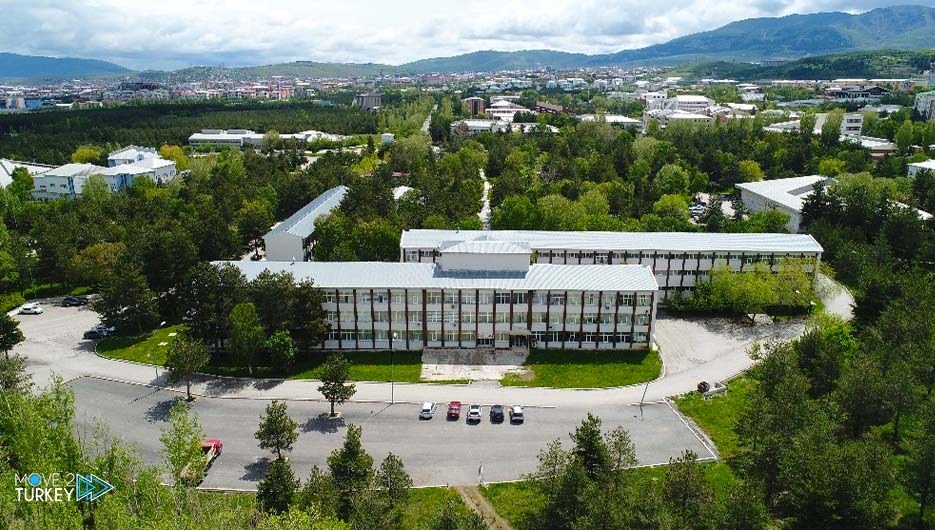 Ataturk University is a public university located in Erzurum, Turkey. It was established in 1957 and includes several colleges and offers a variety of undergraduate & postgraduate programs.
Ataturk University is one of the best universities in Turkey in terms of educational quality, and the certificates of this university are internationally recognized.
Every year, many local and international students apply to continue their studies at this university, it holds admission examinations to register students, also the academic records and grades of students at previous educational levels play an important role in their admission.
Today, this university is considered one of the most important scientific and research centers in Turkey.
During the years following its establishment, the university was able to achieve many successes in various scientific and cultural fields in the eastern region of Turkey.
In this article, we will introduce the colleges and fields available at Ataturk University, as well as the fees, how to get admission in them, and the living conditions of students in Turkey.
Faculties of Ataturk University, Erzurum
The university includes 22 colleges, 8 vocational institutes and 30 research centers. The main campus of the university is located in Erzurum, which is the largest city in Eastern Anatolia.
As mentioned above, Ataturk University includes 22 colleges, these colleges are:
College of Education, College of Design and Architecture, College of Agriculture, College of Science, College of Arts, College of Economics and Business Administration, College of Medicine, College of Dentistry, College of Engineering, College of Fine Arts, College Communications Engineering, College of Pharmacy, College of Law, College of Science, College of Physics, and College of Tourism.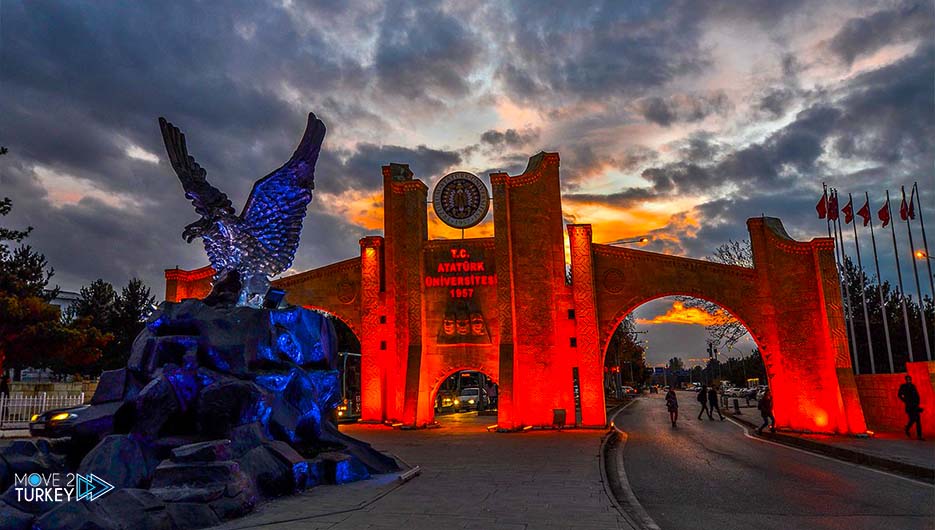 Ataturk University facilities
Ataturk University provides many facilities for the welfare of its students, for example this university has one of the largest and most equipped educational and research hospitals in Turkey, where the university hospital plays an important role in the eastern Anatolia region, and students under the age of 25 years can benefit from the university's health services and free medical 24/7.
There are also many social and cultural centers on the campus of Ataturk University, such as theaters, sports clubs, swimming pools and playgrounds.
In addition, the university organizes many cultural and artistic activities that students can participate in throughout the year.
Many cultural festivals are held on the campus of Ataturk University, such as exhibitions, concerts, cultural and artistic concerts.
Also the campus of Ataturk University contains many restaurants and cafes that offer a variety of foods to students at low prices.
Another important facility in this university is its well-equipped library, the Ataturk University Library contains many printed and electronic copies in addition to manuscripts and historical books, and the university library also contains public and private study rooms so that students can study and follow their educational goals more easily.
In general, studying at Ataturk University can be a great experience, in addition to the opportunity to study in one of the best universities of higher education in Turkey, students can experience an enjoyable life in this city.
The cost of studying at Ataturk University in Turkey
The cost of studying in Turkish government universities, such as Ataturk University, is much lower than European universities, and the tuition fees for each term at the university can vary according to the field of study. In general, the average cost of studying at Ataturk University ranges between 1500 and 3000 euros per year.
Getting admission into Ataturk University, Erzurum
Applicants wishing to continue their studies at Ataturk University in Erzurum must take the university admission examination, in which students undergo certain exams.
Candidates for admission must obtain the minimum passing score specified in this test, however obtaining a minimum passing score does not guarantee acceptance of applicants to study at the university, as the university selects candidates competitively as future students by examining their academic records and scientific abilities.
Ataturk University accepts students by taking the YOS exam most of the time, but students with a passing score on the YOS, GMAT, GRE or SAT exams can also apply to the university.
To send the admission application, you can visit the official website of this university at https://atauni.edu.tr, the study conditions can vary from one field to another, so it is necessary to obtain information about the field conditions and the required degree before submitting the admission application and preparing the necessary documents completely accurate.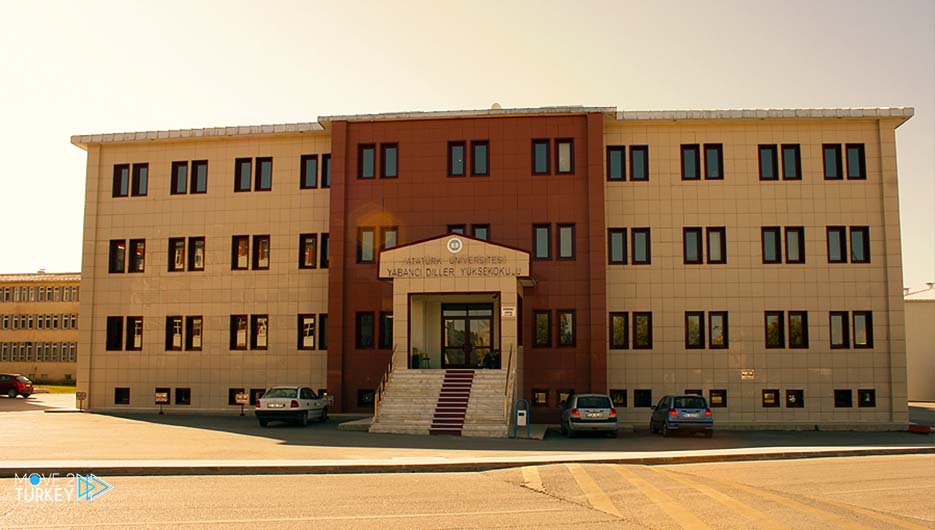 Documents required to apply at Ataturk University in Turkey
The university will request some documents from applicants as preliminary documents, the basic documents required to apply for admission are:
Transcripts with translation into Turkish
A valid Turkish or English language certificate
Correctly fill out the registration form
Pay the registration fee
Certificate of financial ability to prove financial support for education and living in Turkey
A copy of the passport
A recent photo that matches the student's current appearance
Obtaining a student visa for Turkey
After the student succeeds in obtaining admission from the university, they must also take the necessary procedures to obtain a student visa, and submit an acceptance letter to the university and apply for a student visa at the Turkish embassy or consulate in their home country.
In order to obtain a visa, you must book an online interview at the Turkish embassy, ​​and send the documents over the internet to the embassy.
The embassy may request some original documents from the student, in this case they must send the original documents by mail or present them in person.
The embassy will set an appointment for the interview after reviewing the application and documents, and the student is asked to visit the embassy in person at a specific time.
At this stage, a 30-day visa is issued to the student, during these 30 days, students have the opportunity to enter Turkey and take the necessary procedures to obtain a student residence visa.
Obtaining permanent residency in Turkey after graduating from university
Since 2016, the Turkish government has put in place specific laws for the stay for foreign students after graduation, which are as follows:
After obtaining the certificate from any Turkish university, foreign students can extend their visas for a maximum period of one year to apply for a job at that time.
should be noted that to work legally in Turkey, you need to obtain a work permit from the Turkish Ministry of Labor and Social Affairs.
The future of students after graduation from Ataturk University in Turkey
Turkey is an excellent study destination for international students, as Turkish universities have a high level of educational quality, so certificates granted by Turkish universities are accepted by most international institutions and universities, and you can expect a good career.
Obtaining a university degree can determine the career path of students in the future.
After graduation from this university you can enter the labor market, and apply what you learned in a practical and professional way, and get a good income.
There are many international companies that speak Russian, German, English or Italian in Turkey, and students who are fluent in foreign languages ​​will have a better chance of finding a good job.
In addition, graduates can work in embassies, consulates and NGOs, but competition is fierce for these jobs.
And there is a great demand for English language learners in Turkey, so you must have a valid English language certificate.
Some international companies or media institutions provide many jobs in various fields to their branches all over Turkey, with job opportunities for foreign graduates.
Living and studying conditions in Erzurum, Turkey
Erzurum is one of the historical and cultural cities in Turkey, it is 4000 years old, and many historical and cultural monuments have been built in this city, many tourists from all over the world travel to every year to visit its cultural & historical sites and monuments.
Erzurum has beautiful nature and attractions that attract many tourists from all over the world, for example the famous Palandoken mountain covered in snow all winter.
In addition, Erzurum is one of the best student cities and considered study destinations in Turkey, because the cost of living in this city is much lower compared to Europe and other Turkish cities like Istanbul.
Each student needs from 300 to 650 dollars per month to live in Erzurum, and the cost of housing depends on the place.
For example, students can benefit from student housing at a lower cost, also students can rent a shared apartment to reduce the cost of housing.