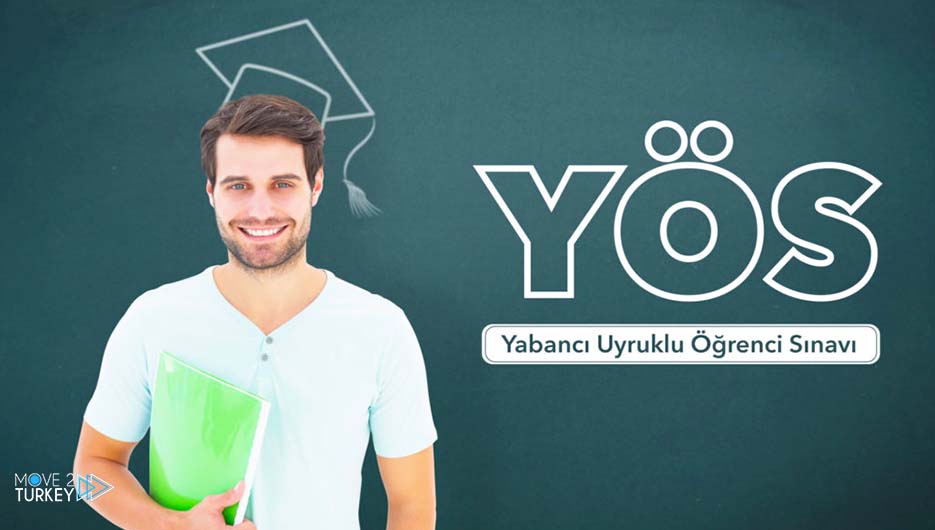 One of the ways that a person can chart a better future is to study abroad, you may also consider studying abroad so that you can study in a better field because of your talent.
Knowing about another culture, and registering in the best universities in the world, is one of the most important reasons for students to study abroad.
Turkey is one of the countries that many students are looking forward to studying in, as it has many good universities at the local and global levels.
If you are thinking of continuing your education in Turkey, you must have a lot of questions about admission exams in universities in this country.
As there are many admission tests in Turkey, such as the SAT test, TUS test, ALES test, GRE test, GMAT test and YÖS test, but one of the most important and most popular of these tests is the YÖS test.
First of all, we must note that the YÖS test is designed for all international students who intend to continue their studies in Turkey, and each university already has a plan to attract international students based on the number of students they want.
Until nearly ten years, this test was comprehensive and universal, but since 2012 every university can take this test on its own.
In this article, we will try to answer any questions you may have about this exam, and let you know everything you need to know about the first step to studying in Turkey which is the YÖS exam.
What is the YÖS test?
The YÖS exam is the key to admission in all fields in Turkish universities, you must pass it in order to be accepted.
You must apply for the YÖS test offered by the university you want to study at, and obtain a good score.
Of course, there are a number of universities in Turkey that choose their students through another test called SAT.
Among the most important universities that do not accept students through the YÖS test are:
Is the YÖS test difficult?
Well, the YÖS test is not very difficult, and YÖS test questions really come from pre-set test sources, if you think you have mastered the topics before entering the test, the questions will definitely be clear to you and you will not be surprised by any of them.
Of course, it should also be noted that the difficulty level of YÖS exam questions differs from one university to another, for example, Istanbul University questions are simpler than İzmir University questions.
Aside from which universities accept a YÖS or SAT exam, there are many other universities that accept students with both YÖS and SAT exams.
The validity of the YÖS exam for admission to Turkish universities is only one year, so be sure to obtain your university admission during it.
In what language is YÖS examined?
YÖS test language depends on your choice, you can choose between Turkish or English, whichever is more convenient for you, and it is even possible for some universities to choose languages ​​such as French to take the test.
But in general, you do not need to worry about the language of this test, because answering questions like math, intelligence, or engineering do not require a wide range of words in any language, and all you have to do is to be proficient in answering the math question itself.
When is the YÖS test?
Since 2012, every university has been conducting its own YÖS exam, so the YÖS test is not an universal test, each university will set a specific time for the YÖS exam at the time of registration, and you must take the test at the same university in which you intend to pursue your studies.
You can register for this exam around February, and in order to have a suitable schedule, each university holds these exams from approximately mid-April to early June every year, over a period of two months.
Of course, since 2020, when the world was affected by Coronavirus, this test has also been affected, and both the registration and the timing of the tests conducted that year have changed and are often delayed.
Where is the YÖS test held?
Each university determines where the exam will be held.
This test may be taken on the campus of the same university, and it may be taken in large cities such as Istanbul and Ankara.
How many times a year is the YÖS exam held?
It is very important to be careful about the timing of the test, as this test is not taken several times a year, and every university holds the YÖS exam only once a year, so if you miss the exam for this year, you must wait for the next year to apply again.
However, some universities, such as Kapadokya, Karabuk, Başkent, Aydin, Yildiz Teknik and others, may hold the YÖS exam more than once a year.
What is the YÖS test score?
The YÖS exam is divided into three parts and the total score is 100.
Most universities give a quarter negative score for answering the question incorrectly, which means that four incorrect answers subtract one point from your total score.
To enroll in universities, the total score obtained from these three departments must not be less than 50, and grades less than 50 are not usually accepted, but as we mentioned, getting a score of 100 in this test is not impossible, because the questions can be predicted.
In order to be accepted into the best universities in Turkey, set your goal to obtain a score above 90, of course we should not ignore the intense competition that exists in some universities such as Istanbul University.
In some state-run universities in Turkey, due to intense competition between candidates, other factors such as high school grades or other academic qualifications will play an important role in obtaining university admission.
YÖS exam questions
The first condition for passing any test is to have the correct information about it, such as the YÖS test score, what fields the test is in and the grades that must be accepted.
First, the subjects of YÖS test questions from the three topics of Mathematics, Engineering and Intelligence, these questions may total up to 80 or 100 questions, and it is made up of three parts, which are as follows:
1- Intelligence Questions
The number of IQ questions is usually the most and it is about half the questions (from 45 to 55 questions).
Unlike the name in this section, it does not need much intelligence in solving it, as the IQ test questions can be answered easily by repetition and practice by anyone with normal intelligence.
2- Math Questions
The next part relates to the questions of the mathematics section, which includes only about 30 questions.
If the total number of questions is 100, the questions in this section will be increased to 45 questions.
The questions in this section include basic mathematics topics, starting with functions, trigonometry and logarithms, and by moving to derivatives and integrals, all of these topics are included during high school, although this section is difficult compared to the rest of the sections, but with studying of the main sources for this test, it will undoubtedly be easy.
3- Geometry Questions
The minimum number of questions related to this section ranges between 5 and 10.
Topics include basic principles of geometry, that is, angles, circles, triangles and the similarities between them, spatial geometry and so on.
Because this section contains a small number of questions, many people may ignore it, your strategic advantage can be to get more grades in this section, so do not hesitate to study geometry, as these five questions may be the reason why you outperform your competitors.
How to pass the YÖS test
In addition to the main factors required to pass any exam, such as planning, concentration and studying.
Passing the YÖS exam also requires possessing the required books, and you can also participate in classes that teach the books of this test.
These books are taught in face-to-face classrooms or even online and you will become skilled enough by spending a period of six to nine months.
important note:
An important point you should note is that even if you get a good score on the YÖS test, you must complete the 6-month Turkish language course before entering university.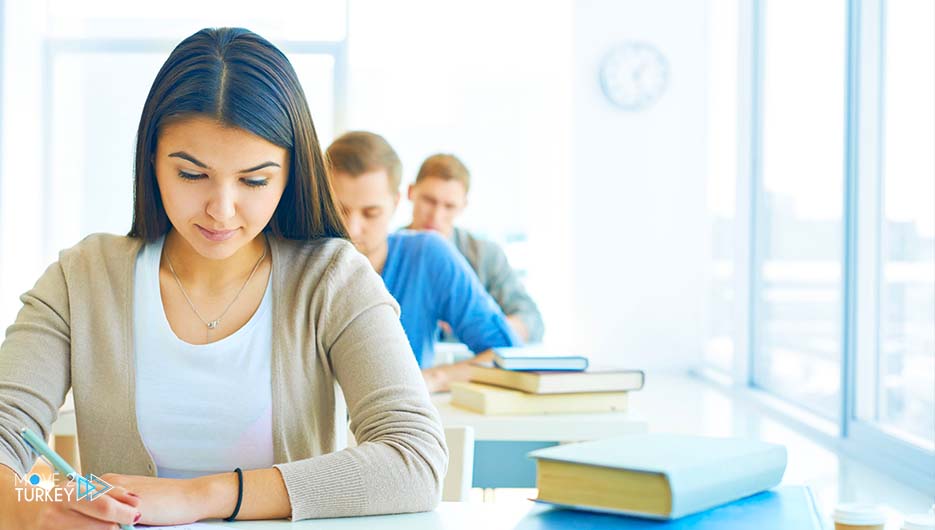 What do you take with you to the YÖS test?
Make a copy of the test form after registering for the test on the university's website, do not take anything other than this paper, you also need the original passport, pencil, eraser and a watch.
Get rid of any ideas of cheating in this exam, perhaps the worst thing that can happen to your study in Turkey is to cheat or talk to someone during the exam, in this case you could be excluded from the Turkish education system and you will lose the opportunity to continue your education in this country.
Does the YÖS test have age requirements?
No, this test does not have special age requirements, anyone can take this test at the end of high school.
YÖS test online
The YÖS exam is usually held in person with university representatives, but since 2020, due to the Coronavirus, some universities, such as Ankara University, have conducted the test online.
For the year 2021, and with the continuation of Coronavirus, a number of other universities will resort to online testing, and among the universities that conducted their exams online this year are the University of Ankara, Diyarbakir, Marmara University, and many others.
Registering for the YÖS Exam for the year 2021
The registration time for the 2021 YÖS exam starts around February and continues through April, of course it should be noted that each university has its own registration time.
You can be informed for the time of the YÖS exam by visiting the website of each university, as well as to know about possible changes in the YÖS test of the same university.
Steps to register for YÖS exam
Log in to the relevant university website
Read the test booklet
Locate the test
Complete the information requested on the site
Pay the test fee
Attend the test date on the specified date and time
YÖS test cost
The cost of taking the test is usually about 400 liras, each university costs different fees for this test, public universities cost more, while private universities cost less, and some universities, such as Ankara University, may charge in dollars.
Rules during the YÖS test
Participating in the YÖS test has its principles and you should pay attention to important matters so that your efforts are not wasted for several months.
Here are some important things you should keep in your mind about the YÖS test:
Make sure to bring your original passport with you and check its expiration date
Check the test site in advance and choose the best and fastest possible time
The test is under strict control and doors of the test site are closed on time