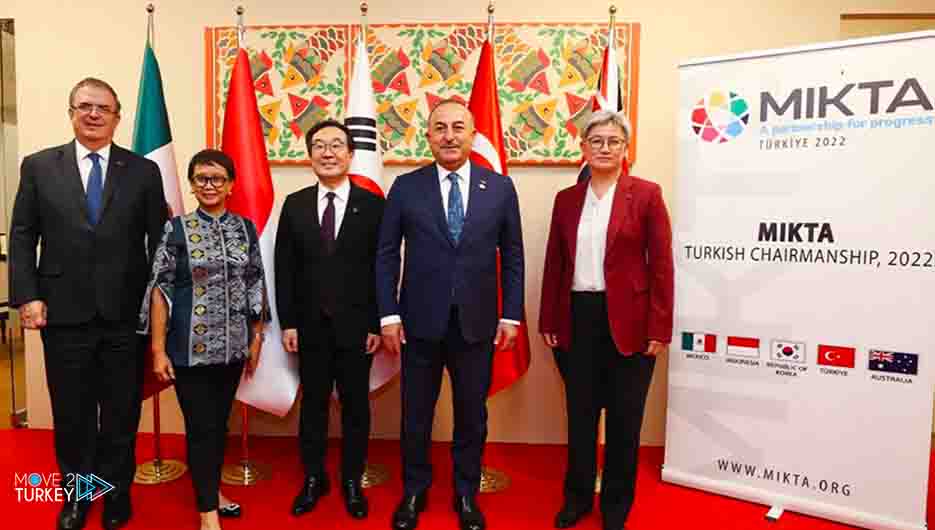 Turkish Foreign Minister Mevlüt Çavuşoğlu said Thursday that his country's priorities during its presidency of the "MIKTA" group focused on global health, effective migration management and food security.
Çavuşoğlu's speech came during his participation in the 23rd meeting of foreign ministers of the Intercontinental Informal Consultation and Coordination Group "MIKTA" in the Indian capital, New Delhi.
MIKTA is a group of countries that includes Turkey, Mexico, Indonesia, South Korea and Australia. It was established in 2013 as a partnership between G20 member states with the aim of bridging the gaps between developed and developing countries.
In addition to Cavusoglu, the foreign ministers of Mexico, Marcelo Ebrard, Indonesia's Retno Marsudi, Australia's Benny Wong and South Korean Deputy Foreign Minister Lee Dohoon attended the meeting.
Çavuşoğlu thanked the ministers for accepting to hold the meeting in the Indian capital, which is hosting the G20 foreign ministers' meeting, and for the solidarity of the "MIKTA" countries with Turkey in the earthquake disaster.
Pointing to the transfer of the rotating presidency of MIKTA from Turkey to Indonesia during the current meeting, Çavuşoğlu said, "Global health, effective management of migration and food security were among our priorities during Turkey's presidency of MIKTA."
He added, "These priorities were determined on the basis of the obstacles we faced in the current period, as we made every effort to turn these priorities into actions."
Çavuşoğlu also referred to the provision of humanitarian aid by Turkey during its presidency of the "MIKTA" session last year to Ukraine and Pakistan and to the Arakan Muslims "Rohingya" refugees in Bangladesh.
The Turkish minister praised the important roles played by all the countries of the group in terms of development and humanitarian aid.
Pointing out that the international system is going through a period of transformation during the current period, Çavuşoğlu said, "This is a change brought about by more than one crisis, and we believe that effective multilateralism should be our response to these transformations, and we believe that there should be no policies of isolation and unilateral policies."