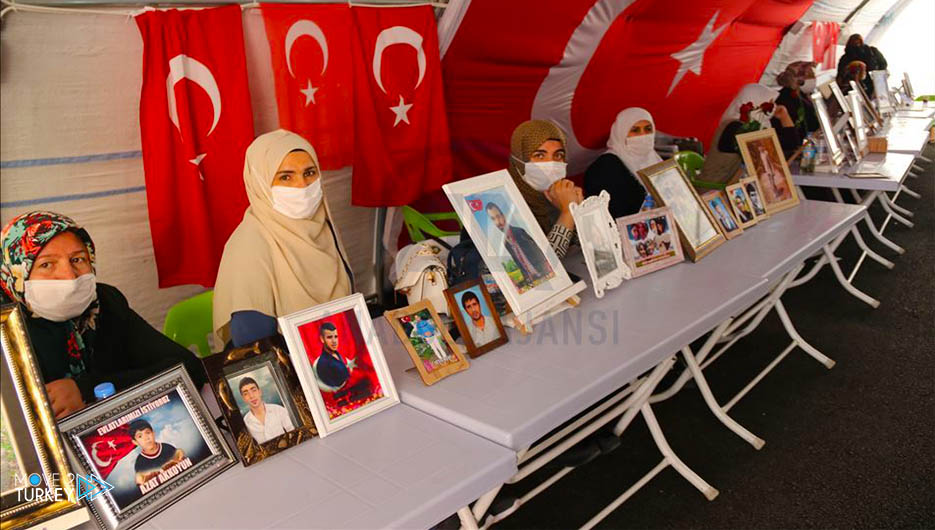 Mothers continue their sit-in in front of the headquarters of the Peoples' Democratic Party (HDP) in the Turkish state of Diyarbakir for the 647th consecutive day, to demand the return of their children kidnapped by the PKK terrorist organization.
Speaking on Thursday, the mother, Moulouda Uchdag, said that she is participating in the sit-in to recover her son, "Ramadan", who was kidnapped 7 years ago.
She confirmed her continuation of the sit-in for her son and all the kidnapped sons.
She said, "I am at the correct address (referring to the party's headquarters), the Peoples' Democratic Republic deceived my son and handed him over to the terrorist organization."
In turn, Father Nihad Chagmore said that he is participating in the sit-in to retrieve his son, "Yawuz", who was kidnapped by the organization.
Canmore accused the "Democratic Peoples" of taking his son to PKK strongholds.
Addressing his son, he added: "Don't believe the party and the organization, go back to your house and surrender yourself to justice."
The mothers' sit-in began on September 3, 2019, and President Recep Tayyip Erdogan expressed his support for the mothers in the sit-in on more than one occasion.
As well as supporting ministers, politicians, artists, journalists, writers, athletes, civic organizations, clergymen and individuals from all segments of society.
The sit-in is also supported by the "Srebrenica Mothers Association" in Bosnia and Herzegovina, European Parliament Member Tomas Zeid Chowski, and ambassadors in Ankara who visited Diyarbakir and met the sit-in.