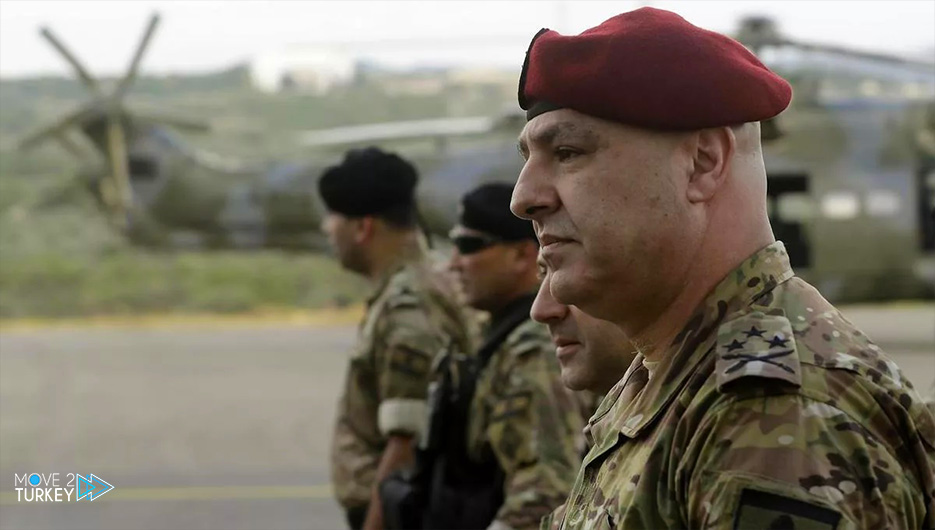 On Thursday, the Lebanese army warned of the collapse of institutions, including the military, if the economic and financial situation in the country continued to deteriorate.
This came according to Army Commander General Joseph Aoun during his speech at an international conference held virtually to support the Lebanese Army at the invitation of France.
With the support of the United Nations and Italy, and with the participation of twenty countries, including Turkey.
Aoun said, "The continued deterioration of the economic and financial situation in Lebanon will inevitably lead to the collapse of institutions, including the military, and therefore the entire country will be exposed to security."
He added, "It seems clear that there are no chances of resolving the economic crisis shortly.
Therefore, the need to support the army, which enjoys the confidence and support of the citizen, is increasing to remain cohesive and able to carry out its tasks."
Aoun pointed out that "the soldiers are facing difficult conditions with determination, determination, and discipline, despite the low value of their salaries by nearly 90 percent due to the deterioration of the value of the lira."
He pointed out that "the same percentage applies to nutrition, medical care, operational tasks, and spare parts for (military) vehicles."
Aoun stressed "the necessity of supporting the (Lebanese) military as an individual to pass this delicate stage, in addition to supporting the security establishment as a whole."
In turn, the Lebanese Minister of Defense in the caretaker government, Zina Aker, said that "the Lebanese army is suffering under the same burden as the Lebanese people, and it needs effective support to continue to perform its duties."
She stressed that "it is not permissible to abandon the army, which is the guarantor of Lebanon's stability and the security of the Lebanese."
For her part, French Defense Minister Florence Parly said during the conference that "everyone is concerned that the Lebanese army remains able to carry out its tasks in maintaining security and stability."
Italian Defense Minister Lorenzo Guerini also called for "responding to the needs of the Lebanese army by securing its basic support requirements."
In turn, the Special Coordinator of the Secretary-General of the United Nations in Lebanon, Ioana Vronitzka, affirmed that "the conference's goal is to support the (Lebanese) army to remain coherent and effective," calling for "meeting its necessary needs."
And last March, the commander of the Lebanese army launched a cry in the face of his country's politicians, in light of the continuation of popular protests.
He asked: "Where are we going (?) What do you intend to do (?) Do you want an army or not (?)."
"They do not care about the army or the suffering of the military, who suffer and starve like the people," Aoun said during a press conference held at the time.
Since Aoun's strong message, aid (medical and food items) from the armies of countries friendly to Lebanon, including the United States, Turkey, Egypt, and Jordan, began flowing into the army.