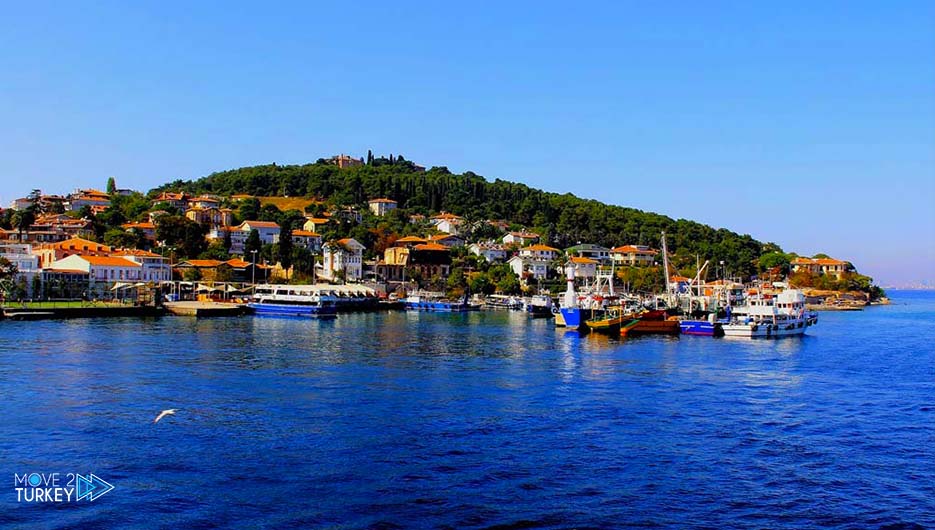 On a hot & sunny day in Istanbul, going to Buyukada Island might be a great option!
In Buyukada, where you will forget all your fatigue, while taking a walk within history on the ancient sidewalk.
in addition, the opportunity to breathe fresh air and clean up your lungs.
This wonderful piece of land, which you will reach after a ferry ride with the company of seagulls, will make your day magical.
On these sunny days, take a break and have fun and peace. Welcome to the pearl of Istanbul, Buyukada…
How to get to Buyukada Island
You can reach Buyukada, the largest of the nine islands called the Princes' Islands, by ferry from Kadikoy, Bostanci, Sirkeci and Kabatas.
While you are on the ferry, you can watch Istanbul behind you while drinking tea and sharing bread with the seagulls that will accompany you throughout the journey.
Buyukada tour
Once you leave the historic buildings of Buyukada Port, you will be surrounded by restaurants, cafes and sellers of delicious ice cream.
And you will be enthusiastically welcomed by the several lovely cats & dogs on this island.
You can ride bicycles and take a tour in the alleys of Buyukada Island, and breathe the fresh air on this wonderful place.
Have breakfast at Café Pasticceria to the left of the clock tower, to get the energy to embark on an exciting journey on the island of Buyukada.
You can walk in the alleys of this island, and see the colorful old houses that will undoubtedly catch your eye, and then continue your way to visit the Hagia Yorgi Church.
Places to visit in Buyukada Island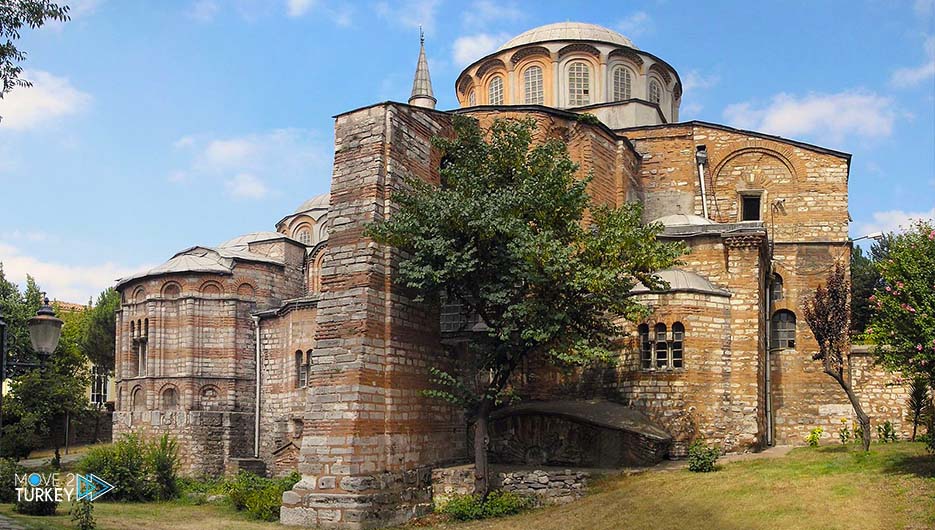 Hagia Yorgi Church
The square at the beginning of the ascending path to the Aya Yorgi Church is like a place for celebration, you can try the carriages waiting to take you to the church.
You can go to the Hagia Yorgi Church on foot or ride the waiting carriages, but be aware that the road is very long and steep.
And as you head to the church you will enjoy watching the sights of Buyukada Island, which have a different beauty with each single step.
The Hagia Yorgi Church is located at an altitude of 202 meters in Yüce Tepe Hill.
To the right of the church there are houses where priests live and an old monastery that is closed today.
On the left side there is the Yüce Tepe Casino where you can have snacks.
Moreover, you will find the Marmara Sea overlooking the Hagia Yorgi Church from all sides.
There is a strong belief that wishes made in Hagia Yorgi Church come true, so don't be surprised when you see a lot of expensive items such as watches and necklaces at the entrance to the church, they are small thank gifts for people whose wishes come true.
It is also believed that holy water in the church has a curative effect, there were rumors of paralyzed people who recovered by it and walked in Yüce Tepe on foot!
The fresh air in Buyukada island will leave you hungry soon after.
So if you're done with your visit, head over to Yüce Tepe Casino for some delicious meat dishes and don't forget to order the handcrafted wine.
Walking under pine trees
After coming down from the Hagia Yorgi Church and walking for 20 minutes, you will find in front of you a wide forest full of pine trees.
The only thing you will feel in this place surrounded by pine trees is "peace".
During this walk accompanied by the rustling of pine leaves and birds singing, you will have the opportunity to see the Greek orphanage, which still bears the title of "the largest wooden building in the world".
This grand building, which has been vacant for 30 years, defies time with its monumental architecture, despite being nearly a century old.
The monastery of Christos now occupies the place of the garden of this building.
In the small cemetery near the monastery are the tombs of the workers who worked in the construction of the monastery and the priests who worked there.
A different love Experience in Buyukada!
If you want to go on your tour from Christos Monastery to Nizam area, you can take a phaeton, we recommend that you do not leave Buyukada without walking on Aşıklar Yolu (The Lovers Road) and Dilburnu.
After a quiet stroll in Aşıklar Yolu, you can have tea at Aşıklar Casino overlooking the sea, and if you want to relax on your walk, we suggest going to (Princes Koyu) which is just to your left.
In addition to what we mentioned above, you can visit Yörük Ali Beach and experience a quiet boat trip.
We also recommend you to visit the Con Pasha Mansion and Arap Izzet Pasha Mansion, which were built in the Ottoman era.
For the mansions in Nizam district of Buyukada Island, with its beautifully colored architecture and gardens, you will have to believe that the princesses in the stories are still alive!
Have some fun in Buyukada Island
Walking in Kenan Evren Park, having a fun round at the water sports club, and even joining concerts at the Turing Culture House are some of the fun things to do on Buyukada Island.
It's time to say no to the ferry!
You never realize how time passes in Buyukada! At departure times the streets start to get crowded, if you are lucky you will find a phaeton during this rush hour.
And you can say goodbye to Buyukada by sitting at Yıldızlar Casino across from the pier and watching the sunset.
At that time you will feel a pain in your heart, especially when you see the ferry coming slowly and you don't want to leave!
It is exciting to make a sudden decision and wave your hand to the ferry you had planned to enter.
Let us remind you that there are ferries from Buyukada to Bostanci until 12:30 am, so you can complete your tour with an enjoyable dinner.
Where to stay on Buyukada Island?
As there are small and large guest houses in Büyükada, you may prefer Hotel Prenses Büyükada or Hotel Splendid Palace, which are the main hotels in Büyükada.
We also recommend Hagia Nikola Pension in Hagia Nikola Bay, for its beautiful and private atmosphere.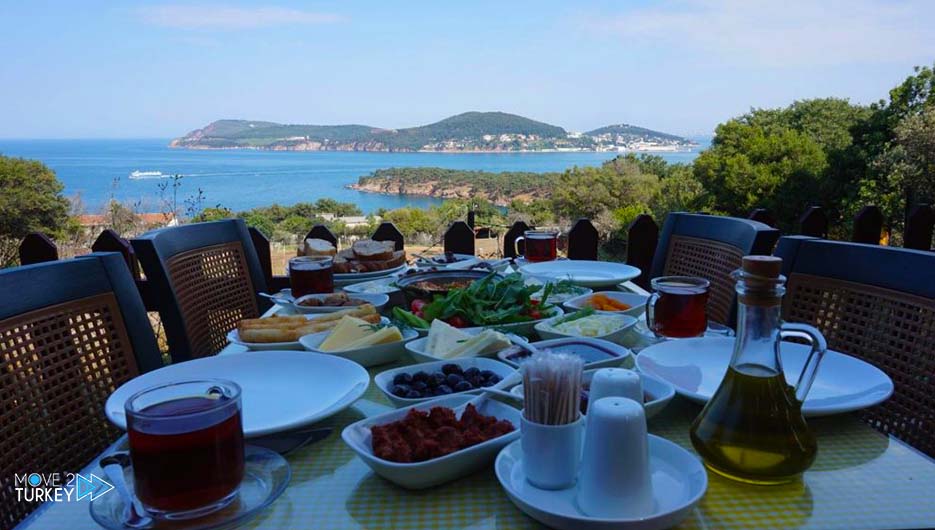 Where to eat in Buyukada Island?
We are sure that it will be difficult for you to choose one of the restaurants lined up next to the pier, you can get the most delicious fish and meat dishes in each of them.
But our special recommendations are to try the calamari and octopus at Milto, which has been in service since 1935.
It is a common tradition in Buyukada to buy ice cream and go for a beachside picnic, so we recommend having an ice cream on the beach as an after-dinner dessert.
You can buy ice cream at Prinkipo Ice Cream or Roma Ice Cream.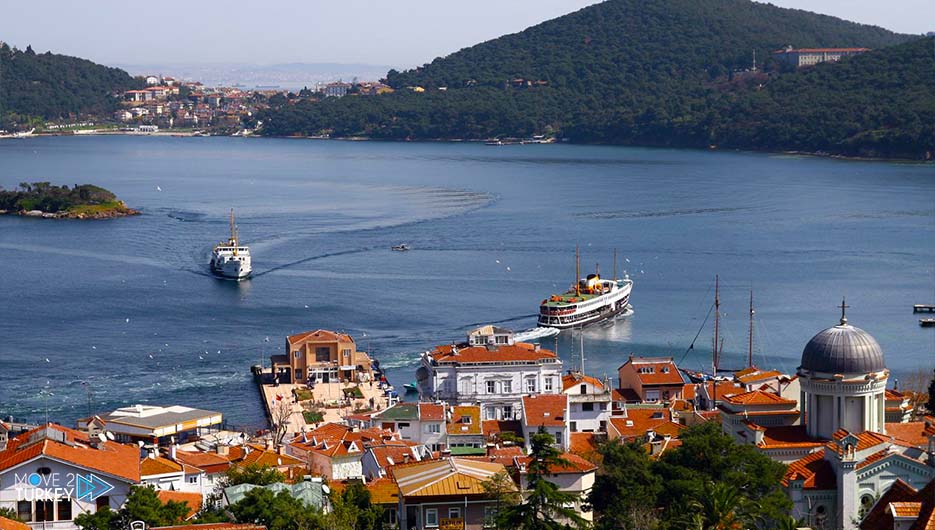 Finally, back to Istanbul!
As soon as you wake up in the morning, open the windows, breathe in the fresh island air and enjoy the magical landscape of green and blue harmonious combination.
When you return, remember to take some food and souvenirs with you from Buyukada Island.
One day in Buyukada means peace, pleasure and fun at the same time.
You can experience more and more interesting things and get exciting moments at the pearl of Istanbul…