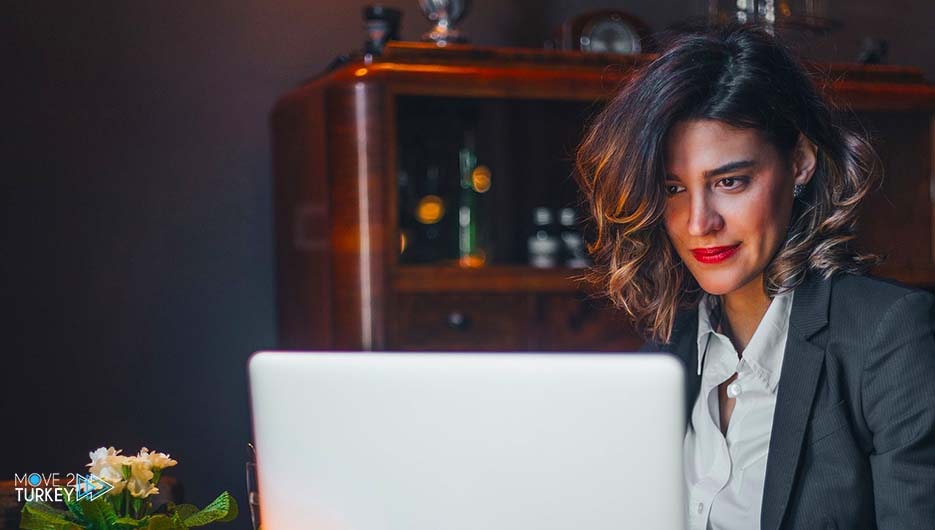 Working in Turkey for women may not be as easy as it appears to you.
Especially for those who do not have enough information about job conditions and their situation in Turkey.
In this article, we would explain the best jobs for women in Turkey, and working conditions for them.
Conditions that are necessary to get a job in Turkey for women
Before starting to get a job, regardless of gender.
You have to make sure that you have sufficient skills and knowledge for the job you are looking for.
If you do not have enough skills, you can take courses related to your preferred career field.
After finding the skill in this field, apply for a formal job.
The important thing about working in Turkey is that the skills you have learned during this time will not be sufficient to continue.
In order to keep abreast of the problems, especially today's technologies.
You have to master your skills more at the same time, in order to work in Turkey.
It is also necessary to be aware of some issues, especially women.
So, in this article, we try to present a number of possible jobs for women in Turkey.
Which foreign women residing in Turkey can and preferably do to earn money in Turkey.
A list of the best jobs in Turkey for women
Women jobs of artistic occupations :
Such as painting, calligraphy, music and also leather embroidery.
Sewing and making artistic stitches on clothes, making jewelry by hand.
In addition to making candles and coloring glass.
Cooking and housekeeping services :
It means making a variety of dishes, depending on the country of each resident.
Or learn to cook homemade meals, pastries, dried cakes and more.
Hairdressing services and women salons :
Salon jobs include makeup artists, pedicures, hairdressers, and more.
Turkey is one of the countries that you can migrate to through a hairdressing job.
To achieve immigration to Turkey in this way, you must have a job offer from an employer or company.
You must also secure a valid contract and sign it.
With this contract, you can apply for a Turkish work visa.
Women job in Sports Training field :
It can be said that sport is part of the Turkish people's lifestyle.
Where you can clearly see places dedicated to sports.
And you find everyone exercising daily in every alley of Turkey's cities.
There are also many sports complexes that provide good jobs for women residing in Turkey.
If you get a training certificate and a license in Turkey, you can easily find a job for yourself.
Online jobs in Turkey for women :
The methods of work via the Internet and cyberspace are very wide in Turkey and the world.
It's also so versatile that it doesn't fit in this space.
But we point out that some internet functions are easy to access.
A skill specialty that can also be learned in a short time.
You can build an online store, or you can do content production.
Or take a job as a site manager, or web designer.
You could also be a marketer on the Internet, in addition to stocks and exchanges trading.
Working in Research Functions :
There are many companies that need market research to import raw materials from Turkey.
Or there are groups that need marketing to export their goods.
This way, you can start a business for yourself.
Women work for formulation function :
Drafting is one of the jobs that besides being very attractive, has a good income as well.
You can get this lucrative job by taking courses in gold and jewelry.
Women jobs in the field of interior design :
If you are a specialist or interested in interior design.
You can advise people on changing the décor of their home or workplace.
Women jobs in gardening :
If you have a patio, greenhouse, or balcony in your home, you can grow flowers and plants and sell them.
Where growing medicinal plants is also a good option.
Because the use of herbal medicine is very widespread recently in Turkey.
Working in the field of independent translation :
If you specialize in writing, translating and producing content.
You can earn money provided you own your own personal computer and have the Internet.
Women jobs in translation affairs field :
There are many foreign citizens in Turkey.
Many of them, of course, need an interpreter for tourism or business.
With your skill as a Turkish or English translator.
You can get a job and earn a living from it.
Working in Language Teaching field in Turkey :
If you have a degree in English, or if you specialize in one of the other languages.
We must tell you that you can easily find work in schools.
Or you can work for international and multilingual companies in Turkey.
There is also another way to earn a living.
It is to get a job in teaching one or more non-native languages ​​in Turkey.
Women Jobs that are related to the production of clothing :
Such as tailors, designers and others, as there are major brands in Turkey.
There are many designers and garment manufacturers.
They produce and market their products with the best quality and lowest prices.
So fashion designers in Turkey can be attracted by different brands in hiring female workers.
And that is in the field of producing and supplying clothes after receiving the necessary training.
And also after passing training courses in fashion design and clothing design in Turkey and abroad.
Women jobs of sales management at micro and macro levels :
If you have good sales talent and ability, this job is good for you.
Where there are many sales companies that hire people for sale in exports and imports.
Note that people whose native language is English are more likely to get the job.
Working in medical field in Turkey for women :
The medical profession has become available to foreigners in Turkey, after it was one of the illegal jobs for them.
But it is important to note that foreign doctors in Turkey can obtain a work permit only if they work in private or non-governmental medical centers.
In order for private health centers to work with foreign doctors in Turkey.
You must first apply for an initial permit from the Ministry of Health.
Also, a score of at least 8 in the Turkish language test must be obtained to get a work permit in Turkey.
Basic steps before applying to work for women and foreign citizens in general in Turkey
If you are planning to immigrate to Turkey to continue living and working.
It is best to know a series of conditions before taking any action:
You should know that working in Turkey requires a work permit.
You need to know where to look for a job to work in Turkey.
To work in Turkey, you must be aware of the labor laws in Turkey so that you do not get into trouble.
Also, there are thousands of other pieces of information that you need to know before getting hired and start working in Turkey.
So, it can be concluded that finding a job in Turkey is a complex and difficult process.
But the prerequisites are mastering the Turkish language.
And also special proficiency in the academic or technical field.
This is an important thing that we advise you to do not only in Turkey, but everywhere in the world.