ICON_PLACEHOLDEREstimated reading time: 6 minutes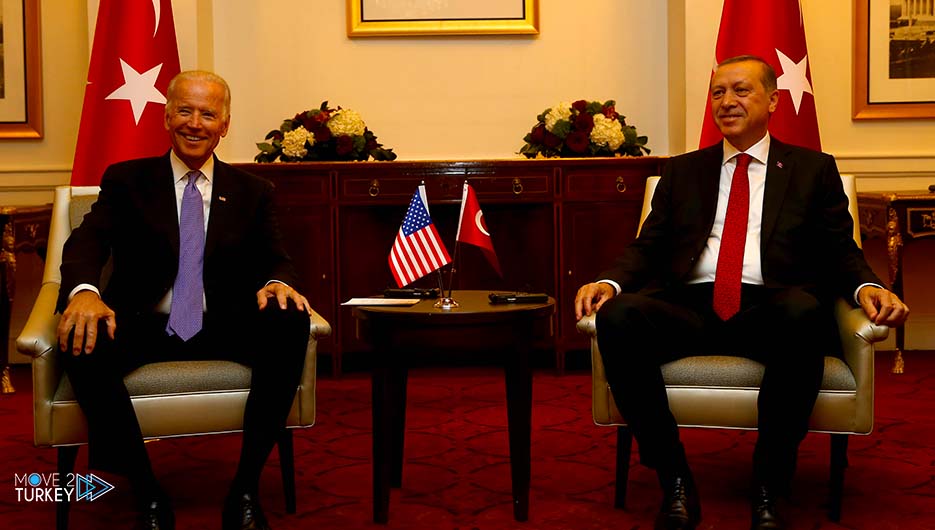 After efforts to avoid Trump administration sanctions, Turkey now fears that the White House will immediately take a tougher stance on Ankara.
According to recent social media news, Dan Arbel, an expert on Turkey, Israel and the Middle East and a former senior member of the Center for Middle East Policy and the Brookings Institution, wrote in an article in the International Institute for Strategic Studies (IISS):
As Joe Biden enters the White House, Middle Eastern representatives are trying to reassess their policies in hopes of maintaining closer ties or improving relations with the United States.
Turkey is one of the players concerned that the Biden government will take a hard line against Ankara in the first place.
In late December 2020, Turkish President Recep Tayyip Erdogan surprised many. When he made conciliatory remarks and expressed his hope that relations between the United States and European countries would improve.
In a public speech, he also welcomed the return to normal Turkish-Israeli relations, and said that his country is ready to improve relations with Israel.
Erdogan also stressed that relations between Turkey and Israel could not be problematic if Israeli politicians recognized Turkey's red line. Especially when it comes to Israel's policy towards Palestine.
Erdogan withdrew from strengthening bilateral relations with Israel, but his statements about Israel came a few days after the Turkish media announced their decision. This move prompted Erdogan to appoint his advisor, Ufuk Ulutaş, as Turkey's ambassador to Israel.
This announcement came because Turkey had not had an ambassador to Israel for nearly two years. Erdogan also acknowledged the fact that there are intelligence contacts between Israel and Turkey and they are expected to continue in the future.
Erdogan's recent statements came after a decade of intense tensions between Ankara and Jerusalem, during which the two sides suspended their political dialogue, summoned their ambassadors, and relied on harsh words based only on the economic interests that keep the relationship in place.
After a close strategic partnership in the 1990s, the two countries became rivals in 2010. Israel attacked the Gaza flotilla. An attack on the Mavi Marmara ship carrying humanitarian aid to the people of Gaza trapped in international waters on May 31, 2010, in which nine Turkish citizens were killed.
In 2016, a normal agreement was signed between the two sides, but it quickly collapsed with Turkey's objection to Trump's staunchly pro-Israel policies. In a way that Turkey considered it at the expense of the Palestinian people.
Turkey also objected to Ibrahim's agreement. An agreement was signed between Israel, the Emirates and Bahrain. In this regard, Turkey accused the UAE and Bahrain of betraying the Palestinian cause.
Catalysts of Erdogan's Progress
American and Israeli politicians and analysts view Erdogan's recent comments as extremely pessimistic, suspicious, and worthless.
While Israeli government officials did not officially respond to the comments, senior officials told the Israeli media that Turkey should prove this in practice, not in words.
Israeli Foreign Minister Gabi Ashkenazi reportedly held a high-level consultative meeting earlier this month to find out the motives behind Erdogan's latest move.
However, there is widespread consensus that Erdogan's statement about his desire to improve relations with Israel is an attempt to win support from the Biden administration as well as a new Congress controlled by Democrats.
Despite widespread criticism in Washington of Turkey's policies in Syria, Libya, and the eastern Mediterranean, and above all the purchase of S-400 anti-missile systems from Russia, Erdogan has managed to protect Turkey from the harsh punitive measures of the Trump administration.
But in December 2020, the Trump administration imposed limited sanctions on Turkey. Sanctions of more than $ 2.5 billion were imposed on the deal to purchase S400 systems under the U.S. Enemy Countermeasures Act in 2017.
Erdogan wants to avoid confrontation with Biden, who is fiercely critical of the Turkish president, and hopes for the relief of additional US sanctions on the S400 deal or the Turkish Hulkbank case.
Erdogan hopes that his views on Israel will attract the attention of the powerful pro-Israel lobby in Washington, whose support will be of great value to Ankara if Turkey faces more problems in the future.
Long-term hope for regional leadership
Erdogan's statements are also in line with Turkey's regional considerations in the Middle East. In 2011, Erdogan had hoped that the Arab Spring would provide a platform for Turkey to increase its influence in the region and provide a space for leadership in the Arab and Islamic world.
This hope was quickly dashed due to the military coup led by Abdel Fattah al-Sisi in Egypt and the escalation of the civil war in Syria. Nevertheless, Erdogan has always tried to return Turkey to a leadership role in the region.
With the recent developments in the region, especially the normalization agreements between the four Arab countries and Israel, Turkey feels that the anti-Israeli situation could lead to marginalization.
It is also likely that the Arab countries will join the cycle of normalization in the coming months and years, even Qatar, an ally of Turkey.
Erdogan does not want to be left out. The agreement to end the three-and-a-half-year-old Gulf dispute with Qatar, signed in Saudi Arabia earlier this month, may pave the way for Turkey's efforts to improve relations with Riyadh and Abu Dhabi, which in turn may reduce tensions in the region.
Trade is what sustains bilateral relations
Erdogan is interested in maintaining close economic ties between Turkey and Israel.
During a decade of crisis, it was trade that stabilized relations. In 2018, the value of bilateral trade reached 6.2 billion dollars, while in 2019 it reached 5.5 billion dollars.
Turkey was the sixth largest trading partner of Israel. Official trade numbers for 2020 have not yet been released, but trade has been hit hard by the coronavirus epidemic.
The Turkish economy is also affected and Erdogan is concerned. Therefore, it seeks to ensure that no further losses are incurred.
With the escalation of tensions over natural gas in the eastern Mediterranean between Turkey, Greece and Cyprus, Israel, Cyprus and Greece (together with Italy) are working to develop the EastMed pipeline project, which is expected to transport natural gas from Israel to southern Europe via Cyprus and Greece. .
The Israeli-Turkish natural gas pipeline project, which experts say is the most economically and logistically viable option, has been canceled in recent years due to tensions between the two leaders.
While stressing the need to diversify his country's energy sector, Erdogan hopes that improving relations with Israel will stimulate the pipeline project. (Meanwhile, the EastMed pipeline project is canceled.) Finally, despite the Turkish president's hostility to Israeli Prime Minister Benjamin Netanyahu and his harsh criticism of Israeli policies, Erdogan recognizes the value of sharing information and continuing to work together on issues of common concern, such as Syria and the fight against terrorism. The reciprocal aspect can deepen the relationship to improve it.
On the other hand, Israel has its own concerns about Turkey, especially Erdogan's close ties with Hamas (which hosts the Hamas office in Istanbul) and other Muslim Brotherhood-affiliated groups in the region, and Turkey's alliance with Qatar (which also supports Hamas).
Erdogan's harsh words toward Israel, many of which appear anti-Semitic. Undoubtedly, if Israel wants to continue close relations with Turkey, it will create very clear conditions for a meeting with the Turkish president. The start of the Biden presidency may provide an opportunity for both countries to explore this possibility.