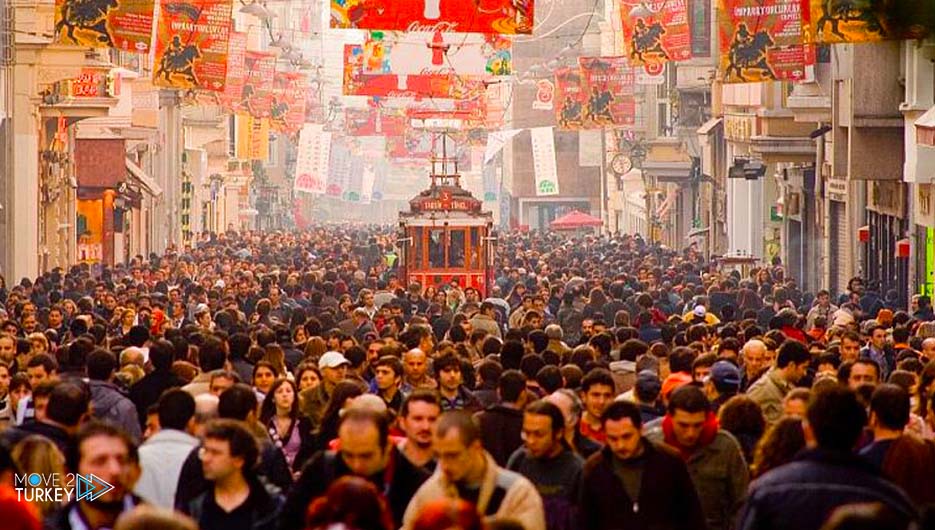 Turkey's population increased in 2020 compared to the previous year by 459,365 people, As Turkey's total population reached 83,614,362 people.
This is according to what was announced by the Turkish Statistical Institute, according to the results of the address-based population registration system.
The population growth rate has decreased
While the male population reached 41 million 915 thousand 985 people, and the number of females reached 41 million 698 thousand 377 people.
50.1% of the total population were men and 49.9% were women.
While the annual population growth rate was 13.9 per thousand in 2019, and it was 5.5 per thousand in 2020. The lowest population growth rate was recorded in recent years in 2020.
Decreased population of Istanbul
The population of Istanbul decreased by 56,815 people compared to the previous year, and reached 15,462,452 people.
Bayburt became the least populated county with 81,000 910 residents. Bayport Tunceli followed with 83 thousand and 443 people, Ardhan with 96 thousand and 161 people, then Gumushan with 141 thousand 702 people, and Kilis with 142 thousand 792 people.
The average age of Turkey's population rises to 32.7
Median age is the age of a person in the middle when the ages of the population are arranged from newborn to oldest in ascending order.
As the average life expectancy in Turkey reached 32.4 in 2019, and increased to 32.7 in 2020.
It was observed that the average age increased from 31.7 to 32.1 in males and from 33.1 to 33.4 in females.
Proportion of population of working age 67.7%
The percentage of the population in the 15-64 age group, defined as working age, was 66.5% in 2007 and 67.7% in 2020.
The percentage of the population in the 0-14 age group decreased from 26.4% to 22.8%, while the proportion of the population aged 65 years and over increased from 7.1% to 9.5%.
Population density in Turkey
Population density is defined as "the number of persons per square kilometer"
The population density in Turkey increased to 109 people in 2019 compared to the general increase for one person.
Istanbul also became the most densely populated province, with a population of 2,976 people per square kilometer.
After Istanbul, Kocaeli had a population density of 553 and Izmir with 366 inhabitants per square kilometer.
Tunceli province was the least densely populated with a population of 11 people per square kilometer, as in the previous year. Ardahan and Erzincan Tunceli provinces were followed by twenty persons.