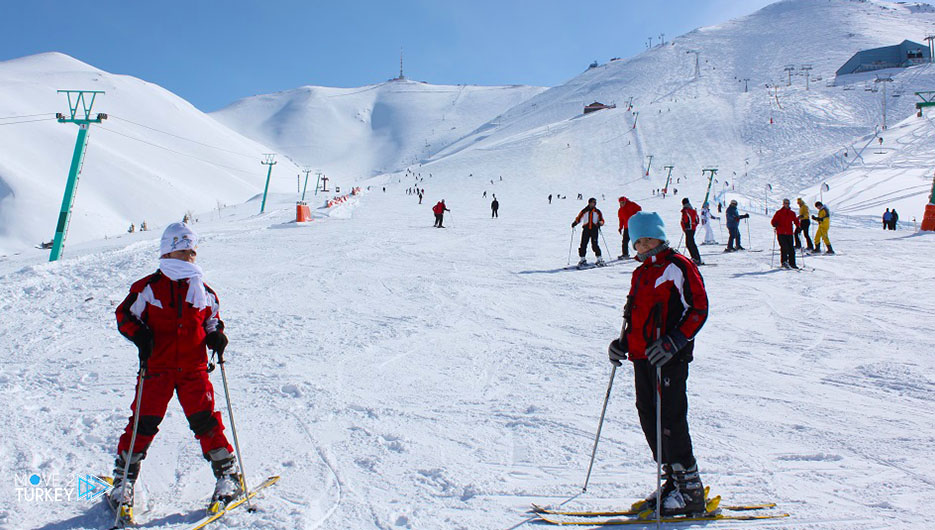 With the snowfall in the state of Erzurum, northeastern Turkey, with a thickness of 80 centimeters, tourists began to flock to the "Blandukan" ski center.
The center is located 20 km from Erzurum Airport and 4 km from the state center, hosts international winter sports events and is among the favorite destinations for ski lovers and winter vacationers.
The center opened for the current season on December 15, and due to the delay in snowfall, it resorted to a system of artificial snow production, in addition to using natural snow stored to fill the ski tracks.
The center provides its visitors with the opportunity to practice many exciting sports and games, such as skateboarding, climbing the ice wall, free sliding, and the human slingshot, in addition to the snow park and night skiing.
The center is characterized by ease of movement, comfortable accommodation, picturesque nature, and has technical infrastructure, five-star hotels, bungalows (wooden) and long ski tracks according to international standards.
The snow was delayed during the current season, but it recently fell heavily, with a thickness of more than 80 centimeters, and the resort turned into a major destination for ski lovers.
The head of the northeastern Anatolia region in the Union of Turkish Tourism Agencies, Noah Shnol, expressed his happiness at the snowfall in the region.
He said that "Plandukan" is the first center to open the ski season and the last to conclude it in Turkey, adding that it is equipped with modern facilities and is a favorite for local and foreign tourists.
He explained that the center is witnessing a great turnout in conjunction with the mid-year vacation (from January 23 to February 3, 2023) and heavy snowfall.
And he added, "The start of snowfall made us very happy, and the resort ranked first in Turkey in terms of the thickness of the snow that covers it."
He added, "All ski tracks are now open, and we offer an opportunity to ski at a distance of about 80 kilometers (tracks)."
"The snowfall indicates that the season will be extended for a longer period, thus providing an opportunity for all ski enthusiasts to practice skiing."
For his part, Omar Aqsha, manager of a hotel in the region, said that the ski tracks have been open for a month and a half, as skiing activities were carried out using artificial snow in addition to natural ones at times.
He continued, "The snow that started to fall made us very happy, and its thickness in some places approached a meter and a half."
Akça expressed his hope that hotel reservations will increase further after the recent snowfall.