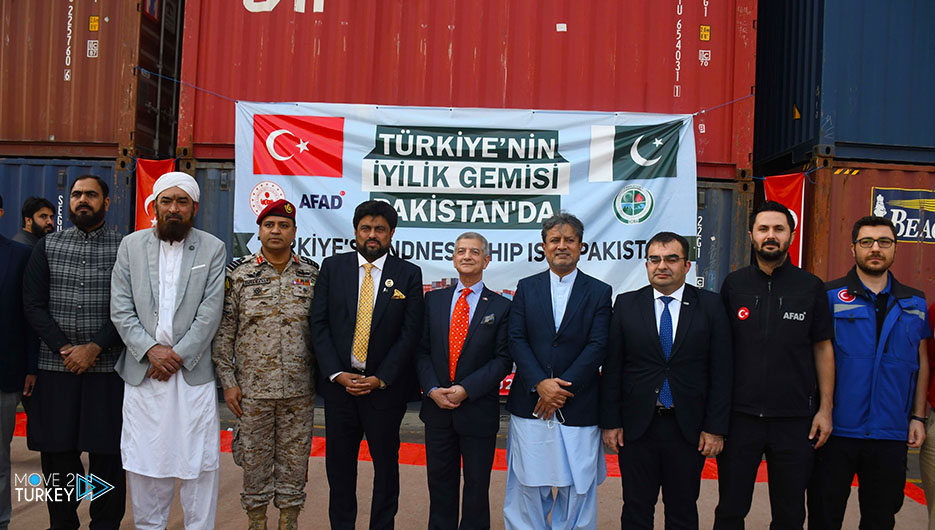 The first Turkish humanitarian aid ship arrived in the Pakistani city of Karachi, intended for flood-affected people in the country.
The Turkish ship arrived in the port of Karachi, loaded with about 900 tons of foodstuffs, blankets, winter clothes and detergents.
The ship's handover ceremony was attended by the governor of Sindh province, Kamarn Tesori, the Turkish consul in Karachi, Jamal Sango, and officials from the Turkish Disaster and Emergency Management Authority (AFAD), the Turkish Red Crescent and the Turkish Cooperation and Coordination Agency (TIKA).
Sangu said in a speech that the Turkish people stand by Pakistan and that the flood victims are not alone.
He pointed out that the second aid ship will arrive in Karachi next February.
In turn, the governor of Sindh thanked Turkey for its continuous assistance to Pakistan.
The second Turkish ship, loaded with 763 tons of humanitarian aid, is expected to arrive in Karachi on February 4.
It is noteworthy that Pakistan faced a major flood disaster last summer due to the heavy monsoon rains, which negatively affected the lives of 33 million people and caused the displacement of 8 million others.
Also, 1,700 people were killed, thousands were injured, and more than two million homes were destroyed as a result of the floods that the country witnessed, starting from June 14th.