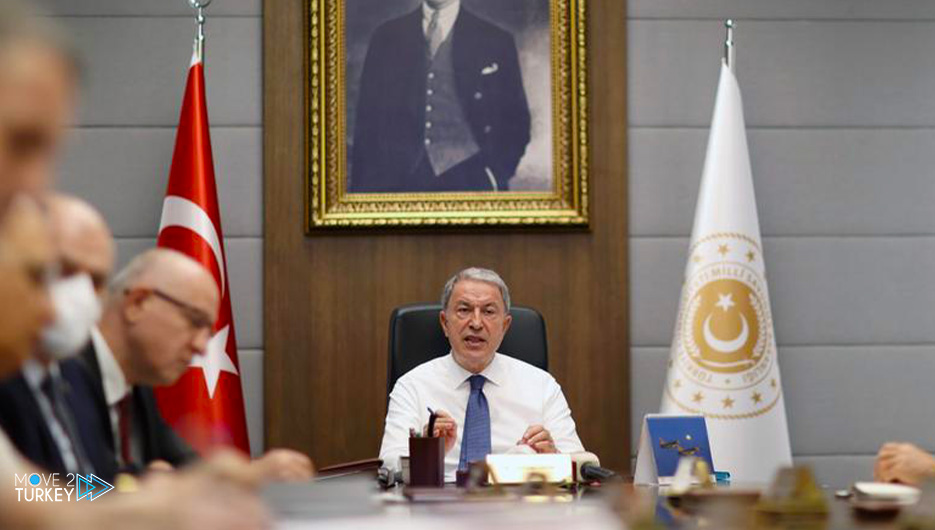 Turkish Defense Minister Hulusi Akar said that his country has the right to carry out military operations outside the country to defend the security of its borders under international law.
This came in response to journalists' questions after the end of a government meeting on Monday regarding the possibility of Turkish forces launching a new military operation in northern Syria.
Akar added, "Turkey has done what is necessary and will do what is necessary when the time comes, regardless of who is behind the terrorist organizations or in front of them. It is important for us to protect the rights and interests of our country."
In response to a question about whether talks with the Syrian regime will start or not, Akar said that President Recep Tayyip Erdogan and the relevant ministers made statements on this issue, indicating that the talks are a process linked to circumstances and conditions.
He added, "The military operation in northern Syria is actually taking place. Everything has a place and a time and has tactics, techniques and engineering."
He stressed that the goal of the Turkish forces in their foreign operations is to eliminate terrorist organizations only.
With regard to the file of Turkey's purchase of F-16 fighters, Akar said that talks in this regard with Washington are proceeding positively.
In response to a question about whether the maneuvers that Egypt conducted with Greece annoys Turkey or not, Akar said: "Joint maneuvers do not mean the alliance. Turkey also conducted dozens of maneuvers last year with the participation of many countries, so it is possible to conduct joint maneuvers and this is normal."
He added, "When we make progress in talks with Egypt and our relations with it reach a certain point, we can also conduct military exercises with Cairo in the future. The important thing is to preserve the interests of the countries and establish peace in the region."