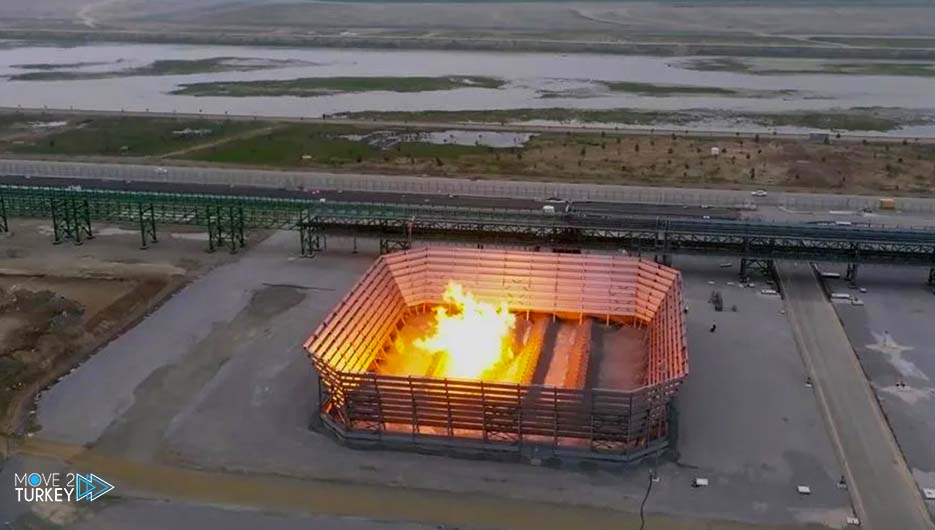 On Thursday evening, the Turkish authorities began pumping the natural gas discovered off the coast of the country in the Black Sea to the mainland.
The announcement of the start of pumping came through a torch lit by President Recep Tayyip Erdogan during a ceremony held in the port of "Vilios" in Zonguldak state, northern Turkey.
Erdogan said during the lighting of the torch that the Turkish people will start using the gas extracted from their country after today.
He expressed his congratulations to all Turkish citizens on the occasion of pumping natural gas into the national grid.
The ceremony was attended by Fuad Oktay, Erdogan's deputy, Parliament Speaker Mustafa Şentop, Minister of Energy and Human Resources Fatih Donmez, Labor and Social Security, Wadad Bilgin, Head of the Communication Department in the Turkish Presidency Fahrettin Altun, as well as leaders of parties allied with the ruling Justice and Development Party in the upcoming elections.
Turkey plans to produce 10 million cubic meters of natural gas per day from 10 wells in the Black Sea in the first phase and 40 million cubic meters per day from 40 wells in the second phase.
According to a statement by the Minister of Energy during the ceremony, the project will meet about 30 percent of Turkey's current natural gas needs on its own when it reaches full capacity.
"Our discovery (gas volume) has the potential to meet the natural gas needs of all dwellings (in Turkey) for 35 years," said Minister Dönmez.
Turkey discovered the largest natural gas reserves in the country's history in the Black Sea in August 2020.
Natural gas reserves discovered in the Black Sea amounted to 710 billion cubic meters during the period between 2020 and 2022.