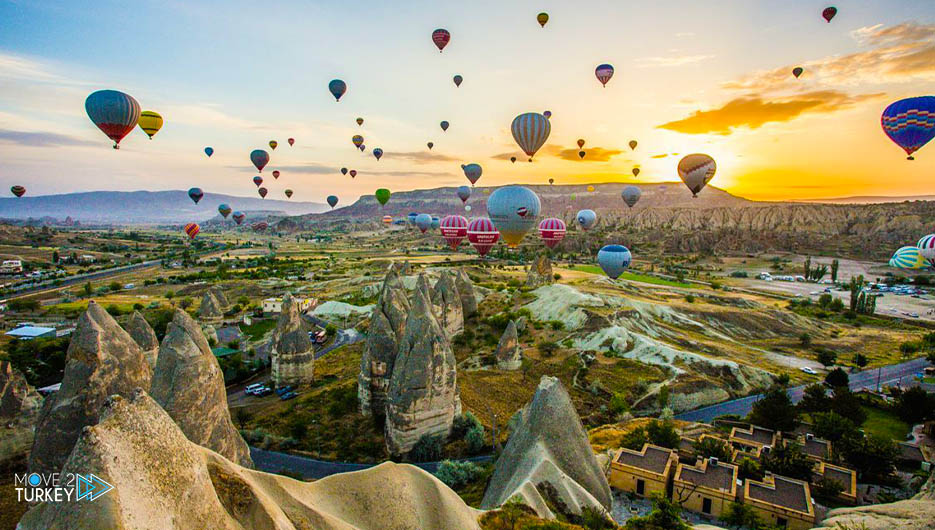 Tourists in the archaeological region of Cappadocia in central Turkey went to practice various recreational activities on the first day of the new year.
With the emergence of the first rays of the sun of the new day, tourists flocked to thermal balloons to receive the sunrise of 2022 on the balloon and enjoy the historical and natural scenery of Cappadocia, located in the state of Noshahir (central).
While other tourists opted for mountain biking, cliff-climbing adventure, and trekking among the region's historic hills.
In an interview, Negat Oksuz, a balloon captain in Cappadocia, said that it is fun to ride a balloon and go up high to see the natural wonders on the first day of the new year.
He pointed out that dozens of airships were launched in the sky of Cappadocia, and thus conducted a captivating aerial show.
Cappadocia is considered one of the important tourist centers in Turkey and the world because of its world-famous tourist attractions.
And the rocky city was formed thousands of years ago from lava and ash on the mountains of Erciyes, Hassandagh and Guludag on a wide stretch between several states.
Therefore, today it includes "chimneys of the jinn", valleys closed with natural rock formations, underground cities, as well as historical monasteries.