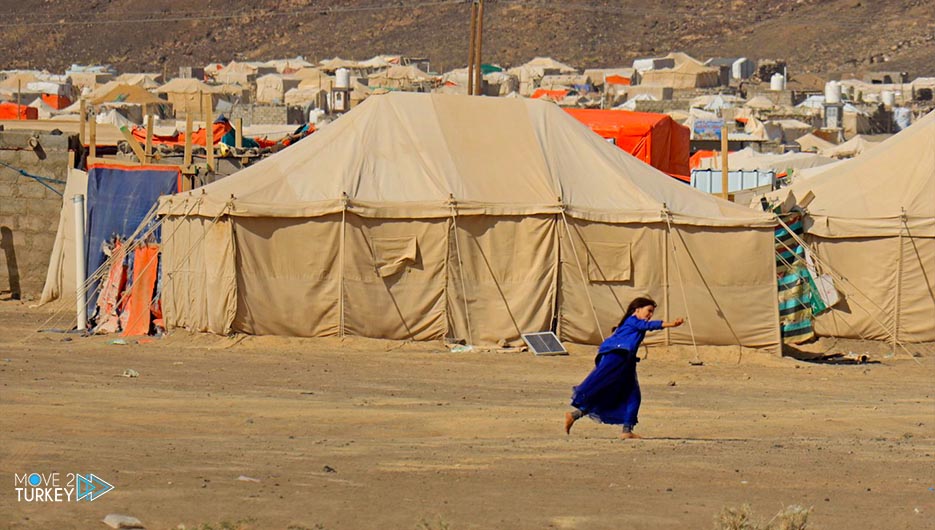 The United Nations announced, on Wednesday evening, that more than 64,000 people have been displaced due to the escalation of fighting in Ma'rib Governorate, central Yemen, since the beginning of this year.
This was stated in a statement issued by the United Nations Office for the Coordination of Humanitarian Affairs.
"Renewed hostilities since early September have significantly affected civilians in Marib and surrounding areas, causing mass displacement," the statement said.
In addition to restricting the movement of civilians and humanitarian access to those in need.
He added, "More than 64,450 people (10,742 families) were displaced in Ma'rib between January and November of this year due to hostilities, according to the International Organization for Migration."
"Of these, more than two-thirds, or 45,450 people (7,553 families), have been displaced since September alone," the statement continued.
He noted that "the internally displaced people who have sought safety in the city of Ma'rib and the surrounding areas are among the most vulnerable.
This is after they have already been displaced two or three times with very little or no access to basic services including water, sanitation and sanitation."
The new displacement exacerbates existing humanitarian needs, dramatically increasing the need for shelter.
In addition to food, basic household necessities, water and sanitation, education and protection services, especially for women and children.
Since last February, the Houthis have intensified their attacks in Marib to control it, as it is the most important stronghold of the government and the headquarters of the Ministry of Defense.
In addition to its enjoyment of oil and gas wealth and the Marib gas station, which before the war supplied most of the governorates with electric current.
For nearly 7 years, Yemen has been witnessing a continuous war between forces loyal to the government backed by an Arab military coalition led by the neighboring Saudi Arabia.
As well as the Iranian-backed Houthis who have controlled several governorates, including the capital, Sanaa, since September 2014.
The United Nations says that by the end of 2021, the war in Yemen will have killed 377,000 people directly and indirectly.