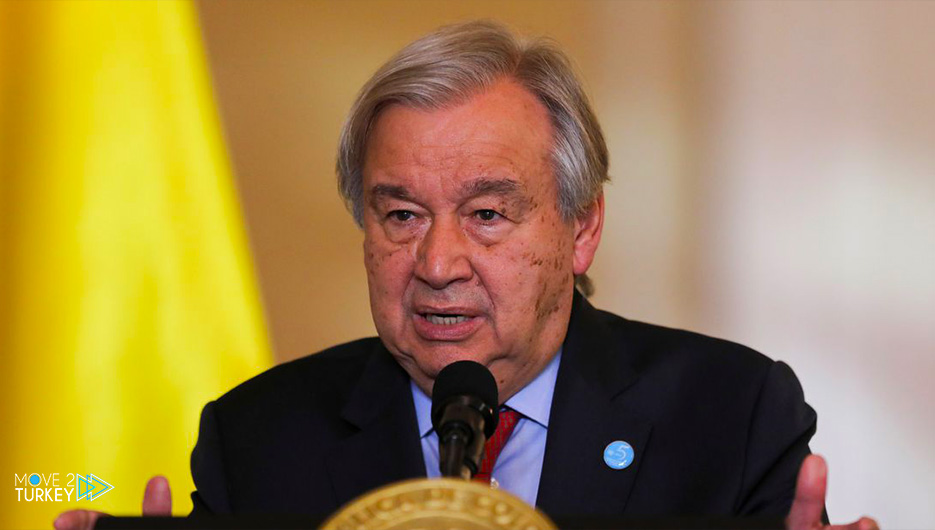 On Wednesday, United Nations Secretary-General Antonio Guterres described the imposition of restrictions on travel to and from African countries by several countries.
This is against the background of the emergence of a new virus from "Corona" as a "type of apartheid".
During a press conference in New York with the Chairperson of the African Union Commission Moussa Fakih, Guterres said that they discussed ways to enhance partnership and cooperation.
Including "our joint work to promote peace and security in Africa, cooperation for development, humanitarian operations, elections, the peaceful transfer of power and a new common framework on human rights."
He renewed his warning of the repercussions of the low rates of vaccination against "Corona" in Africa.
And he added: "Low vaccination rates and severe inequality in access to vaccines have led to the emergence of mutants (of the virus)."
He continued, "We cannot blame the people of Africa for the low and unethical level of available vaccines, and they should not be collectively punished with travel restrictions."
And on Thursday, South Africa announced the discovery of a new virus from the virus (Omicron), which led to the imposition of many countries' travel bans to and from South Africa and many other countries on the continent.
Guterres stressed that "imposing travel restrictions is not only unfair and punitive, but also ineffective."
He appealed to governments to "consider instead the frequent testing of travelers, along with taking appropriate and truly effective measures, as this is the only way to reduce the risk of transmission."
He described the restrictions imposed by some countries on travel as "a kind of apartheid", calling on these countries to "respond to common sense," as he put it.
Guterres touched on other dangers in Africa, saying: "Recent months have witnessed the re-emergence of military coups, and we are seeing terrorism and violent extremism chasing millions across the Sahel."
He continued, "And here is the renewed fighting in the Democratic Republic of the Congo, and the conflict continues unabated in Ethiopia."
"I renew my appeal for an immediate cessation of hostilities and for unimpeded humanitarian access," he added.
Especially since there is no justification for targeting ethnic groups and arbitrary arrests, and there is also no justification for detaining UN staff."
And on Monday, the United Nations announced the arrest of one of its international employees in Ethiopia, bringing the total of its employees detained there to 7.