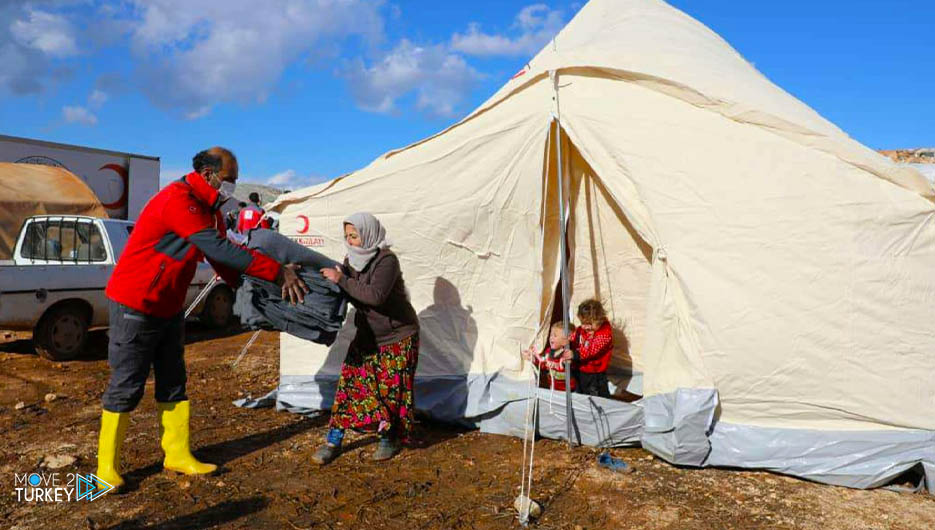 On Saturday, the Turkish Red Crescent held a ceremony to hand over 901 brick houses to displaced Syrian families in the Idlib region, northwest of Syria.
The deputy governor of Hatay province, Oguzkhan Bingol, participated in the ceremony.
Ibrahim Altan, Director General of the Turkish Red Crescent, and Emine Taş, President of the For Children Smile Association.
The 901 brick house project is part of the second phase of the Turkish Red Crescent project to build 5,000 homes of this type in the Syrian province of Idlib.
In order to shelter displaced Syrian families, the second phase of it has been concluded in the Kafr Lusin area.
In a speech at the ceremony of handing over the homes to their owners, Ibrahim Altan said that the Red Crescent had completed 2,189 brick homes in Idlib.
and 272 in the Azaz area (in the countryside of Aleppo), in addition to the opening of a school to teach children victims of the war in Idlib.
In a statement, Amina Tash, President of the "For Children Smile" Association, expressed her gratitude for the opening of the school, noting that the school consists of 22 classrooms.
She added that the association adopts the slogan "The world changes with education."
It is planned that the Red Crescent will continue the project of building 3,200 brick houses in the third and fourth phases in Idlib, and 272 like them in the fifth phase in Azaz.
And last April, the Red Crescent began distributing 784 houses out of 5,000 bricks to displaced families in the Sarmada area of ​​Idlib.
In January 2019, the Turkish Ministry of the Interior launched a relief campaign for the displaced in Idlib
It was called the "We are together on the side of Idlib" project, which aims to meet the needs of Syrians for shelter.