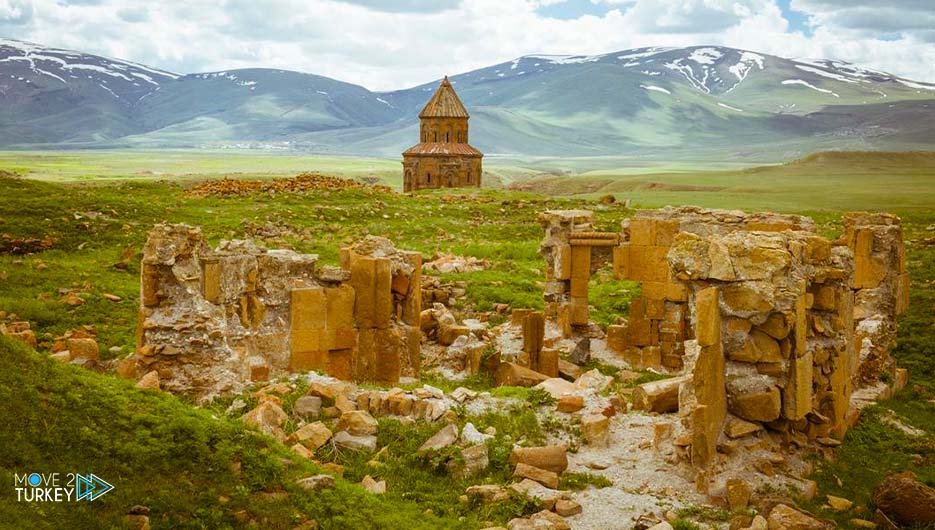 The Ani ruins in Kars, eastern Turkey, take visitors on a journey through history dating back centuries.
The archaeological "Ani" located near the Arbaşı area in Kars is one of the unparalleled cultural treasures.
Throughout its long history, Ani embraced more than 23 civilizations, including the Scythians, Persians, Sassanians, Seljuks, and others, until the Muslims conquered it in 643 AD.
This region fell between 884 and 1045 AD under the rule of the Bagratids, and the Byzantines took control of it in 1045, until the Seljuk Sultan "Alp Arslan" conquered it again on August 16, 1064.
In July 2016, the United Nations Educational, Scientific and Cultural Organization (UNESCO) included the ruins of the city of Ani on the list of World Heritage Sites.
The ruins of "Ani" are called many names, most notably "the city of the world," "the cradle of civilizations," "a thousand and one churches," and "the city with 40 gates."
Throughout the year, "Ani" is visited by thousands of domestic and foreign visitors.
Hakan Goksal, one of Ani's visitors, said that the city takes its visitors on an "unforgettable journey through history."
He expressed his admiration for the ancient city, along with its historical landmarks, most notably the mosque and the church.