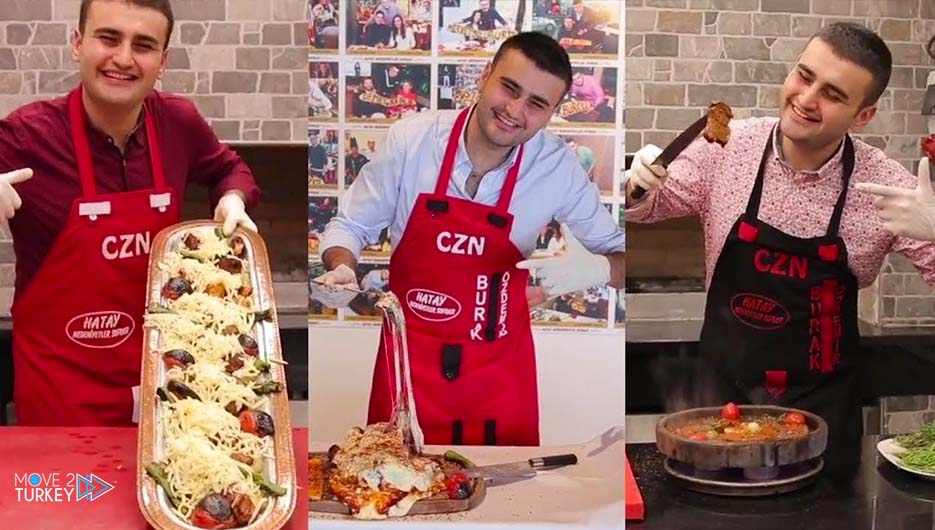 If you have an Instagram account, you've probably seen this guy's always smiling face! Chef Burak is considered as one of the most famous chefs these days in the world of the internet, especially in the Instagram application, where many people follow him because of his special way of cooking.
You may have seen his great way of cooking and his trips and even his jumping while cooking eastern and western dishes. And of course you may want to go to his restaurant once, try his delicious food, and take a selfie with him.
Why is Chef Burak famous ?
If we describe Chef Burak in one sentence, it probably is: A young man stares at the camera as he cooks and smiles.
But who is he and how did he become so famous like that?
Burak Özdemir, the owner of Hatay Medeniyetler Sofrasi Aksaray, is a young chef of twenty-six years old.
Despite working and living in Turkey, he is from Syrian origins, he became famous when he shared his cooking style in the form of short videos in a unique style on Instagram and YouTube.
Chef Burak is known for several things:
Cooking on a very large scale, for example, a giant cake filled with toys and candy or a barbecue a few meters long
Cooking oriental dishes like Turkish, Lebanese and even Iranian
Dancing, jumping and skipping cooking time
And of course, the smile he always carries on his lips while cooking and looking directly at his camera throughout the video, even while working with a knife!
Burak started cooking at an early age (thirteen years old) in a small family restaurant and came to Aksaray in 2009 when he was only fifteen years old.
These days, he became famous, so much so that football players, celebrities and many Turkish, Arab and Western celebrities go to his restaurant, including Recep Tayyip Erdogan, the President of Turkey!
Burak greets these people with a piece of Berber bread written on it, his message or the names of his guests in his restaurant.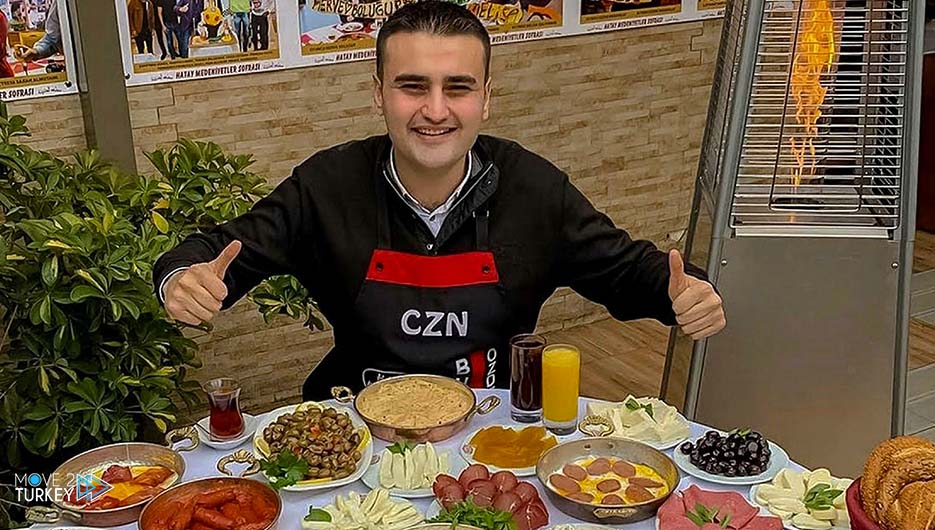 More knowledge about Burak restaurants in Turkey :
Chef Burak does not limit his work to displaying his cooking on Instagram only, as he owns several restaurants in Istanbul.
If you travel to Istanbul in Turkey and visit Borak Istanbul Restaurant, then you may be recommended to all branches Hatay Medeniyetler and Sofrasi Aksaray, and Burak restaurants have many other branches.
How many branches does Burak Istanbul have in this city ?
Wherever you are in Istanbul, you can find the nearest branch of Burak Restaurant and go to it, and taste the unique recipes of this famous chef, and this restaurant has three branches in Istanbul:
Branch (Czn Burak Medeniyetler sofrasi Etiler) :
This branch is located on Nisp Teh Street and next to it you can see the metro station on this street.
Nisp Teh is one of the most famous streets of Istanbul, it is close to the beach and from the best shopping centers and sightseeing areas in the city.
The Etiler branch has the same list of other branches, this means you have a wide range of kebabs, middle eastern rice and a wide variety of dishes.
The staff of this branch is among the funniest and best employees among Burak restaurants in Istanbul (according to customer reviews in various applications)
And on many days, there is also a program of music and performances.
Be sure to try different snacks such as hummus, flavored yogurt and curd, as the price of Burak restaurant food suitable for the special experience you get from Etiler Restaurant.
Aksaray Branch (Hatay Media Netler Sofrasi Aksaray) :
A restaurant with large windows and a beautiful view, on a wide and crowded street in the heart of Istanbul.
Many people consider Aksaray branch as the most beautiful branch of Burak restaurant in Istanbul. and although its menu is similar to other branches, many famous people go to it directly, such as Turkish actors and even Turkish President Erdogan were guests on Burak in this branch during the past few years.
Meat, chicken and fish kebab is served on large wooden trays in this restaurant. and then you can refresh your mouth with delicious pastries and authentic tea.
If you visit Istanbul and pass by the fatih area in Istanbul and Aksaray Street, be sure to sit behind the large windows of this restaurant and enjoy a view of one of the most beautiful cities in the Middle East.
Burak Restaurant Branch in Taksim (Hatay Medeniyetler Sofrasi Taksim) :
Istiklal Street and Taksim Square are considered as one of the most touristic areas of Istanbul. And of course the most beautiful areas of Istanbul that most travelers in Istanbul must visit.
So it is not surprising that we expect this branch of Chef Burak Istanbul restaurant to be the busiest branch most days of the year.
This branch contains tables inside and out on the sidewalk, and of course by going to it, you can spend a lot of time watching pictures of Chef Burak with Turkish and world famous celebrities on the walls.
In this restaurant, enjoy various kebabs in a hot stone plate and enjoy the taste of local bread.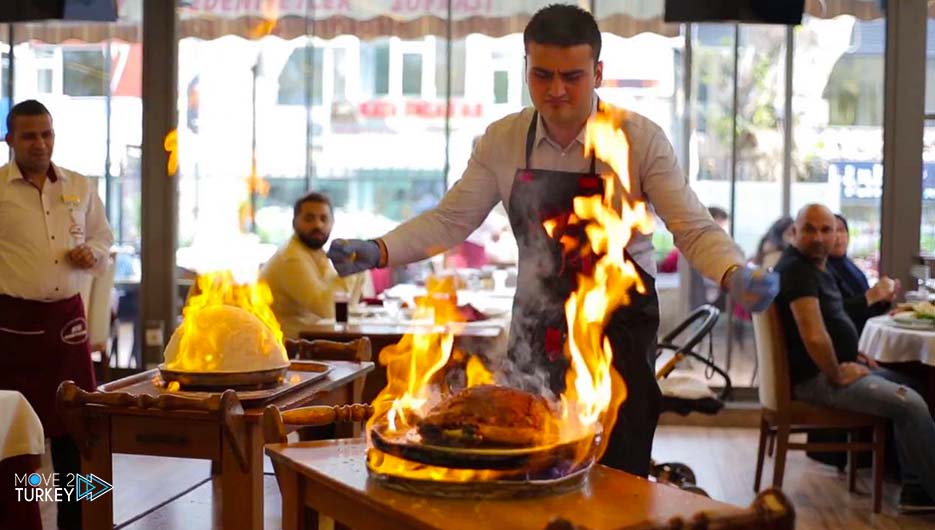 Opinions about Burak restaurants in Turkey :
Your head will likely turn to large kebabs and desserts, each of which satisfies many people, but these exciting dishes, that are popular on Instagram, YouTube and Tik Tok, are not the only part of their menu.
In these restaurants, you can try all kinds of kebab menus and mediterranean Turkish and Middle Eastern menus. Of course, if you have already booked a table, as all branches of Burak Restaurant in Istanbul are often crowded.
List of meals and prices for Burak Restaurant in Istanbul, Turkey :
None of the Chef Burak restaurant branches in Turkey are considered cheap restaurants.
But in the experience of walking around the restaurant, in addition to the food itself, innovation in cooking, recipes and the attractive atmosphere always provides us with an experience that we usually have to measure the price with.
If we think this way, then the food price of Burak Restaurant is totally worth it.
In the Chef Borak restaurant menu you will find dishes from 38 to 750 liras.
The main course menu for single individuals usually costs around 40 to 50 liras. For example, shish tawook (Arabic chicken kebab) costs 50 liras and shredded kebabs 46 liras, both of which are served with side dishes. The price of kebabs in general is 45 liras.
Of course there are also larger and more multi-person dishes available, such as mixed kebab dishes, starting from 100 liras.
In addition to that, there are very large dishes and special dishes on the menu whose cost ranges between 200 and 750 liras !
And the price ranges, desserts are 14 to 18 liras, for example, you can try the famous borak shish for 18 liras, and tea and natural juices also cost from 6 to 14 liras.
Eating breakfast at Burak Restaurant :
The Etiler and Aksaray branches of the Chef Burak restaurant serve traditional Turkish-style breakfasts with tea, they are full and complete breakfasts such as bread, cheese, and varieties with various tasty dishes.