Estimated reading time: 2 minutes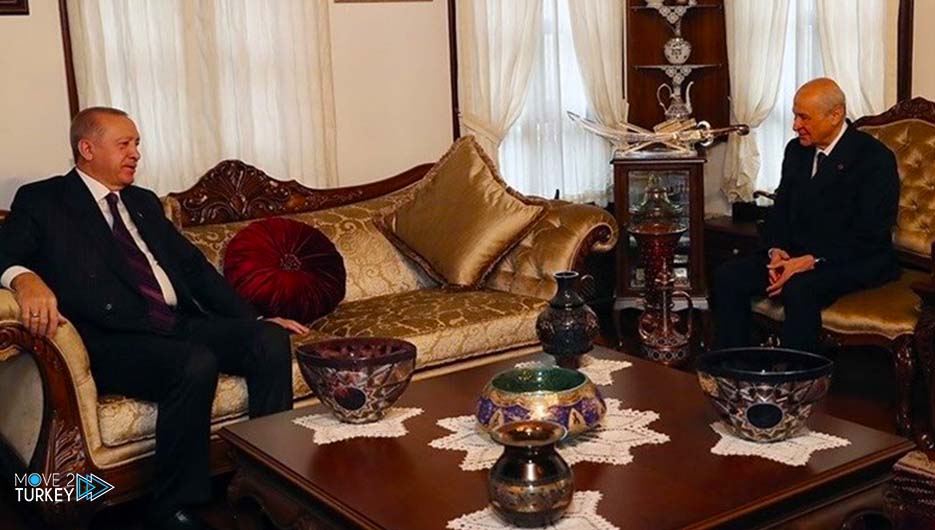 The meeting of the Turkish President and the AKP leader with the leader of the National Movement, who is also an ally of the ruling party, raised questions about the content of any important event in the future.
According to local news agencies, Turkish President Recep Tayyip Erdogan yesterday visited the government of Bahçeli, leader of the National Movement, an ally of the ruling party.
They also met two days ago, which led to speculation about the issues they were discussing.
The Turkish newspaper, Hurriyet, reported: "Was this meeting about the Democratic Party?" Was it about dissolving the Democratic People's Party? Was it about lifting the immunity of this party? Behçeli spoke three days ago about the necessity of dissolving this party.
Another possibility is that the two leaders will hold a party convention this month.
The National Movement Party was on the eighteenth of this month and the Justice and Development Party on the twenty-fourth of this month.
Did they consult with the coalition leader about changing the government after their conferences? Of course, there is still time to talk about this.
Although Bahçeli respects the president's preferences, Erdogan is also vigilant and meets with the leader of the national movement before taking any significant action.
In calling for constitutional reform, Erdogan told AKP leaders that we do not have specific principles or standards for a new constitution. That is why we will do this for the new constitution.
Erdogan, who is pursuing plans for a new constitution in the coming days, met with Bahçeli. He had previously said that the four articles in the constitution, as well as the presidential system, would be among the red lines of the constitutional changes.
Erdogan has also proposed political and economic reforms in Turkey over the past few months, and in line with these reforms, the issue of constitutional changes is also being pursued.
And the opposition parties in the ruling party blamed the reforms on Erdogan's rise to power, citing the red lines raised by Erdogan in the reforms, including the issue of the Turkish presidential system.
The opposition parties also announced that they would not contest the by-elections.
The Turkish Interior and Defense Ministers met some time ago with the leaders of the People's Republican Party and the Good Party, and the content of these meetings was to inform the opposition parties of the constitutional changes.