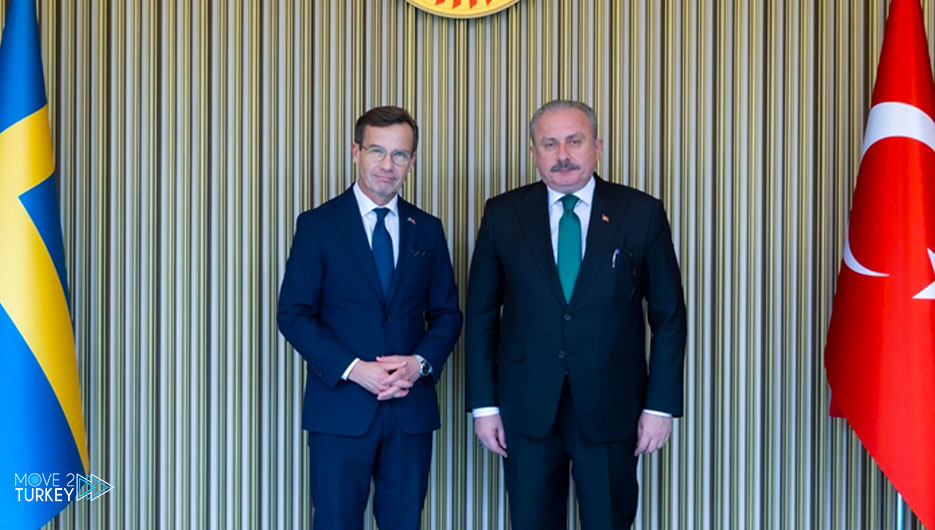 Turkish Parliament Speaker Mustafa Şentop stated that Sweden's security passes through Turkey and to forget this would be a contradiction.
This came after he received on Tuesday Swedish Prime Minister Ulf Christerson and his accompanying delegation in the capital, Ankara.
Şentop welcomed Christerson's statements regarding Turkish-Swedish relations, and hoped that this would be reflected in the parliamentary relations of the two countries.
He added that Ankara welcomes the Swedish government's statements regarding the commitments signed under the tripartite memorandum of understanding.
He pointed out that removing restrictions on defense industries would be positive in Turkey's assessment of Sweden's membership in the North Atlantic Treaty Organization (NATO).
He stressed the need to take concrete and decisive steps in combating the terrorist organizations "PKK", "BYD/YPG" and "Gülen".
"We expect Sweden to take concrete steps and put an end to the activities of these terrorist organizations and their extensions," Şentop added.
He explained that in today's world the security of one country passes through the security of another, and that NATO countries must balance their own security with the security of others.
And he added, "It is contradictory to forget that Sweden's security passes through the security of Turkey. Turkey is one of the two largest military powers in NATO and one of the two countries that have maintained the position and strength of the alliance."
In turn, Christerson said that the meeting at the level of the heads of parliaments of the two countries is a new mechanism for the realization and follow-up of the tripartite memorandum.
He added that the Swedish Parliament has started the necessary contacts for the establishment of the Turkish Friendship Group.
It is worth noting that Turkey signed with Sweden and Finland a tripartite memorandum on combating terrorism at the NATO Summit in Madrid, Spain, on June 28.​
Within the framework of the memorandum, a permanent joint mechanism was formed, which held its first meeting on August 26 in the Finnish city of Vantaa.