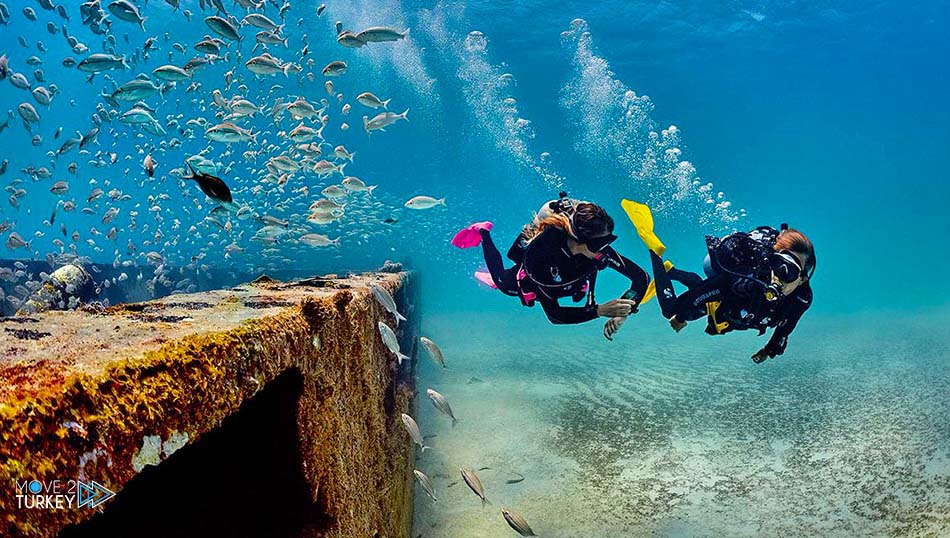 Scuba diving in Turkey, especially in the clear waters of the eastern Mediterranean and discovering the marine life of the Turkish beaches is a unique experience, which you have to live if you are a fan of this exciting sport.
If you ask what is the name of one of the most exciting water sports for lovers of water adventures, diving is definitely one of these options without a doubt.
Where you move away from the usual world and spend a few minutes in a whole new underwater world, swimming with colorful fish and seeing underwater creatures and seaweeds.
In a more beautiful world, attractive and diverse, Turkey contains one of the best and most famous areas in the world for scuba diving.
For some people, life without excitement is repetitive and boring. And diving in Turkey is one of the best places in the world to experience a new adventure full of excitement. As many tourists come to the coastal cities and regions of Turkey for unforgettable adventures
Find out with us the best places to dive in Turkey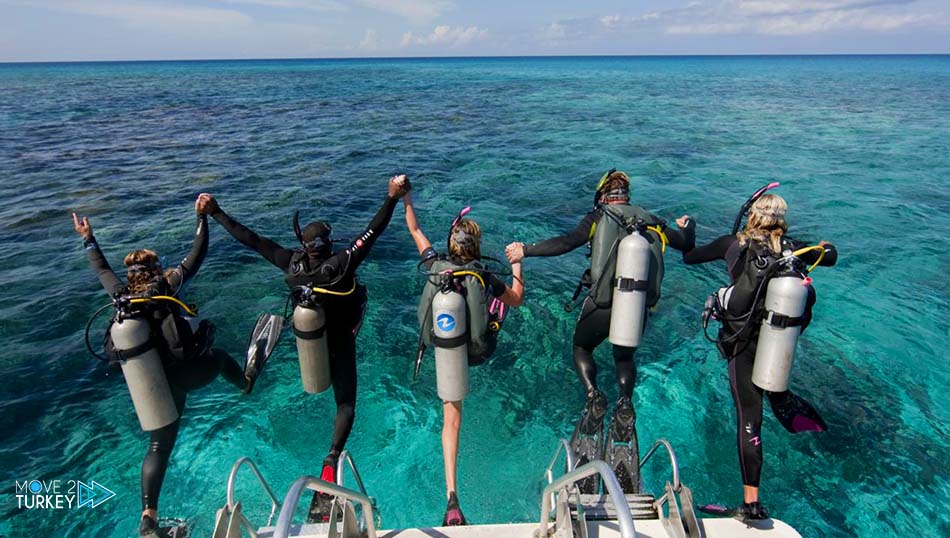 Antalya
Antalya is one of the popular beach destinations in summer with the start of the tourism season in Turkey. It is full of tourists who have come to this charming city to spend an unforgettable summer.
The Mediterranean Sea not only astonishes tourists with its wonderful coastal scenery, but also its underwater world is amazing. The diving sites in Antalya are so attractive that they look like wonderful aquariums, and for this reason there are many diving schools in the city to make tourists live this experience by swimming in the sea and watching sea creatures up close.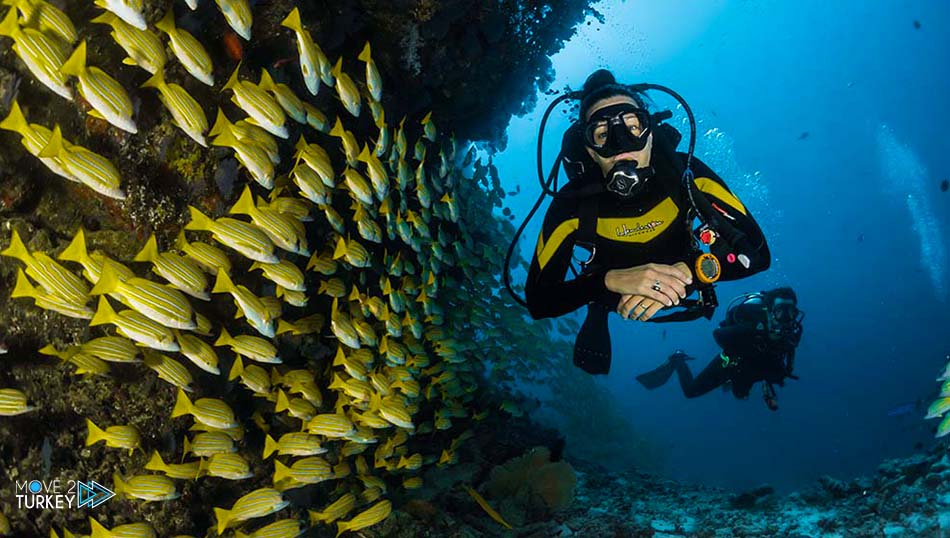 Mersin
Once again, the Mediterranean!
The clear waters that characterize the Mediterranean Sea are one of the reasons for the popularity of this region, but the reason that makes Mersin one of the most beloved landmarks in the hearts of adventurers and diving enthusiasts in Turkey is a shipwrecked cargo ship near Dana Island.
There are also many diving sites in Mersin around the coast, so we suggest that you do not miss this area as well.
Kas
If we want to name one of the best areas for diving in Turkey, without a doubt, Kas will undoubtedly be one of them.
The features that make it very popular in the region are the unique quality of the region. Where you can explore the diverse marine species around the city of Kalkan, and you can also head to Patara Beach to see sponges and coral reefs, where you will definitely fall in love with its stunning views.
Kemer
Another popular tourist destination in Turkey is the Kemer region, which is a place with beautiful landscapes and receives many tourists annually, and it is sufficient to visit this region once to see that Turkish tourist destinations are not limited to famous cities such as Antalya, Istanbul and Kusadasi.
Do you want to try scuba diving in Turkey? Therefore, seeing beautiful aquatic animals such as trout is one of your dreams, if this is the case, then Tekirova and the surrounding islands will lead you to this dream.
One of the most exciting parts of diving in this region is going to underwater caves, which of course is not possible everywhere.
Mugla
Not only is the Mediterranean Sea, but the Aegean Sea also has a colorful world, so it is not unreasonable to mention Turkey as an ideal diving destination without mentioning Mugla.
Mugla province, which is located near the Aegean Sea, has created an exciting and different atmosphere for diving in Turkey with dolphins and sharks, and there are 52 attractive and carefully selected sites around Marmaris to enjoy the ancient underwater buildings.