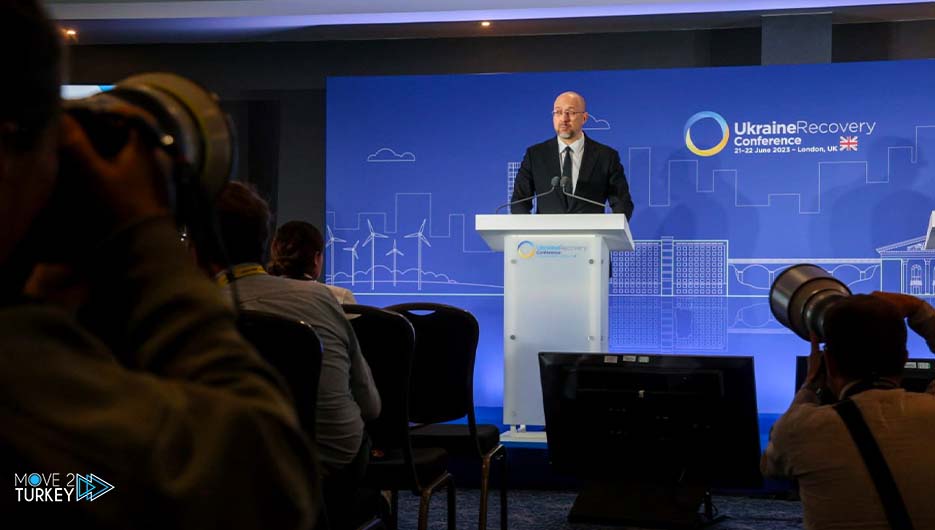 Ukrainian Prime Minister Denys Shmyhal expressed appreciation for Turkey's mediation efforts in the Russian-Ukrainian war.
This came in a press conference held on Thursday, on the sidelines of the "Ukraine Recovery Conference 2023", which is being hosted by the British capital, London.
"We are grateful for the Black Sea Grain Initiative, which is supported by Turkey, and this initiative has brought grain to the entire world, Middle Eastern countries, African and European countries," Shmyhal said.
In response to a question about Turkish mediation in the Russian-Ukrainian war, Shmyhal said: "Turkey is a neighboring country and a very important partner for us."
The Prime Minister expressed his appreciation for the efforts of all partners and allies supporting Ukraine, adding that his country is once again fighting for its freedom and life.
Shmyhal confirmed that his country will liberate all internationally recognized Ukrainian lands since 1991.
He added, "We appreciate all the efforts of Turkey, its president (Recep Tayyip Erdogan), the Turkish government and allies, and we hope to reach peace in my country with Europe, the United States and the United Kingdom."
In July 2022, Turkey, the United Nations, Russia and Ukraine signed an agreement in Istanbul to resume grain exports from Ukrainian ports, which were temporarily suspended after the start of the Russian war in February 2022, in order to address the global food crisis.
The agreement, which was extended several times, allowed the export of more than 30 million metric tons of grain and foodstuffs from Ukraine. On May 18, the agreement was extended for an additional 60 days, ensuring the continuation of grain exports.