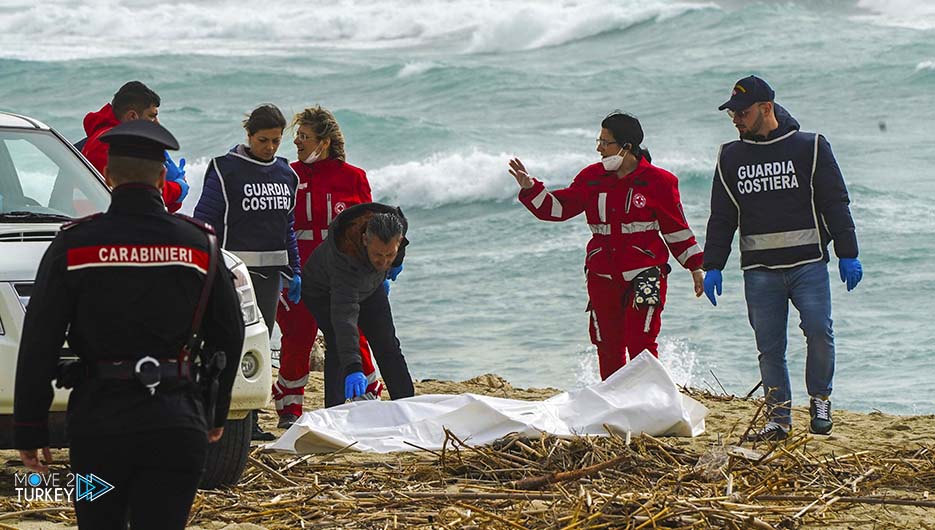 Sunday, the death toll from the sinking of a wooden boat carrying migrants off the coast of Calabria, southern Italy, rose to 70.
The official Italian news agency ANSA said that search and rescue teams recovered the body of a child from the victims of the boat sinking on Sunday off the town of Cutro in Calabria.
The agency stated, "The body of a 12-year-old boy was found on the beach of Potrichello from the sinking of the wooden boat that was carrying 200 irregular migrants from Iran, Pakistan and Afghanistan in the rough seas last week."
On Saturday, rescue teams found the body of another child, about 3 years old, in the waters off Kotro, according to the same source.
ANSA added that at least 16 minors died in the disaster, while at least 80 people survived.
Security reports estimate that between 27 and 47 people are still missing.
For her part, Italian Prime Minister Giorgia Meloni, who is on an official visit to Abu Dhabi, denied reports that "her government may have hindered operations that would have saved the victims," according to ANSA on Saturday.
According to the report, Meloni was considering holding her "next ministerial meeting in Kotro, the city where the disaster occurred, with the aim of focusing on the issue of immigration."
"Melloni reiterated that the Italian authorities had not received a warning from the European border agency Frontex that the fishing boat in which the asylum seekers were traveling, which had been wrecked in rough waters, was in trouble," she added.
"An investigation has been opened to determine whether rescue efforts were delayed due to negligence," she added.
The death toll from the previous accident was 67, according to what the Italian Coast Guard announced on Wednesday.
The boat wrecked after hitting a coral reef in rough seas, according to Italian news reports.
The tragedy comes just days after Meloni's right-wing government passed a controversial new law on migrant rescue in parliament.
The new law forces aid ships to make only one rescue attempt at a time, which critics say threatens to increase the number of drownings in the Mediterranean at the world's most dangerous crossing for people seeking refuge in Europe.