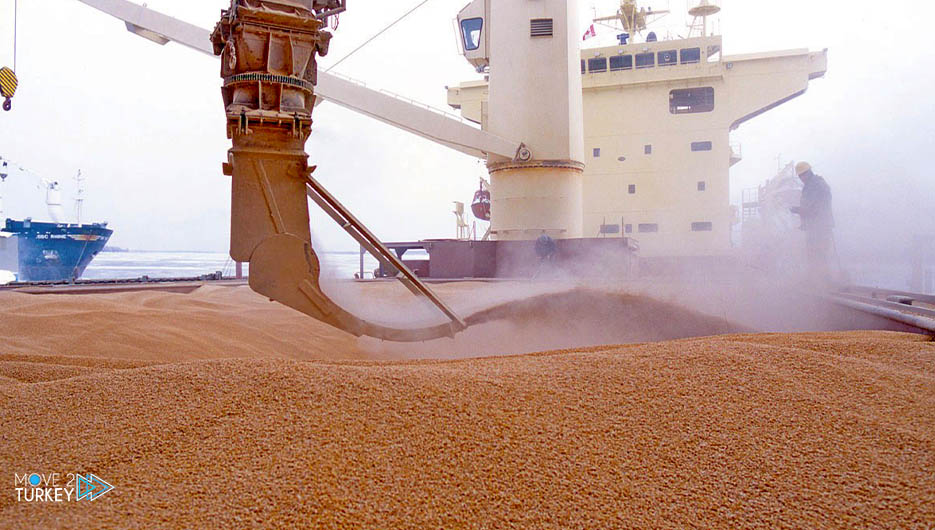 Turkish Defense Minister Hulusi Akar and Ukrainian Infrastructure Minister Oleksandr Kobrakov on Sunday visited the Joint Coordination Center for Grain Shipping.
This came after a meeting between them at Qalandar Palace, which hosted the Istanbul Agreement talks between Ukraine, Russia, Turkey and the United Nations to ship grain from Ukrainian ports.
Ministers Akar and Kobrakov received information about the ongoing work of the Joint Coordination Center, which is located on the campus of the Turkish National Defense University in Istanbul.
In statements to reporters after the visit, Akar indicated that about three months have passed since the signing of the Istanbul Agreement on the grain corridor in the Black Sea.
He revealed that this period witnessed the departure of 345 ships from the Ukrainian ports, carrying 7 million and 700 thousand tons of grain.
Akar described the work of the joint center as a humanitarian and historical duty at the same time.
He stressed that Turkey continues to pursue its policy in full transparency, which is based on respecting the borders and sovereignty of neighboring countries and supporting peace and stability.
He referred to the efforts made by President Recep Tayyip Erdogan to reach a ceasefire between Russia and Ukraine and to solve the problem through diplomatic means.
In turn, Ukrainian Minister Kobrakov thanked Akar and Erdogan for their contributions to the construction of the grain corridor.
He said that his country believes in the necessity of continuing this successful initiative, which affects grain prices around the world.
On July 27, the city of Istanbul witnessed the opening of the coordination center to ensure the safe shipment of grain from Ukrainian ports, which includes representatives from Turkey, Ukraine, Russia and the United Nations.
On July 22 of the same month, under the auspices of President Recep Tayyip Erdogan and UN Secretary-General Antonio Guterres, a signing ceremony took place in Istanbul for the "Document on the Initiative for the Safe Shipping of Grain and Foodstuffs from Ukrainian Ports" between Turkey, Russia, Ukraine and the United Nations.
The agreement guarantees securing exports of grain stuck in the Ukrainian ports on the Black Sea (Eastern Europe) to the world.