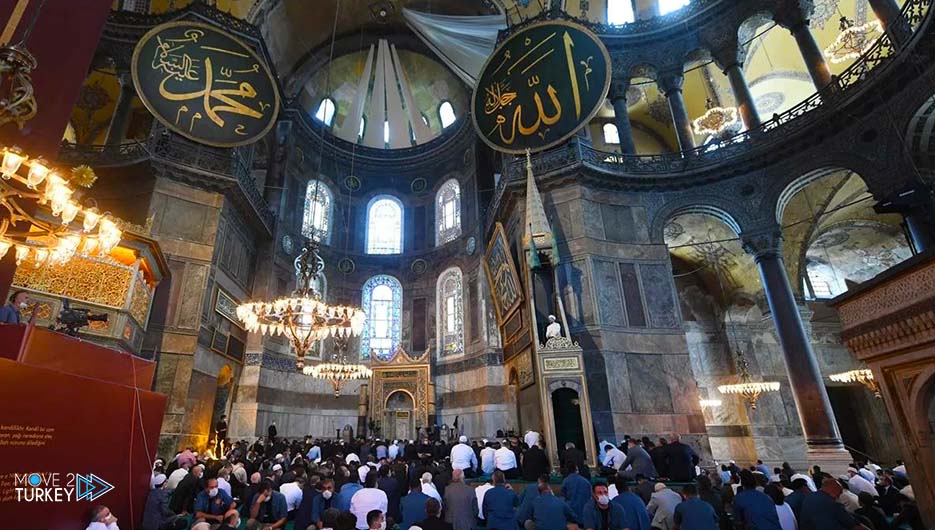 The Turkish head of religious affairs, Ali Erbaş, performed the morning prayer at the Hagia Sophia Mosque, on the occasion of the third anniversary of its reopening.
In addition to Erbaş, the governor of Istanbul, Daoud Gul, and a crowd of worshipers of different nationalities participated.
After performing the prayer, Erbaş expressed his happiness after breaking the shackles imposed on the mosque and reopening it on July 24, 2020.
He stated that the Hagia Sophia Mosque is the legacy of Sultan Mehmed the Conqueror and the most important symbol of the conquest of Istanbul.
The Hagia Sophia is located in the Sultanahmet district on the European side of Istanbul and was used as a church for 916 years before it was converted into a mosque after the conquest of Constantinople (Istanbul) starting in 1453.
The mosque is one of the most important architectural landmarks in the history of the Middle East and Eastern Europe, and in 1934 it was converted into a museum and remained in this situation for 86 years, to be reopened for worship in 2020.
In the aforementioned year, the Turkish judiciary issued a ruling annulling the Cabinet's decision of 1934 regarding the conversion of Hagia Sophia from a mosque to a museum, after a lawsuit filed by the "Permanent Endowments Association and the Service of Historical Antiquities and the Environment."
On the same day, President Recep Tayyip Erdogan signed the decree on the reopening of Hagia Sophia to worship and the presidential decision was published in the Official Gazette including transferring the responsibilities of managing Hagia Sophia to the Presidency of Religious Affairs.​​​​​​​​​​
And with the opening of the Hagia Sophia Grand Mosque for worship on July 24, 2020, the first Friday prayer in 86 years was held, with a grand ceremony attended by President Recep Tayyip Erdogan.