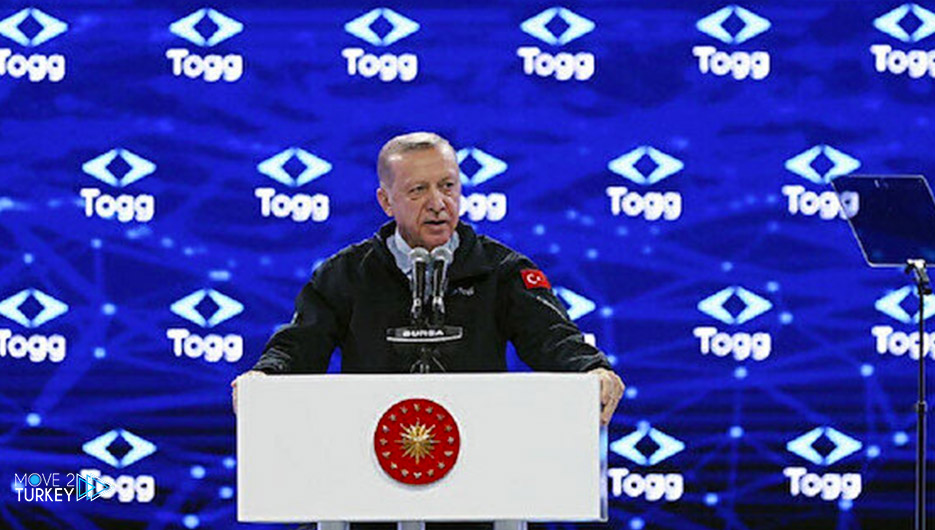 Turkish President Recep Tayyip Erdogan announced that the local electric car "TOG" will decorate the streets of many countries of the world in the coming period.
This came in a speech he delivered on Saturday during his participation in the opening ceremony of the local car factory campus in the Gemlik region of Bursa state (northwest).
Erdogan said, "Togeh car, God willing, will decorate the roads of many countries of the world in the coming period, as a prestigious Turkish brand."
He added, "TOG is the name of the project that made us all enjoy building this common dream for a strong future for our country."
He continued, "We are witnessing the realization of a 60-year dream with the first Toug car that came out of serial production."
He expressed his belief that the price of the "Togh" car will be announced next February, in parallel with the start of the presale.
And President Erdoğan added, "Citizens' orders for a TOG will start next February."
He pointed out that TOG cars will be on the roads of Turkey at the end of the first quarter of 2023.
He revealed that the "Tog" plant will produce 175,000 cars annually when it reaches full capacity.
The Turkish president stated that the factory will provide 4,300 direct jobs and 20,000 indirectly.
He confirmed that his government intends to lay the foundation stone for the construction of a battery factory with an area of ​​609,000 square meters, next to the TOG car factory.
And he indicated that an agreement had been reached with one of the world's largest companies to produce lithium-ion batteries in Turkey for use in the TOG car.
Erdogan thanked the shareholders of the Turkish Automobile Manufacturing Group (TOGG).
The mentioned companies consist of Anadolu Group, BMC, Turkcell Telecom, Zorlu Holding and Koc Group.
The Turkish President also extended his warm congratulations to the technicians, engineers and all workers who did their best to produce the local car.
He touched on the vision of "Turkey's Century", which he announced on Friday, stressing that the factory and the car are among the first images of this vision.
President Erdoğan pointed out that local car producers call it a "smart device".
He wished that the factory campus and the smart devices produced would bring good to Turkey and its people.