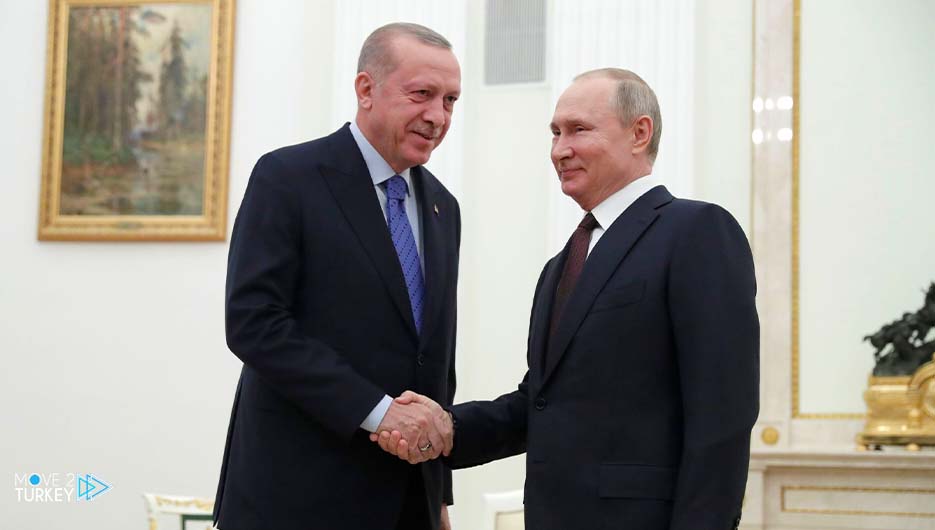 Turkish President Recep Tayyip Erdogan said that he will meet his Russian counterpart Vladimir Putin face to face to discuss the issue of grain transportation across the Black Sea and the war in Ukraine.
He said in a statement he made to reporters during his return from Hungary, which he visited on Sunday: "We will talk with Putin face to face, and it is possible that our Foreign Minister (Hakan Fidan) will visit Russia soon."
And the Turkish president added, "It is very important that this matter (the talks) take place face to face."
In response to a question about what is the roadmap that will be followed to resume work on the grain initiative, he said: "Our goal in the phone calls we had with Mr. Putin is to obtain a positive position from Moscow on the issue of the grain corridor."
He added, "There is a meeting of the G-20 in India and another meeting of the United Nations General Assembly next September, and if we find the opportunity during this intense agenda, we will meet with Mr. Putin and we will talk face to face."
Erdogan confirmed that Turkey is striving to hold peace negotiations again between Russia and Ukraine, and that the talks with Ukrainian President Volodymyr Zelensky in Turkey and the NATO summit included that matter.
He expressed his hope that the Russian and Ukrainian leaders would reach positive results with Turkish mediation.
Regarding Sweden's membership in NATO, he stressed that Turkey's position "will be different if the assault on our sanctities continues and the streets of Stockholm are not controlled (referring to demonstrations by supporters of the terrorist organization PKK)."
The Turkish president pointed to the lack of an effective fight against terrorism in Sweden, stressing that sending the protocols to join the Turkish parliament and passing the process quickly "is directly proportional to Sweden's fulfillment of its promises."
He added, "Our parliament will decide on this matter. We do not know how long it will take to discuss this issue in parliament and committees."