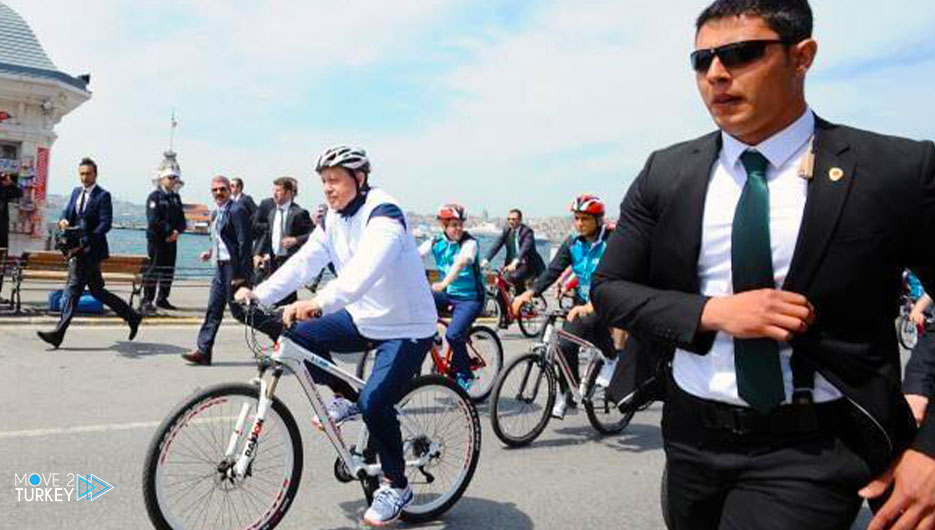 President Recep Tayyip Erdogan affirmed his continued support for the Turkish Presidential Cycling Tour "Tour of Turkey" organized under his auspices.
This came in an article written by Erdogan in the promotional brochure for the race, which begins in Bodrum, Mugla state, on Sunday, and ends in Istanbul on April 17.
President Erdoğan expressed his happiness that the race continued with increasing success.
He said, "We are happy to host athletes from different countries of the world in Turkey once again.
On the occasion of the 57th Presidential Cycling Tour in Turkey, which is the only transcontinental race in the world.
He added, "We are pleased to conduct the Presidential Cycling Race in Turkey, which started with the Marmara Tour in 1963 and achieved an international level in 1965 and more successes every year."
Erdogan added, "I think that the tour, which will start from Bodrum Castle on April 10 and end at Istanbul's Ataturk Cultural Center on April 17, will provide an interesting opportunity for sports fans and our citizens."
"As president, I would like to assure that I will continue to support this race, which has made great contributions to the promotion of our country and the promotion of cycling."
And he added, "I say to all the athletes, teams and representatives of the countries participating in this important sporting tournament, you are welcome to Turkey. I wish them success in advance."
Erdogan congratulated all the Turkish institutions that supported the organization of the 57th round of the presidential cycling race in Turkey, especially the Turkish Cycling Federation.
For his part, Turkish Minister of Youth and Sports Mehmet Muharrem Kasaboglu said in the promotional brochure for the race:
"Turkey has become a sports country in which national and international sports competitions are held, and their number has recently increased."
"I would like to proudly announce that the value of Turkish sports is increasing day by day with our sports projects, our athletes and our unique experience in organizing competitions," he added.
It is worth noting that the bicycle race, which is under the auspices of the Presidency of the Republic, began to be organized in 1963 under the name of the Marmara Cycling Race, and took on an international character for the first time in 1965.
As of 2017, the UCI has decided to include the race on its World Tour Championship calendar.