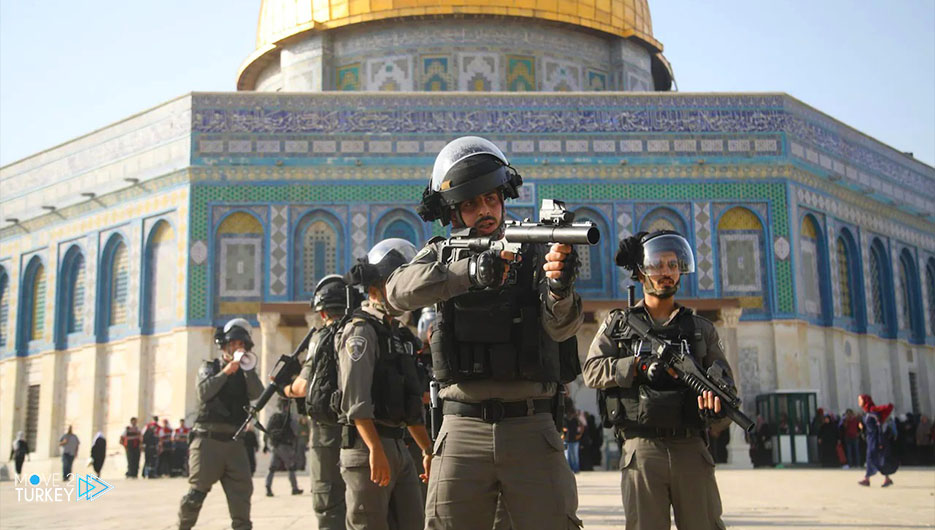 The Turkish Foreign Ministry confirmed that Israel continues to continue its hypocrisy and recklessness when it attacked worshipers on Friday at the Al-Aqsa Mosque in Jerusalem.
In a tweet on Twitter, the Turkish Foreign Ministry stressed the need to permanently end the injustice in Jerusalem, which limits freedom of worship and belief.
The text of the leaflet read: "Ceasefire in Gaza, then attack in Jerusalem! The Israeli recklessness and hypocrisy continues.
Stopping the injustice that limits freedom of belief and worship in Jerusalem has become an imperative.
Earlier on Friday, 50,000 Palestinians performed Friday prayers at the Al-Aqsa Mosque, and performed absentee prayers for the souls of the martyrs of the Israeli aggression.
Earlier, the Palestine Red Crescent Society announced the injury of 20 Palestinians during the storming of the Al-Aqsa Mosque in occupied Jerusalem after Friday prayers.
It targeted the worshipers with a barrage of metal and rubber bullets and tear gas canisters.
And at dawn today, Friday, a cease-fire took effect between the Palestinian factions and Israel, after 11 days of aggression.
The brutal Israeli aggression on the lands of the Palestinian Authority and Arab towns in Israel resulted in the death of 274, including 69 children, 40 women, and 17 elderly people.
As it resulted in the injury of more than 8,900, of whom 90 were classified as very severe.