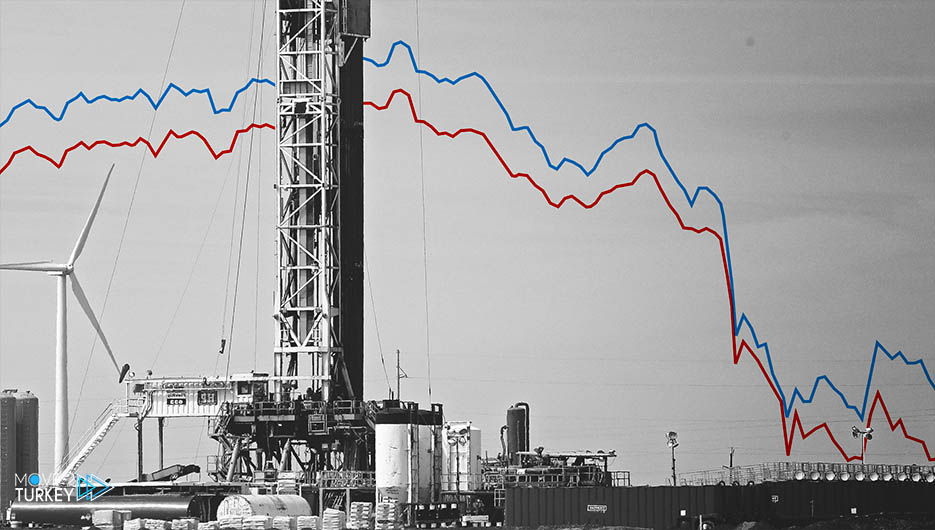 Crude oil prices plunged sharply on Friday, with many countries in the world re-imposing restrictions after the discovery of a new mutant of the Coronavirus in Africa, adding to fears of oversupply in global markets.
And by 8:10 (GMT), Brent crude contracts for January delivery fell $3.88, or 4.72 percent, to $78.34 a barrel.
US West Texas Intermediate crude contracts for January delivery tumbled $4.39, or 5.6 percent, to $74 a barrel.
And many countries around the world began restrictions, especially on travel from Africa, after discovering infections with the B1529.1 virus, which health experts say is more deadly than the "Delta" virus.
And the return of countries to impose restrictions and closures will reduce demand for crude.
At a time, it is expected that the supply will lead to a surplus after the decision of major countries to draw coordination from their strategic stocks in an effort to curb prices.
On Wednesday, US President Joe Biden ordered the use of 50 million barrels of strategic reserves that the United States holds for emergencies.
In a move, he said, it is coordinated with other major consumers such as India, China, Japan, the United Kingdom, and South Korea.
Indeed, some of these countries have announced the use of quantities from their strategic stocks, so that the expected quantity of stocks will be pumped between 70-80 million barrels.
On Thursday, the Organization of the Petroleum Exporting Countries (OPEC) said that global markets will face an oversupply of crude in the first quarter of 2022 if major consumers go ahead with the withdrawal of stockpiles.
And "OPEC" expected a surplus of 400,000 barrels in next January, rising to 2.3 million barrels in the following February.
It is scheduled that the ministers of "OPEC" countries and allies from outside what is known as "OPEC" will hold a meeting next week.
This is to consider whether the alliance will proceed with a previously approved plan to increase production by 400,000 barrels per day until the end of next December.